A Child's Celebration of Classical Music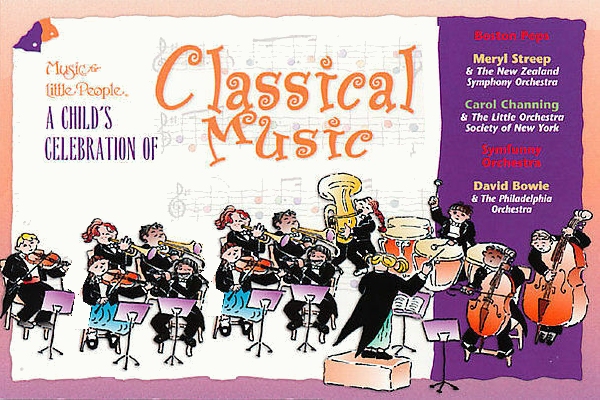 *Please note that any links forwarding to third-party streaming services have no affiliation or monetary connection with Simply Streep.
Release date:
July 06, 1999
A Child's Celebration of Classical Music" is not only of superior quality, it caters to the interest of kids without dumbing down the music. Beginning with the lively Boston Pops Orchestra rendition of "In the Hall of the Mountain King," this collection draws the listener into worlds created by orchestral majesty, powerful buildups, and exquisite narrative . Meryl Streep's buttery tones preface Ravel' s magically ruminative "Sleeping Beauty" and Carol Channing is simply marvelous in her telling of the giggle-inducing yarn of "Gerald McBoing Boing," as set to strings and drums, cymbal clashes, and horn accents. David Bowie provides a distinguished narration to Prokofiev's nearly-30-minute-long "Peter and the Wolf" suite, a classic which still thrills and delights audiences half a century after the composer's death.
Track Listing
01. In The Hall Of The Mountain King – Boston Pops
02. Sleeping Beauty – Meryl Streep And The New Zealand Symphony Orchestra
03. Gerald Mcboing Boing – Carol Channing & The Little Orchestra Society Of New York
04. Music Box – Bobby McFerrin
05. Tubby The Tuba – Danny Kaye
06. Water Music – Symfunny Orchestra
07. Peter And The Wolf – David Bowie & The Philadelphia Orchestra