The Concert of the Century For VH1 Save the Music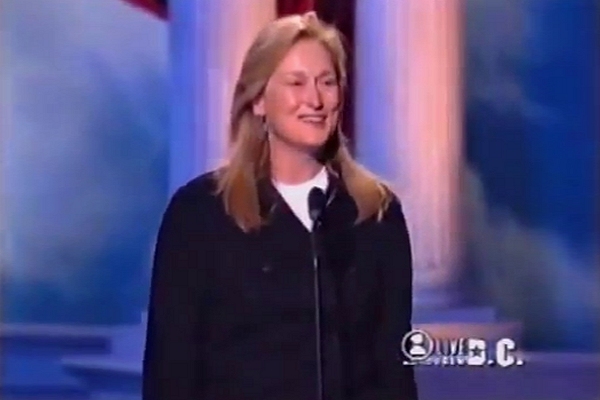 *Please note that any links forwarding to third-party streaming services have no affiliation or monetary connection with Simply Streep.
Release date:
October 23, 1999
Directed by:
Joel Gallen
Produced by:
VH1 Networks
Running time:
90 minutes
Lenny Kravitz, Sheryl Crow, Melissa Etheridge, and 'N Sync were among the artists to grace the White House's South Lawn at a televised concert to benefit VH1's "Save The Music" Foundation. Dubbed "The Concert Of The Century," the show saw a number of big name artists, from blues legend B.B. King to newcomers (relatively speaking) 'N Sync, performing songs from their own repertoires as well as collaborating with other artists. Actors including Ben Affleck, Billy Bob Thornton and Meryl Streep presented.
Participants
Ben Affleck, Angela Bassett, Meryl Streep, Billy Bob Thornton, Bono, Garth Brooks, Eric Clapton, Bill Clinton, Sheryl Crow, Gloria Estefan, John Fogerty, Aretha Franklin, B. B. King, Lenny Kravitz, John Mellencamp, Nsync, Hillary Rodham Clinton, Paul Shaffer
Line-Up
Ramblin' On My Mind – Eric Clapton
All Along the Watchtower – Eric Clapton and Lenny Kravitz
Fly Away – Lenny Kravitz
Strong Enough – Sheryl Crow
Long Gone Lonesome Blues – Sheryl Crow
The Thrill Is Gone – B.B. King
We Shall Be Free – Garth Brooks
Medley (American Pie, Old Dixie Down, Get Together, He Ain't Heavy) – Garth Brooks
Music of My Heart – Gloria Estefan and NSYNC
Proud Mary and Midnight Special – John Fogerty
A Change Is Gonna Come – Al Green
Take Me to the River – Al Green, B.B. King, and Lenny Kravitz