Clint Eastwood – Out of the Shadows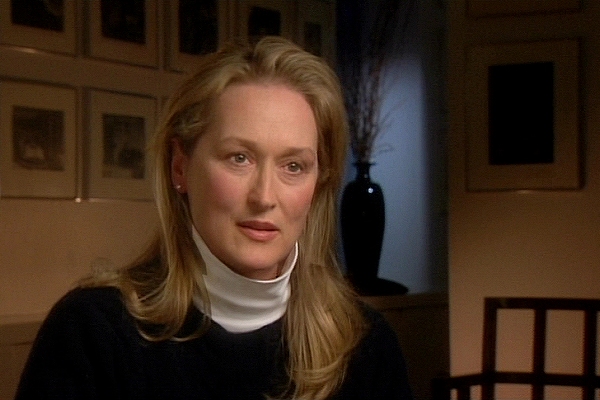 *Please note that any links forwarding to third-party streaming services have no affiliation or monetary connection with Simply Streep.
Release date:
November 20, 2001
Directed by:
Bruce Ricker
Produced by:
Warner Home Video
Running time:
87 minutes
This outstanding documentary chronicles the life and work of Clint Eastwood, following his career from the early days on "Rawhide" to his then latest motion picture "Space Cowboys". Featuring commentaries by many of his friends and co-stars, including writers William Goldman and Walter Mosley, directors Martin Scorcese and Curtis Hanson, critics Janet Maslin and Richard Schickel, actors Morgan Freeman, Meryl Streep, James Garner, Forest Whitaker, Donald Sutherland, Eli Wallach as well as Eastwood's mother, Ruth Wood and wife, Dina Eastwood.
Participants
Morgan Freeman (Narrator), Joel Cox, Clint Eastwood, Dina Eastwood, James Garner, William Goldman, Jack N. Green, Gene Hackman, Curtis Hanson, Nat Hentoff, Phyllis Huffman, Joe Hyams, Dani Janssen, Geoffrey Lewis, Janet Maslin, Bill McKinney, Walter Mosley, Lennie Niehaus, Barry Reardon, Richard Schickel, Martin Scorsese, Richard Slotkin, Meryl Streep, Donald Sutherland, Bertrand Tavernier, Rip Torn, Buddy Van Horn, Eli Wallach, Forest Whitaker, Ruth Wood
Production Photos
Production Notes
Meryl Streep notes in the documentary: "I had taken it upon myself to have my hair dyed the day before I went to Iowa because I had an image in my mind of a woman that lived up the street from me when I was a girl growing up and she was an Italian warbride. There was a certain way that she held herself. It was just like there were nuns in that upbringing and propriety and also a self-contained aspect that I liked which is working against the Magnani mold. There was a scene in the film, we're having a big fight and he was crying. He was very upset. But he wouldn't give it to the camera. He wouldn't let the camera see him. I thought, "Wow, that's weird". You know, most actors are just [weeps] pushing that… towards the Academy (laughs). And he wasn't, didn't want that seen. I said to him: "Why did you withhold that?" And he said, "People don't want to see me cry." And I thought, wow, That's really knowing your audience."