Theater of the New Ear

April 28, 2005 - September 16, 2005
Directed by:
Joel Coen, Ethan Coen, Charlie Kaufman |
Music:
Carter Burwell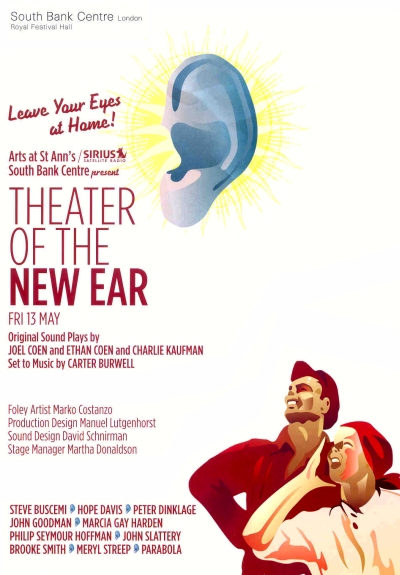 Celebrated filmmakers Joel and Ethan Coen, along with Charlie Kaufman, bring the quirky drama and savage wit of their award-winning movies to the stage in a live reading of two original sound plays set to music by their long time collaborator, composer Carter Burwell. The Coens' "Sawbones" and Kaufman's "Hope Leaves the Theater" come to life with eight extraordinary actors, scripts in hand, joined on stage by a sound-effects artist and a live band to create multiple characters and parallel realities, located somewhere between melodrama and comedy.
Cast: Steve Buscemi, Hope Davis, Peter Dinklage, John Goodman, Marcia Gay Harden, Philip Seymour Hoffman, Brooke Smith, Meryl Streep
Production Dates
Venue: St. Ann's Warehouse (April 28-30, 2005)
Venue: Royal Festival Hall (May 13, 2005)
Venue: UCLA Live (September 14-16, 2005)
Production Notes
"Theater of the New Ear" was a double-bill "sound play," a concept dreamed up by compose Carter Burwell, who wrote the score for Being John Malkovich and Adaptation. Charlie wrote one half of the double-bill, the Coen Bros. wrote the other – their play was called "Sawbones." "New Ear" was performed in New York, London and LA, with actors reading their lines from behind a desk on-stage, accompanied by an orchestra and a foley artist making sound effects – just like the old-style radio plays, before a live audience. Charlie Kaufman's play, "Hope Leaves the Theater," follows a middle-aged woman, dissatisfied with her life and relationships, watching a play-within-the-play – and then leaving the play, catching a bus and heading home for some cyber-sex. Actors step in and out of character, there are references to Charlie himself, and the play is as self-referential/meta as anything Charlie's ever written.
---
Theater of the New Ear is being listed under the following tags:
---