A Prairie Home Companion

June 09, 2006

|

Picturehouse

|

105 minutes
Directed by:
Robert Altman |
Written by:
Garrison Keillor |
Cinematography:
Edward Lachman |
Editing:
Jacob Craycroft |
Costume Design:
Catherine Marie Thomas |
Production Design:
Dina Goldman |
Music:
Garrison Keillor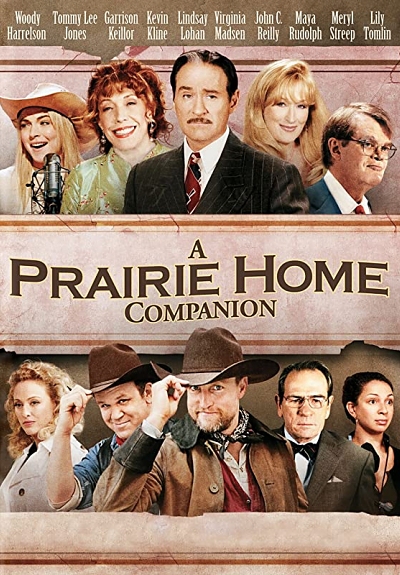 Week after week, Garrison Keillor (playing himself) hosts an amiable hodgepodge of radio-friendly acts that include popular country duo Yolanda and Rhonda Johnson (Meryl Streep and Lily Tomlin) from Oshkosh, Wisconsin, and the famous foulmouths Old Trailhands (Woody Harrelson and John C. Reilly). This is one show where the under-the-line antics are nearly as entertaining as the program itself, though, and in between there's plenty of fun, drama and mystery at the old Fitzgerald before the final curtain falls on A Prairie Home Companion.
Cast: Garrison Keillor (Himself), Meryl Streep (Yolanda Johnson), Lily Tomlin (Rhonda Johnson), Kevin Kline (Guy Noir), Lindsay Lohan (Lola Johnson), John C. Reilly (Lefty), Woody Harrelson (Dusty), Virginia Madsen (Asphodel), Maya Rudolph (Molly), Tommy Lee Jones (The Axeman), Tim Russell (Stage Manager), Susan Scott (Makeup Lady), L.Q. Jones (Chuck Akers), Marylouise Burke (Lunch Lady)
Production Notes
Director Robert Altman and writer Garrison Keillor join forces with an all-star cast to create a comic backstage fable about a fictitious radio variety show that has managed to survive in the age of television. Shot entirely in the Fitzgerald, except for the opening and closing scenes which take place in a nearby diner, the picture combines Altman's cinematic style and intelligence and love of improvisation and Keillor's songs and storytelling to create a fictional counterpart to the "A Prairie Home Companion" radio show. The film uses the musicians and crew and stage setting of the actual radio show, heard on public radio stations coast to coast for the past quarter-century (and which, in real life, continues to broadcast). The result is a compact tale with a series of extraordinary acting turns, especially Kevin Kline's elegant Keaton-esque detective and Lily Tomlin and Meryl Streep's singing (Goodbye to my Mama) and their beautiful portrayal of two sisters who talk simultaneously.
Cast members did their own performing including singing and playing instruments. They performed live in the theater, not a prerecorded studio session as is typical of music performed in movies. Michelle Pfeiffer was originally slated to play the mysterious "Angel of Death", but then backed out of the project. George Clooney was offered the role of detective Guy Noir, but was forced to turn it down due to scheduling conflicts. Tom Waits and Lyle Lovett were originally slated to play singing cowboys Lefty and Dusty. For insurance purposes, and in the event that 80-year-old director Robert Altman was unable to finish shooting the film, Paul Thomas Anderson was employed as a standby director. "A Prairie Home Companion" was nominated for the Silver Bear at the 2006 Berlin Film Festival, it won the festival's Reader Jury award. Meryl Streep received a Best Supporting Actress award by the National Society of Film Critics.
Simply Streep's Review
Robert Altman has always been one of my favorite directors with his unique style of telling complex stories and always featuring stunning ensemble casts. I consider "Short Cuts" and "Gosford Park" my favorites. Also, "Three Women", a 1977 nightmarish film with Sissy Spacek, is a masterpiece. So knowing and respecting Altman's style, there's little bad to say about "A Prairie Home Companion", an ode to love and death and a farewell – unfortunately, Altman's farewell to the film industry, being his last movie. It surely helps to know the original "A Prairie Home Companion" radio show to know what these people do for a living. If you didn't grow up with radio shows like this, or even knowing of their existence, you will need some time to get into the mood of this film. Much like a mockumentary (although not in the same style like Christopher Guest's films), you get to know each performer and employee of the show, their thoughts and discussions (and with the Johnson Sisters, there's lots of discussions). There's displeasure in the air, not only because it's the last show, but because somebody of the group will die – as we learn through the appearance of a mystery woman. The film feels much like an eclipse, characters come and go, talk, perform – the film could go on for hours, and therefore sometimes feels a bit slow, but the actors make it worth. I especially enjoyed Woody Harrelson and John C. Reilly as Dusty and Lefty. Streep and Tomlin play like they are actually sisters and know each other for decades (which they probably do). Their acting and overlapping discussions are flawless. And Meryl's singing is equally superb. The rest of the cast, from Kevin Kline to Tommy Lee Jones to Maya Rudolph is an enrichment as well. Even Lindsay Lohan, who plays Meryl's daughter. It might be unfair to say, but looking back and seeing that Lindsay Lohan once worked with Robert Altman and Meryl Streep, you get an idea of what a career she had. I'd recommend the film to every Altman fan and to people who enjoy a slower, bitter sweet movie.
Awards & Nominations for Meryl Streep
★ National Society of Film Critics Award – Best Supporting Actress
☆ Critics Choice Award – Best Acting Ensemble
☆ Gotham Independent Film Award – Best Ensemble Performance
☆ International Cinephile Society Award – Best Supporting Actress (runner-up)
---