Hurricane on the Bayou

July 29, 2006

|

MacGillivray Freeman Films

|

42 minutes
Directed by:
Greg MacGillivray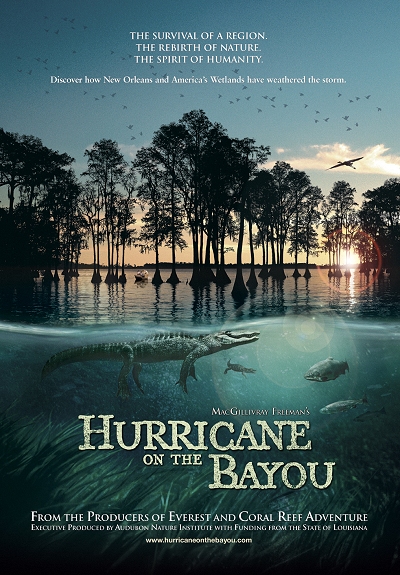 "Hurricane on the Bayou" is both a documentary of Hurricane Katrina's effects and a call to restore Louisiana's wetlands, rebuild New Orleans, and honor the culture of the city. The film is narrated by actress Meryl Streep and driven by a wonderful jazz, blues, Cajun, and gospel-fueled soundtrack featuring Tab Benoit, Amanda Shaw, Mavis Staples, and Allen Toussaint. In 2007, "Hurricane on the Bayou" was nominated for a Golden Reel Award in Sound Editing.
Production Notes
An emotional giant screen document of Katrina's powerful effects as well as a profound musical celebration of a city that has been called the 'soul of America,' and a call to restore New Orleans and the vital wetlands from which the city's unique identity first arose," says director/producer Greg MacGillivray. "Meryl Streep's ability to connect with audiences and the depth she brings to everything she does makes her the ideal narrator for this film which has so many moods and which uses the full force of the IMAX theatre film medium to not only educate and entertain but inspire." Originally conceived as a cautionary tale about Louisiana's wetlands and the consequences of a hypothetical hurricane hitting New Orleans, Hurricane on the Bayou began production in early 2005. The filmmakers simulated an apocalyptic hurricane, complete with recreated scenes where flooded homeowners burst through rooftops to get to safety. When Hurricane Katrina hit just four months after production wrapped, the filmmakers were forced to rewrite their story and raced to New Orleans to record the powerful giant screen images of Katrina's aftermath.
---
Hurricane on the Bayou is being listed under the following tags:
---