Fantastic Mr. Fox

November 25, 2009

|

Wes Anderson, Scott Rudin, Jeremy Dawson, Allison Abbate

|

88 minutes
Directed by:
Wes Anderson |
Written by:
Wes Anderson, Noah Baumbach |
Literature:
Roald Dahl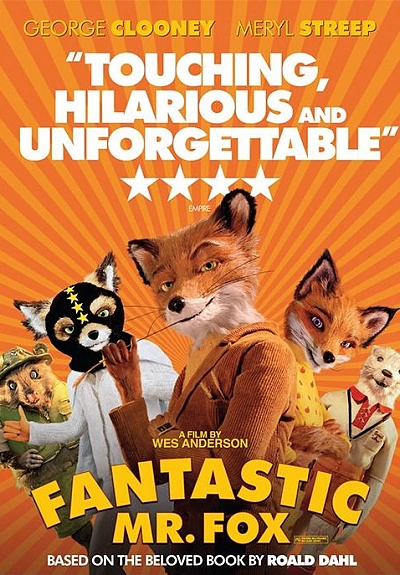 For 12 years, Mr. and Mrs. Fox (George Clooney and Meryl Streep) have lived a peaceful life in the wilderness with their son, Ash. Shortly after their young nephew Kristofferson arrives for a visit, Mr. Fox's long-suppressed animal instincts begin to take over and the faithful family man resorts back to his old ways as a cunning chicken thief, endangering not only his family but the entire animal community as well. When evil farmers Boggis, Bunce, and Bean force the animals underground in a desperate attempt to capture the audacious Mr. Fox.
Cast: George Clooney (Mr. Fox), Meryl Streep (Mrs. Fox), Jason Schwartzman (Ash), Bill Murray (Badger), Wallace Wolodarsky (Kylie), Eric Chase Anderson (Kristofferson), Michael Gambon (Franklin Bean), Willem Dafoe (Rat), Owen Wilson (Coach Skip), Jarvis Cocker (Petey), Wes Anderson (Weasel), Karen Duffy (Linda Otter), Robin Hurlstone (Walter Boggis), Hugo Guinness (Nathan Bunce), Helen McCrory (Mrs. Bean), Roman Coppola (Squirrel Contractor), Juman Malouf (Agnes), Jeremy Dawson (Beaver's Son), Garth Jennings (Bean's Son), Brian Cox (Action 12 Reporter), Tristan Oliver (Explosives Man), James Hamilton (Mole), Steven Rales (Beaver), Rob Hersov (Pilot), Jennifer Furches (Dr. Badger), Allison Abbate (Rabbit's Ex-Girlfriend), Molly Cooper (Rabbit Girl), Adrien Brody (Field Mouse), Mario Batali (Rabbit), Martin Ballard (Fire Chief)
Production Notes
First published in 1970, Roald Dahl's beloved book "Fantastic Mr. Fox" has enchanted and delighted generations of children and their parents alike for almost 40 years. Now, thanks to the bittersweet, wryly funny vision of acclaimed filmmaker Wes Anderson and the magic of stop-motion animation, Dahl's darkly humorous tale of the noble, charming and fantastic Mr. Fox has been adapted for the big screen. "It was not only the first Roald Dahl book I ever read, it was the first book I ever owned, I loved the character of Mr. Fox, this sort of heroic and slightly vain animal" says Anderson. Before he began work on the script, Anderson visited Gipsy House, the Dahl family's estate in Buckinghamshire, England, where the late author famously worked in a writing hut in the garden. There he spent a "very wet muddy day walking all over the hills, the woods, the dales, everywhere and we had good fun", as the author's widow, Felicity Dahl, recalls. Stop-motion animation is one of the oldest forms of special effects, and the meticulous, labor-intensive process hasn't changed much since its introduction more than a century ago. The technique involves the frame-by-frame manipulation of a three-dimensional object – a puppet, a model or even an actor – to bring it to life and make it appear to move.
While the fundamentals of stop-motion have remained the same for more than a hundred years, improvements in puppet technology, the use of digital still cameras instead of film, as well as the introduction of computers, video assists, and the ability to remove rigs that hold puppets in place for previously impossible shots in post-production, have all helped make animation slicker than ever before. To play the crafty, sly and decidedly roguish antihero Mr. Fox, Anderson only ever had George Clooney in mind. "George seemed like a natural choice, because we needed somebody who was going to be a hero, and I think he is that automatically", says producer Allison Abbate. As Mr. Fox's pragmatic, artistic and resolutely faithful wife Felicity, Anderson cast Meryl Streep. "When else am I going to be Mrs. George Clooney?"" laughs Streep of accepting the role. "There is no better actress and she completely brought to life a character,"" says Anderson. "She was an amazing choice,"" says Abbate. "She's the moral center of the movie in many ways. She can be strong, she can be funny, and she is definitely wifely. She stands by her man and helps him get out of scrapes. She's got a great relationship with Mr. Fox. She keeps him honest." "Fantastic Mr. Fox" received two Academy Award nominations in 2010 – for Best Animated Feature Film of the Year (Wes Anderson) and for Best Achievement in Music Written for Motion Pictures, Original Score (Alexandre Desplat).
---