The Giver

August 15, 2014

|

The Weinstein Company

|

97 minutes
Directed by:
Phillip Noyce |
Written by:
Michael Mitnick |
Literature:
Lois Lowry |
Cinematography:
Ross Emery |
Editing:
Barry Alexander Brown |
Costume Design:
Diana Cilliers |
Set Design:
Ed Verreaux |
Music:
Marco Beltrami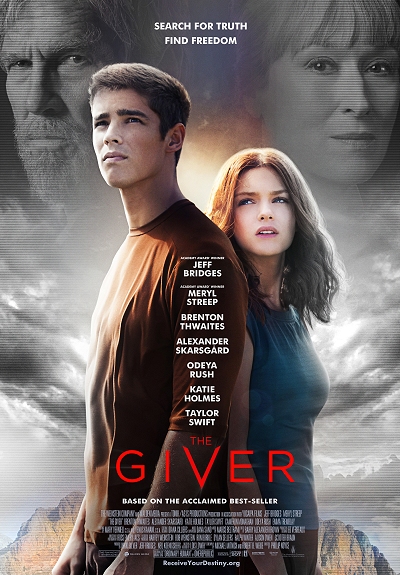 In a seemingly perfect community, a culture of "sameness" is embraced. Pain and suffering have been eradicated from daily life, along with any notion of individuality or choice. Members of the Community lead a seemingly perfect existence, unburdened by the harsh realities of the "real" world. A young man, Jonas (Brenton Thwaites), has been designated by the community's Chief Elder (Meryl Streep) to retain all memories of the way life once was. Jonas starts taking lessions with the Giver (Jeff Bridges), who not only passes his knowledge to him, but also opens up a whole new world.
Cast: Brenton Thwaites (Jonas), Jeff Bridges (The Giver), Meryl Streep (Chief Elder), Katie Holmes (Jonas' mother), Taylor Swift (Rosemary), Alexander Skarsgård (Jonas's father), Odeya Rush (Fiona), Cameron Monaghan (Asher), Emma Tremblay (Lily)
Production Notes
"The Giver" is a 1993 USA children's novel by Lois Lowry, set in a society which is at first presented as a utopian society and gradually appears more and more dystopian. The novel follows a boy named Jonas through the twelfth year of his life. The society has eliminated pain and strife by converting to "Sameness," a plan that has also eradicated emotional depth from their lives. "The Giver" won the 1994 Newbery Medal and has sold more than 5.3 million copies. The novel forms a loose quartet with three other books set in the same future era: Gathering Blue (2000), Messenger (2004), and Son (2012). Although the book has been a success and film rights were quickly sold, it took more than twenty years to adapt it for the big screen. According to an article in Entertainment Weekly, fans of canonical children's book The Giver were torn when word broke that Jeff Bridges' big screen adaptation of the novel was finally moving forward in the development process. On one hand, Bridges' twinkly eyes and grizzled wisdom make him a natural fit for the titular role; on the other, The Giver's unique, simple charms may not translate well to celluloid. One constant throughout The Giver's long road to the multiplex has been Oscar winner Bridges, who originally bought the rights and envisioned the movie as a vehicle for his father Lloyd. The elder Bridges died in 1998; 14 years later, his son has decided he'd like to play the role of the Giver himself.
Lowry approves of this casting: "When I think about a potential movie, he's the one I see in it because he's the one who legally has the right to play that role now. There are other actors that I could see there, but I purposefully put them out of my mind because that overcomplicates it." But one year later, those who felt ambivalent may no longer have to worry that Hollywood will ruin their favorite story — Giver author Lois Lowry doubts that the long-incubating film will ever get made at all. "The film rights have been out there for 15 years now," Lowry tells EW. "And every now and then, some big studio gets involved, and some major player gets involved. And then time passes, and it all collapses again," she says with a laugh. "So it's out there, and I should be feeling excited, as if now is the time it's actually going to be made. But this has happened so often before that I've become kind of sanguine about it." She says that she's read four different Giver screenplays over the years, each of which has "tried to inject action and drama and suspense — and some have done it more successfully than others." Those who currently hold the movie's rights were using Lowry's favorite of the four screenplays — "but now I've heard them talking about finding a new screenwriter, so who knows. I have no idea. And I'm not involved in it."
Distributed by the Weinstein Company and directed by Philip Noyce, "The Giver" began filming in October 2013. Brenton Thwaites was cast as Jonas, Katie Holmes and Alexander Skarsgård as his parents, as well as Odeya Rush as Fiona, Jonas's friend and love interest, and Taylor Swift as Rosemary, The Giver's daughter. Meryl Streep was cast as Chief Elder, the authoritarian charged with keeping order in the utopian society. Meryl Streep had some of her scenes shot in England, where she also filmed Rob Marshall's "Into the Woods", before doing additional filming two months later in Cape Town.
---
The Giver is being listed under the following tags:
---