Ricki and the Flash

August 07, 2015

|

Tri Star Pictures

|

101 minutes
Directed by:
Jonathan Demme |
Written by:
Diablo Cody |
Cinematography:
Declan Quinn |
Editing:
Wyatt Smith |
Costume Design:
Ann Roth |
Set Design:
Stuart Wurtzel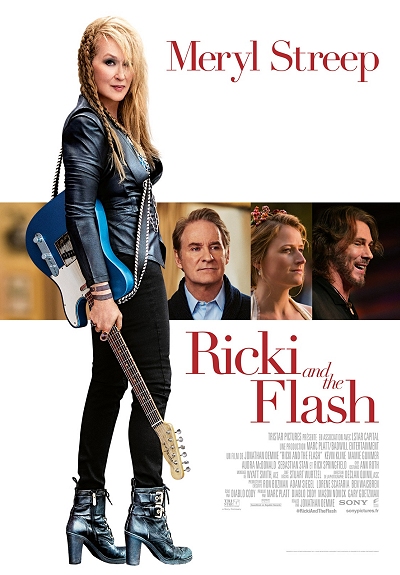 Ricki Rendazzo (Meryl Streep) chased her dreams of becoming a famous rock star by abandoning her family. She has a rock band that plays a regular gig at a small bar, when she isn't working as a cashier to make ends meet. Out of the blue, Ricki gets a chance to put things right when her ex-husband Pete (Kevin Kline) informs her about her estranged daughter Julie (Mamie Gummer), who has recently attempted suicide after her husband cheated on her. Despite being broke, Ricki returns to help her daughter, but Julie is hostile. Suddenly, Ricki is confronted with the hard truths of her past.
Cast: Meryl Streep (Ricki Rendazzo/Linda), Kevin Kline (Pete), Mamie Gummer (Julie), Audra McDonald (Maureen), Sebastian Stan (Joshua), Rick Springfield (Greg), Ben Platt (Daniel), Charlotte Rae (Oma), Rick Rosas (Buster), Gabriel Ebert (Max), Carmen Carrera (Ricki's lead hairstylist)
Production Notes
With today's film technology moviegoers have come to expect unwavering realism. That's why, when it comes to modern day films about music, the musicians on camera need to actually play their instruments. It's no longer acceptable to use prerecorded music and have the actors lip sync or pretend to play. In creating the film Ricki & the Flash, director Jonathan Demme took this philosophy to the extreme. "This is a film where everybody played live and every cut is them playing live, no overdubs, no fixing," says the film's music director, Neil Citron. "That's just unheard of in the film business so it sets a real precedent, I hope." The film's producer, Gary Goetzman, knew he could count on Citron to help him make it happen. The musician, engineer, composer, and consultant had already worked with Goetzman, instructing the actors/band members in the 1996 Tom Hanks film That Thing You Do. Originally, the Ricki & the Flash band was only going to perform three live songs, and Citron was brought in to audition against Meryl Streep, prior to the real band. "I wound up sort of arranging the tunes and learning them on the spot," he says. "When the band began playing and it sounded good, Jonathan just decided to do more and more." In the end, 10 songs were recorded live.
For Meryl Streep and daughter Mamie Gummer, "Ricki" is the first professional collaboration. In 1986, Mamie played the baby daughter of Streep's character in "Heartburn". A decade later, in "Evening", Gummer and Streep played the character of Lila Ross in young and old, respectively. Now, almost twenty years after both sang "Itsy Bitsy Spider" in the former film, the mother and daughter pair face emotional challenges in "Ricki and the Flash".
Simply Streep's Review
With so much talent in front of and behind the camera, the one question you're left with while watching "Ricki and the Flash" is an unsatisfying "why?" Jonathan Demme has made a lot of great films – classic thrillers like "Silence of the Lambs", dramas like "Philadelphia" and broad comedies like "Married to the Mob". In 2004, he first worked with Meryl on "The Manchurian Candidate" and then almost stopped working as a film director with the exception of the critically praised family drama "Rachel Getting Married". It took him seven years until his next feature, and you would just wish that "Ricki and the Flash" was less of a famiy affair. Meryl Streep plays a singer in a trio of music performances between wrapping "Into the Woods" and preparing for "Florence Foster Jenkins". Whatever made this script attractive, it cannot be the story, which is by the numbers and falls flat early on. As a washed up singer, Streep is reunited with the family she has abandonded years ago. Much of the film's first half focuses on her relationship with her daughter. One thing can be said about Mamie Gummer that she'll never be miscast playing Meryl Streep's daughter, but another actress might have given this plot a whole different drive, as Gummer brings little to the role. Nor does Kevin Kline, who plays Kevin Kline on autopilot. Not even the music numbers are outstanding. For a film so focused on rock music, and for Jonathan Demme – who has a deep interest in music, has directed many classic music videos and documentaries on Neil Young, the music in "Ricki" is too tame to excite. The problem of "Ricki and the Flash" is that the character itself is not interesting enough to care about – or to understand why she has left her family for a complete mediocre career. This might be the point of the whole storyline, but it gets lost as soon as Ricki returns again for her son's wedding and her daughter's storyline is just not happening anymore. A few words of apologies and suddenly all the guests jump into a choreographed dance to Ricki's performance. By the end the end credits roll, you have forgotten half of it again.
---
Ricki and the Flash is being listed under the following tags:
---