Suffragette

October 16, 2015

|

Focus Features

|

106 minutes
Directed by:
Sarah Gavron |
Written by:
Abi Morgan |
Cinematography:
Eduard Grau |
Editing:
Barney Pilling |
Costume Design:
Jane Petrie |
Set Design:
Alice Normington |
Music:
Alexandre Desplat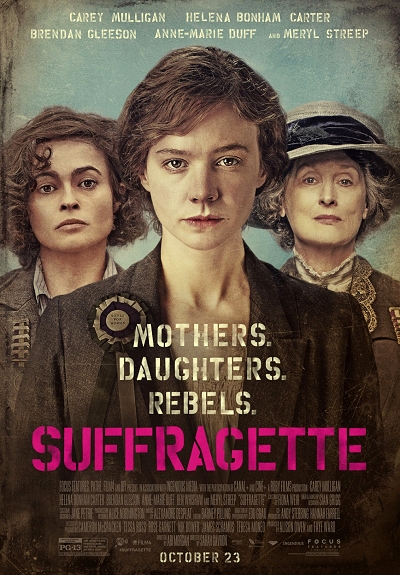 "Suffragette" is the powerful and thrilling first film about the remarkable story of the real foot soldiers of the Suffragette movement. These women were not primarily from the genteel educated classes, they were working women who had seen peaceful protest achieve nothing. Radicalised and turning to violence as the only route to change, they were willing to lose everything in their fight for equality - their jobs, their homes, their children and their lives. Maud (Carey Mulligan) was one such foot soldier. The story of her fight for dignity is as gripping as it is heart-breaking and inspirational.
Cast: Carey Mulligan (Maud Watts), Helena Bonham Carter (Edith Ellyn), Brendan Gleeson (Inspector Arthur Steed), Ben Whishaw (Sonny Watts), Romola Garai (Alice Haughton), Anne-Marie Duff (Violet Miller), Meryl Streep (Emmeline Pankhurst), Samuel West (Benedict Haughton), Natalie Press (Emily Wilding Davison), Geoff Bell (Norman Taylor), Morgan Watkins (Detective Malcolm Walsop), Lisa Dillon (Mrs. Drayton), Adam Nagaitis (Mr. Cummins), Clive Wood (Superintendent James Burrill), Amanda Lawrence (Miss Withers)
Production Notes
Cast a glance at Sarah Gavron's credits and one thing becomes instantly clear: she relishes a challenge. Unafraid to tackle sensitive subject matter ranging from the BAFTA-winning BBC drama This Little Life (2003), which centres on a couple dealing with the premature birth of their son, to an adaptation of Monica Ali's best-selling book Brick Lane (2007), focused on a Bangladeshi woman's struggle in a loveless marriage in a place far from home, the British director is nothing if not intrepid. But it's Gavron's latest turn behind the lens that reveals her biggest challenge and perhaps most important accomplishment to date. Suffragette, starring Carey Mulligan, Helena Bonham Carter, Anne-Marie Duff and Meryl Streep, is a careful portrayal of the foot soldiers of the early feminist movement in London 1912 and how they embarked on a campaign of militancy in order to fight against gender inequality. The subject matter alone is one that begs to be handled with care, but add this to enormous set pieces, riot scenes with 300 extras, a load of visual effects, stunts, accidents, horses, scenes in the Houses of Parliament, all for a budget of £10m, and the term 'ambitious' takes on a whole new meaning. "The material needed scale and scope," says Gavron. "We had to step up to that and create a film on a big canvas and give it a big sweep to do justice to this story. Not only was this second feature stressful for me, but it had to deliver a strong message. We were ready for the challenge." Backed by Pathé, Film4 and the BFI, Suffragette reunites Gavron with producers Faye Ward and Alison Owen and writer Abi Morgan (the four women worked on Brick Lane together in 2007). "It was one of those stories that when we researched it, we uncovered all of these other elements of this story and it then became ever-more vital and relevant to make this film," says Gavron. "It felt like it was in the zeitgeist and it was the time to make the film." Police archives unveiled accounts of brutality ranging from hunger strikes to force-feeding and it became, she says, near impossible to ignore the parallels between the lengths these women went to and the plight that faces women's rights and politics in parts of the world, such as the Middle East, today.
"The more we researched, the more we felt compelled to tell the story," says Ward, who notes it was a year and a half before pen was put to paper. "The more we read, the more we realised we needed to consume it all before we could get into the angle of the film." Suffragette, it feels, is more than just a film. It is not only a cinematic portrayal of women's rights and politics in the early 1900s but is cleverly associated with present day issues. The film is set to open the BFI London Film Festival in advance of its UK release at a time when the world is seeing a resurgence of feminism and appetite for women's stories. "Despite the significant change and advancement of women in recent years, the demands of social economic, religious and cultural equality of the suffragette movement are as important and as relevant as they have ever been to orchestrate global change," says Morgan. "In a world where women are still regularly abused and denied the same equal rights as men, the message of this film still applies." The team decided early on not to take the biopic route which, says Gavron, felt like a safer way to go, and built the story around Maud, who is drawn from many sources and unpublished accounts of women at the time. "Historical biopics are always difficult," notes Morgan, who has written screenplays on subjects such as Margaret Thatcher (The Iron Lady) and Charles Dickens (The Invisible Woman). "But this was liberating to take on a movement that drew on the testimonials of real women of the time." "There were lots of ordinary women who took part in this movement," Gavron adds. "By taking this route, we would be able to bring together women of all classes and it felt like the exciting way to go." Owen agrees: "We wanted the film to feel visceral and resonant. These women were the guerillas of their time. They are not polite, upper-class 'sister suffragettes'. They are warriors." However, distilling this story of the foot soldiers of the movement through a huge swathe of material was not without its challenges. "We were always trying to serve the historical through the fictional and do justice to the heads of the movement, namely [Emmeline] Pankhurst [leader of the suffragette movement] while witnessing the drama through the eyes of ordinary, if militant, suffragettes," says Morgan.
Conscious of how the suffragettes had been portrayed throughout history – "stuffy, posh, slightly acerbic," says Ward – breaking with this tradition as much as possible became a guiding principle for the film. Gavron was also keen to create a raw world that immersed the audience: "We didn't want to prettify it," she says. Ward says that while the development process was a long one, the team could not have rushed the story. "Had we been quicker, would this film have been made three or five years ago? I don't think so," she says. "So, in that sense, I do think there is a certain element of fate in making the film when we made it. It feels like the right time for this story to be told." Casting the project was, say the women, "like casting a love story." They had their eye on Mulligan for the role of Maud from very early on. Morgan had worked with her on Steve McQueen's Shame (2011), and they talked about her extensively for six months during writing before offering her the part. Mulligan read the script and then two days later committed to the project. "She was so on board and so believed in it from day one," says Gavron. Keen to get the right alchemy, Bonham Carter (who, ironically, is the great granddaughter of former Prime Minister Herbert Henry Asquith, a key target for the suffragettes at the time) embraced the dynamic role of Edith. "It was quite intriguing because we knew this fact when we sent her the script," says Ward. "But we weren't sure if she would want to get involved due to the fact that her family were obviously present in this historical moment." But Bonham Carter embraced the opportunity and gave the team insight into the Asquith family.
Streep's iconic status made her the perfect fit for the very brief but key role of Pankhurst. "It was important to have an icon play an icon," says Ward. "Because she's only in one scene, you immediately understand how powerful and important this woman is." And while the film's core reflects the plight of women at the time, the team was conscious to handle the male characters with care. "It was important for us not to portray men as bad people," says Ward. "The challenge was to convey this story and have empathy for men but still very much make it a story about women." Ben Whishaw, who plays Maud's husband who objects to her actions due to the effects it has on their family, brings a subtlety and empathy to his role while Brendan Gleeson, who plays a plainclothes policeman spearheading a pioneering operation to go undercover and survey women using cameras, also fleshes out a complex, three-dimensional character. "Men weren't straightforward and they weren't villains," Gavron notes. "They were complex characters with their own agendas and they were products of their time." The shoot was a determined one. Ward pushed the team to do huge amounts of early prep and location scouting so that it when it came to shooting, they could maximise their time. They even set up a website with the crew so everyone could communicate and connect about the research. Filmed mostly around London, save for one scene in Windsor, Gavron was able to make the most of the shoot by always keeping two cameras rolling, sometimes even three or four. "It had a visceral feel to it," Gavron says. "I think we allowed it to be quite loose, which gave an energy that kept everyone on their toes and then we didn't have those long, dead periods you often get in film when the energy drops, which was great because we had to move fast."
Crucially, Suffragette is the first film that the Houses of Parliament has ever opened its doors to. "I remember thinking it was quite thrilling," recalls Gavron. "There was this wonderful irony of this place that had barred women and there we were, this predominantly female cast and crew, staging a riot that was anti-government there. It was so empowering." Suffragette is one of many BFI films shepherded by the late production executive Chris Collins and Ward, who first worked with him on Brick Lane, points to his generosity and faith as a key driver for films they worked on together. "He and Alison [Owen] were so generous with allowing newcomers to push forward and ever since then, both Chris and Alison have really nurtured our careers and been so supportive of us." Gavron notes that Collins, even though he was ill, had a lot of input in Suffragette, particularly in the edit. "He saw a number of cuts and made some key comments that fed into the final cut," she says. "He was also able to come to Parliament and I think he was really proud of us." Owen says that although the film is set in the early 1900s, its message will undoubtedly still resonate with audiences today. "I'm terrified when young women, even my own daughters, don't grasp how fragile our advantages are, and how recently attained," she says. "When we have shown the film to young audiences, that is gratifyingly their biggest reaction – they cannot believe how different things were for women only a few generations ago. Showing how hard won our rights have been will hopefully be a wake up call to complacency."
Gavron couldn't agree more: "These women lost their families and jobs to leave a legacy that we are all now benefiting from generations later. We wouldn't be doing these amazing jobs if it wasn't for these amazing women." Ward concludes: "Suffragette is about women and the political revolution of the time. But it is also about the voiceless gaining a voice. All human beings deserve to have a place in society and feel that they are worth something. Their voices should be heard and this is, unfortunately, very much a contemporary issue."
Awards & Nominations for Meryl Streep
☆ Woman Film Critics Circle as Best Ensemble
☆ Athena Film Festival as Best Ensemble
---
Suffragette is being listed under the following tags:
---