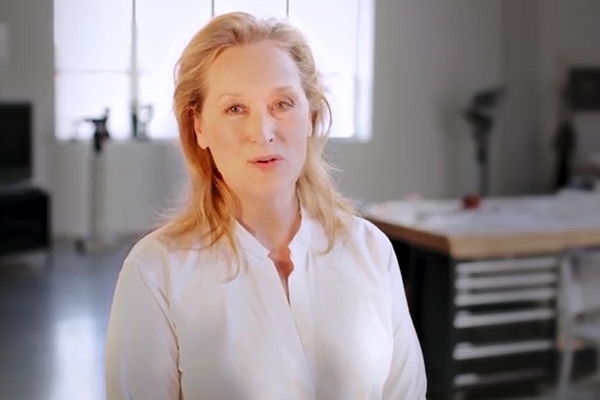 *Please note that any links forwarding to third-party streaming services have no affiliation or monetary connection with Simply Streep.
Release date:
July 28, 2016
Directed by:
Linda Bloodworth Thomason
Running time:
11 minutes
An 11-minute video celebrating the life of Dorothy Rodham, Hillary Clinton's mother, was abruptly cut from the Democratic National Convention last night, according to a source familiar with the decision. The video was produced by Emmy Award winner and longtime Clinton friend Linda Bloodworth Thomason and is narrated by iconic Academy Award winner Meryl Streep, and was supposed to be introduced by her at Tuesday night's primetime ceremonies. Instead, Streep introduced Alicia Keys after a fiery speech that connected Hillary Clinton to a litany of feminist icons throughout American history.
The decision to cut the film at the last minute left some Democrats involved with the project scratching their heads. The source claimed that there were concerns by Clinton campaign operatives that the video presented too soft or too feminist a vision of the woman who would become the first female commander in chief. But a Clinton spokesman rejected the idea that the decision to pull the video had anything to do with its content or feminist message and said it was simply an issue of time. "There were a number of options how to celebrate the historic moment last night," the spokesman said. "Ultimately we chose the best option for the amount of space available in the program." And many of the messages contained in the video were expressed on stage Tuesday night at the DNC. Bill Clinton's keynote speech was dedicated to twin propositions: humanizing Hillary Clinton and making the case that she is a "change-maker" who can harness populist frustrations with politics and achieve the hard work of real change. The biographical video also carefully reinforces a core point of Hillary Clinton's stump speech, in which she has repeatedly highlighted her mother's struggles as an inspirational tale. (Rodham, who died in 2011, had "a childhood that made mine look like a piece of cake," Clinton said.)
The video presents Dorothy Rodham's life with a cinematic arc, beginning with her birth on the day that the 19th amendment—which gave women the right to vote—was ratified by the U.S. Senate. Young Dorothy grew up in poverty, "unwanted and unloved," as the daughter of two unwed teenage parents. She was sent to work at the age of 14 and was determined to build a home that counteracted her own neglect. The film then connects Hillary Clinton's commitment to public service and global feminist causes to the example her mother set in adversity. "It just didn't make sense to me that you couldn't do certain things because you were born a boy or a girl," Rodham says in the video, recalling the time when NASA rejected a young Hillary's plea to be an astronaut. "While we're all busy judging Hillary: her hairstyle; her wardrobe; whether she looks tired; if she's talking too loud; she's just quietly gone about the business of helping women all over the world," Streep says, before invoking a litany of American women including Harriet Tubman, Susan B. Anthony, Amelia Earhart, Margaret Chase Smith, Eleanor Roosevelt, Rosa Parks, Sally Ride, Maya Angelou, Delores Huerta, Geraldine Ferraro and her mother—all described as Hillary's heroes. "In the end, Hillary did not realize her dream of becoming an astronaut. But, she did soar to a place no woman has gone before."
The Clinton campaign of 2016 stands in stark contrast to Clinton's failed 2008 bid, where she took pains to not draw attention to her gender. Instead, her Brooklyn-based team has embraced her status as the first female major party nominee, creating "women cards" in response to one Donald Trump attack and celebrating her history-making run last night during prime time. In light of this clear change in strategy, it's unclear how the video somehow crossed the line. In fact, the film reinforces Hillary Clinton's historic achievement, with Meryl Streep's voice-over connecting the candidate's own struggles with the trailblazing America women on whose shoulders she stands. "Tonight we say thank you to all the women who would not take no for an answer: You dreamers and schemers, you rabble rousers and hell raisers, you petticoat abolitionists, you chain-smoking, pants wearing exhibitionists, you educators, agitators and aviators, you risk-takers, you rule breakers, you unlikely heroes."