Starring Austin Pendelton

April 2016

|

4 Hawk Productions

|

87 minutes
Directed by:
Gene Gallerano, David H. Holmes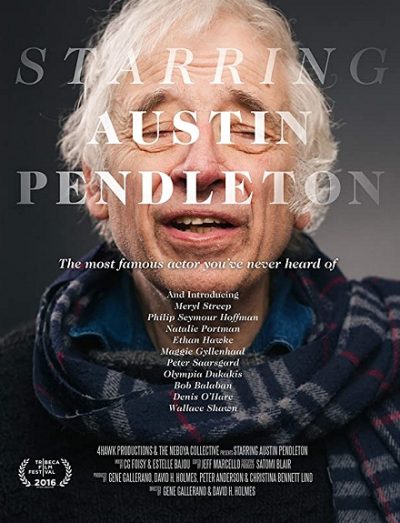 This intimate portrait profiles Austin Pendleton, a multi-dimensional artist who has survived the ups and downs of the professional arts in this country over the last five decades. Along the way he became the unrecognized soul of the American Theatre. The film documents the colorful and dramatic life of this unappreciated artist. It also explores the larger themes of his art and many successes. With comments by Meryl Streep, Olympia Dukakis, Laurie Metcalf, Peter Sarsgaard and Maggie Gyllenhaal, we explore Pendleton's long and famous career.
Cast: Natalie Portman, Meryl Streep, Denis O'Hare, Ethan Hawke, Peter Sarsgaard, Maggie Gyllenhaal, Philip Seymour Hoffman, Laurie Metcalf, Wallace Shawn, Bob Balaban, Michael Cerveris, Olympia Dukakis, Austin Pendleton, Kevin Anderson, Emily Althaus, Kate Arrington, Louis Zorich, Paul Lazar, George Morfogen, Nancy Fox, Amadeo Fusca, David H. Holmes, Ian Barford, Rao Rampilla, Lyndsey Anderson, Robert Breuler, Ben Monk, Charles Evered, Ryan Tramont, Nick Brooks, Louisa Ward, Daniela Dakich, Judy Rosenblatt, Zach Wegner, Gene Gallerano, Christian Pedersen, Jonathan Marc Sherman, Dara Obrien, Johanna Leister, Chrisie Penna, Jody Prusan, Holly Horner, Laurence Cantor, Jen Danby, William Laney, Allison Plamondon, Norah Scheinman, Megan Ruskey, Stacey Lightman, Stewart Walker, J. Knox Griffin, Donna Gabel, Polly McKie, Virginia Hammer, Susan Stein, Jaime Lubin, JoAnne Sellers, Brad Fryman, Debra Whitfield, Barry Schneider, William Shuman, Erica Daniels, Lisa Raymond, David Nieves
Production Notes
His work as an actor is never grandstanding and showing off, it seems like there's an inevitability to it, an ease and there's no line between the man and his work, it's very authentic. (Meryl Streep)
Austin Pendleton and Meryl Streep worked together in 2006 on "Mother Courage and her Children" and the 2009 benefit "Courage in Concert". Long in the works as a documentary, formerly titled "The Austin Pendelton Project", the interview with Meryl Streep was conducted in 2011.
---
Starring Austin Pendelton is being listed under the following tags:
---