Five Came Back

March 31, 2017

|

Netflix

|

180 minutes
Directed by:
Laurent Bouzereau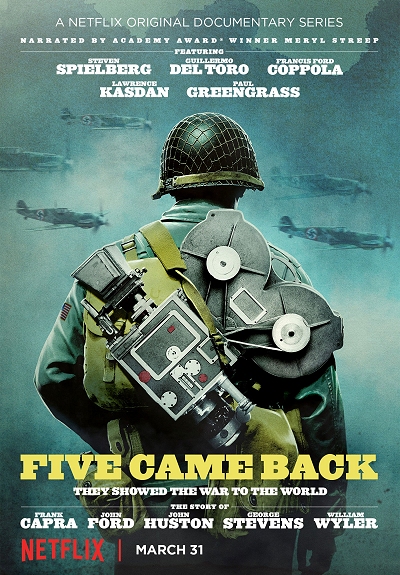 Adapted from Mark Harris' best-selling book, the three-part docuseries tells the extraordinary story of how Hollywood changed World War II - and how World War II changed Hollywood, through the interwoven experiences of five filmmakers who interrupted their careers to serve their country, risk their lives and bring the truth back to the American people: John Ford, William Wyler, John Huston, Frank Capra, and George Stevens. To guide viewers through the personalities, interweaving chronologies and globe-trotting locales, the Five Came Back team turned to the voices of five modern cinematic masters: Steven Spielberg, Francis Ford Coppola, Guillermo Del Toro, Paul Greengrass and Lawrence Kasdan.
Cast: Francis Ford Coppola, Guillermo del Toro, Paul Greengrass, Lawrence Kasdan, Steven Spielberg, Meryl Streep (host)
Production Notes
"Film was an intoxicant from the early days of the silent movies," says Spielberg in the opening moments of Five Came Back. "And early on, Hollywood realized that it had a tremendous tool or weapon for change, through cinema." Adds Coppola, "Cinema in its purest form could be put in the service of propaganda. Hitler and his minister of propaganda Joseph Goebbels understood the power of the cinema to move large populations toward your way of thinking." Tracing the ways patriotism and industry existed side by side, and the role Hollywood played in mobilizing and shaping the consciousness of a divided America, Bouzereau and his team gathered over 100 hours of archival and newsreel footage; watched over 40 documentaries and training films directed and produced by the five directors during the war; and studied 50 studio films and over 30 hours of outtakes and raw footage from their war films. The stories in Five Came Back reverberate with meaning. We are still living through their coda. Says director Laurent Bouzereau, "These filmmakers, at that time, had a responsibility in that what they were putting into the world would be taken as truth. You can see a lot of echoes in what is happening today. It became clear as we were doing this series that the past was re-emerging in some ways, including the line we see that separates cinema that exists for entertainment and cinema that carries a message. And politics is more than ever a part of entertainment. I find it courageous of filmmakers then, as with artists today, to speak up for those who don't have a platform." "It's the hardest thing to convey to young, contemporary audiences – even if you understand it intellectually, you don't understand viscerally that you had to wait a really, really long time for news," says writer Mark Harris. "We're in a context now where we have five different ways of knowing what is making news this morning. But you're truly in another universe when you're talking about the 1940s. There were newspapers and radio, but visually, the movies were the only way people could see the war."
"Five Came Back is a wholly immersive journey through film history and a sweeping look at the vital role storytellers play during our most tumultuous times. This rare vantage where we witness these titans of cinema forego their lucrative careers and embrace a new form of filmmaking, the documentary form, in the name of patriotism is absolutely breathtaking," says Lisa Nishimura, Netflix VP of Original Documentary Programming. "This series is an added dimension to Netflix's slate of diverse content, a cinephile's dream that will also introduce a new generation of viewers to these legendary directors and their classic films." In conjunction with the launch of Five Came Back, Netflix will also present 13 documentaries discussed in the series, including Ford's The Battle of Midway, Wyler's The Memphis Belle: A Story of a Flying Fortress, Huston's Report from the Aleutians, Capra's The Battle of Russia, Stevens' Nazi Concentration Camps, and Stuart Heisler's The Negro Soldier.
Meryl Streep recorded the narration for the documentary on January 17, 2017, the same day she received her 20th Oscar nomination for "Florence Foster Jenkins".
Awards & Nominations for Meryl Streep
★ Primetime Emmy Award – Outstanding Narrator
---