Mary Poppins Returns

December 25, 2018

|

Walt Disney Pictures

|

130 minutes
Directed by:
Rob Marshall |
Written by:
David Magee |
Literature:
P.L. Travers |
Cinematography:
Dion Beebe |
Editing:
Wyatt Smith |
Costume Design:
Sandy Powell |
Production Design:
John Myhre |
Music:
Marc Shaiman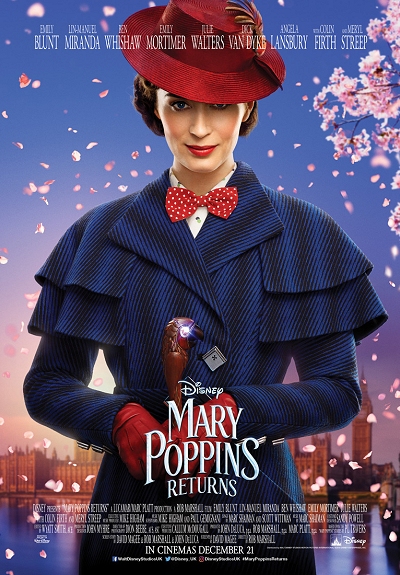 In Depression-era London, a now-grown Jane (Emily Mortimer) and Michael Banks (Ben Wishaw), along with Michael's three children, are visited by the enigmatic Mary Poppins (Emily Blunt) following a personal loss. Through her unique magical skills, and with the aid of her friend Jack, she helps the family rediscover the joy and wonder missing in their lives. Based on the book series by P. L. Travers, "Mary Poppins Returns" is a sequel to the 1964 classic starring Julie Andrews and Dick van Dyke.
Cast: Emily Blunt (Mary Poppins), Lin-Manuel Miranda (Jack), Ben Whishaw (Michael Banks), Emily Mortimer (Jane Banks), Pixie Davies (Annabel), Nathanael Saleh (John), Joel Dawson (Georgie), Julie Walters (Ellen), Meryl Streep (Cousin Topsy), Colin Firth (Wilkins, Wolf), Jeremy Swift (Gooding, Badger), Kobna Holdbrook-Smith (Frye, Weasel), Dick Van Dyke (Mr. Dawes, Jr.), Angela Lansbury (Balloon Lady), David Warner (Admiral Boom)
Production Notes
The film has grossed over $349 million worldwide and received generally positive reviews from critics, who praised its acting (particularly Blunt), direction, musical score, musical numbers, costume design, production values, visuals, and sense of nostalgia, although some critics found it derivative of its predecessor. It was chosen by both the National Board of Review and American Film Institute as one of the top ten films of 2018 and received numerous award nominations, including four at the 76th Golden Globe Awards (including for Best Motion Picture – Musical or Comedy), nine at the 24th Critics' Choice Awards, three at the 72nd British Academy Film Awards, and a SAG Award nomination for Blunt at the 25th Screen Actors Guild Awards. It also received four Academy Award nominations for Best Original Score, Best Original Song ("The Place Where Lost Things Go"), Best Production Design, and Best Costume Design at the 91st Academy Awards.
---