Mamma Mia! Here We Go Again

July 20, 2018

|

Universal Pictures

|

114 minutes
Directed by:
Ol Parker |
Written by:
Ol Parker, Richard Curtis, Catherine Johnson |
Cinematography:
Robert D. Yeoman |
Editing:
Peter Lambert |
Costume Design:
Michele Clapton |
Set Design:
John Frankish, Alan Macdonald |
Music:
Anne Dudley, Benny Andersson, Björn Ulvaeus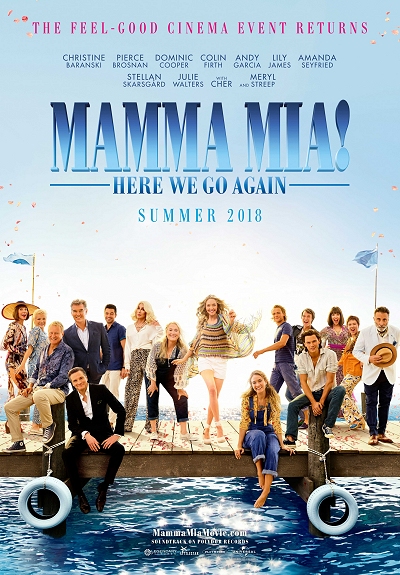 Five years after the events of Mamma Mia, Sophie (Amanda Seyfried) is pregnant with Sky's (Dominic Cooper) child while running her mother's villa on the Greek island of Kalokairi. Her relationship with Sky has been turbulent for some time, giving her cause to doubt that she can survive without her mother, Donna. With Tanya (Christine Baranski) and Rosie's (Julie Walters) guidance, Sophie will find out more of Donna's past, including how she fronted The Dynamos, started her villa on the island from nothing, met each one of Sophie's dads and raised a daughter.
Cast: Amanda Seyfried (Sophie), Lily James (Young Donna), Meryl Streep (Donna), Dominic Cooper (Sky), Colin Firth (Harry), Pierce Brosnan (Sam), Stellan Skarsgård (Bill), Christine Baranski (Tanya), Cher (Ruby Sheridan), Jeremy Irvine (Young Sam), Andy Garcia (Fernando), Julie Walters (Rosie), Celia Imrie (Vice Chancellor), Hugh Skinner (Young Harry), Josh Dylan (Young Bill), Jessica Keenan Wynn (Young Tanya), Alexa Davies (Young Rosie)
Production Notes
Mamma Mia! Here We Go Again is produced by Judy Craymer and Gary Goetzman, producers of the original film. Craymer is also the creator and producer of the worldwide smash-hit stage musical. Ol Parker, writer of The Best Exotic Marigold Hotel, writes and directs the sequel from a story by Richard Curtis, Parker and Catherine Johnson. Benny Andersson and Björn Ulvaeus return to provide music and lyrics and serve as executive producers. Rita Wilson, Tom Hanks, Curtis, Phyllida Lloyd and Nicky Kentish Barnes also serve as executive producers.
Reprising their roles from Mamma Mia! The Movie are Academy Award® winner Meryl Streep as Donna, Julie Walters as Rosie and Christine Baranski as Tanya. Amanda Seyfried and Dominic Cooper reunite as Sophie and Sky, while Pierce Brosnan, Stellan Skarsgård and Oscar® winner Colin Firth return to play Sophie's three possible dads: Sam, Bill and Harry. As the film goes back and forth in time to show how relationships forged in the past resonate in the present, James will play the role of Young Donna. Filling the roles of Young Rosie and Young Tanya are Alexa Davies (A Brilliant Young Mind) and Jessica Keenan Wynn (Broadway's Beautiful). Young Sam will be played by Jeremy Irvine (War Horse), while Young Bill is Josh Dylan (Allied) and Young Harry is Hugh Skinner (Kill Your Friends).
---
Mamma Mia! Here We Go Again is being listed under the following tags:
---