Let Them All Talk

December 10, 2020

|

HBO Max

|

90 minutes
Directed by:
Steven Soderberh |
Written by:
Deborah Eisenberg |
Cinematography:
Steven Soderbergh |
Editing:
Steven Soderbergh |
Costume Design:
Ellen Mirojnick |
Production Design:
Andy Eklund |
Music:
Thomas Newman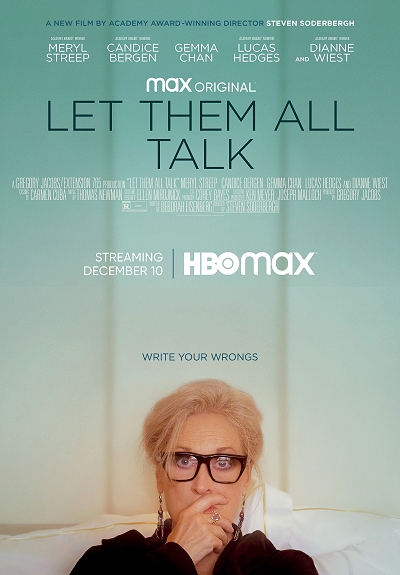 The story of a celebrated author, Alice Hughes, (Meryl Streep) who takes a journey with some old friends from school (Candice Bergen and Dianne Wiest) she hasn't seen in 35 years to have some fun and heal old wounds during a trip on the Queen Mary II from New York to Southampton, England. Alice's nephew Tyler (Lucas Hedges) comes along to wrangle the ladies as well as her literary agent (Gemma Chan), who is desperate to find out about her next book.
Cast: Meryl Streep (Alice Hughes), Dianne Wiest (Susan), Candice Bergen (Roberta), Lucas Hedges (Tyler), Gemma Chan (Karen)
Production Notes
Always the intrepid storyteller, Steven Soderbergh proves an excellent match for brilliant short fiction writer Deborah Eisenberg in her first produced screenplay, "Let Them All Talk". Much like the author, the main character here is a celebrated novelist who publishes infrequently and pays punctilious attention to every word, providing a succulent role for Meryl Streep. Her interplay with Candice Bergen and Dianne Wiest as the college friends she hasn't seen in 35 years is enlivened by extensive improvisation, which gives this HBO Max original the enthralling spontaneity of vintage Robert Altman. In addition to wonderful performances from an ace cast, especially Bergen in divinely flinty form, the production is a technical jewel. Most of the action takes place on board the Queen Mary 2 during an actual crossing from New York to Southampton, England. Shooting under his usual cinematography pseudonym Peter Andrews, Soderbergh makes the vessel's imposing architectural and design features a buffet of quirky compositional beauty, starting with gorgeous glimpses of the ship sailing from Westside Manhattan and passing under the Verrazano Bridge.
Establishing a lively rhythm of short scenes laced with intriguing details, Soderbergh (also editing under his usual alias, Mary Ann Bernard) opens with vignettes introducing each of the main characters in the fall of 2019, with chapter headings such as "Alice, New York." The writer's outsized spectacles magnify Streep's eyes in a way that makes her seem to be constantly judging, although a disarming softness also surfaces at times beneath Alice's distracted self-importance and affected manner. The strangeness and unpredictability of human relationships has been a central theme in Eisenberg's work since her biting 1986 debut story collection, Transactions in a Foreign Currency. Paired with Soderbergh's knack for drawing out the hidden shadings of his characters, this yields a scintillating group dynamic among the five principal characters stuck in the same contained environment. Thomas Newman's jazzy, '60s-style score supplies a teasing element that keeps you guessing about where things are headed, an aspect borne out in some unexpected swerves along the way. Eisenberg's stories often leave the reader with multiple impressions to be drawn concerning her meaning and her characters' intentions. The same applies to this flavorful, fizzy cocktail of a movie. With the ego of the true artist, Alice concedes at one point that while her work is drawn from life, she's essentially writing about herself in every character. Much of the pleasure of Soderbergh's elegant improvisational experiment is watching a handful of fine actors create their own open-ended fictions.
"Let Them All Talk", the second collaboration between Soderbergh and Streep in two years after 2019's "The Laundromat", premiered on HBO Max on December 10, 2020.
---