June 1st, 2013 Posted by Frederik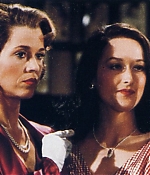 Jane Fonda, who is currently tipped for an Emmy Nomination for her performance in "The Newsroom" recently sat down for a live Chat with GoldDerby to discuss her recent success, her career and, among other Topics, Meryl's Screen debut in the 1977 Fonda film "Julia". Although Meryl's performance in "Julia" lasts for only a minute, it's very interesting to see Fonda revisit this performance and the impact it had on her her. The full conversation can be here, starting around 24:40 minutes Many thans to Glenn for the heads-up. Miss Fonda's quote is below:
It was a scene where Lillian Hellman had just opened on Broadway with her play, Little Foxes, and it was a magnificent triumph… Lillian is walking through Sardi's and the camera panned with me… and then the camera stopped and I walk off camera, and Anne Marie walks on camera and stops – and that was Meryl. What she did in just a few seconds with her face and her hand… my hair stood on end. "I was in the process of casting Coming Home and I called my producing partner, Bruce Gilbert, and I said, 'Listen, it's a weird name, Meryl Streep, but I'm telling you not since Geraldine Page have I seen anything like this; try to get her in the part.' "She wasn't free, she was doing a Tennessee Williams play but I feel privileged to have been present at her screen debut… It was breathtaking.