The bad news first: Meryl Streep was a no-show at yesterday's world-premiere of "August: Osage County" at the Toronto International Film Festival. But there are two good news as well. First, the Weinstein Company has put Meryl back in the Best Actress Oscar race (she was previously mentioned to be considered in the supporting category). And second, in the wake of TIFF's reviews and news on the premiere, new pictures from the film have been released as well.
The reviews range from positive to mixed, but so far everyone seems to agree on Meryl mastering another meaty role. A selection of reviews is below, with many thanks to Glenn for collecting them.
The Hollywood Reporter (September 20, 2013) David Rooney
As Vi, Streep is every bit as mercurial, ferocious and funny as one would expect. Slapping on a brunette wig over a sparse crop of gray when she can be bothered, she careens from needling attacks to sneaky insinuations, from drugged-out incoherence to puddles of self-pity, often punctuating those shifts with a vulgar snort of a laugh. However, like her work in another recent screen adaptation of a Broadway hit, Doubt, she hits all her marks with brilliant technique but brings no element of surprise. As good as Streep is, the chewy part actually might have benefited from a left-field casting choice.
The Guardian (September 10, 2013) Catherine Shoard
Violet is a queen bitch with only the tiniest of chinks, a hybrid of Streep's imperious Thatcher, Kristin Scott Thomas in Only God Forgives and, in cuddlier moments, Ricky Tomlinson in The Royle Family. Yet for all the sparks, the character can't quite catch fire in these conditions. Such southern fried frankness might thrill those in the theatre but at the cinema we eat this sort of thing for breakfast.
The Telegraph (September 10, 2013) Tim Robey
A serial bully who fancies herself a "truth-teller", Violet's one of Streep's most vituperative creations, pouring out a stream of invective so poisonous you wonder if the movie will ever quite recover, or succeed in topping it. With her badly chosen black wig and shades, she looks a little like Bob Dylan in a sour mood – there's not much hair left beneath, because of the chemo she's been taking to combat oral cancer, an ailment which seems the entirely natural product of letting your mouth emit a toxic spill every time you open it.
Cinema Blend (September 10, 2013) Sean O'Connell
Uniformly, the cast is fantastic, with Streep and Roberts serving as the expected scene-stealers. Streep, per usual, commands our attention. But it's so much more than "here goes Streep again." Every time she approaches a new role, she resembles a painter staring at a blank canvas, and she fills it with her inspiration. August is no different.
The Los Angeles Times (September 10, 2013) Glenn Whipp
"August: Osage County" might be the first movie to win more Oscar nominations than rave reviews. The movie, Tracy Letts' adaptation of his Tony Award-winning play of family dysfunction and warfare, premiered Monday at the Toronto International Film Festival, earning an ovation from the audience (once the house lights were turned on to spotlight the cast members in attendance). Social media immediately lit up with Oscar buzz, which will happen when you have 17-time Oscar nominee Meryl Streep playing Violet, a pill-popping, cancer-stricken monster of a mother. The moment she stumbles on screen, face pale, hair shorn, voice slurred, you can picture academy members reflexively writing her name on their Oscar ballots. This is Acting.
The New York Post (September 10, 2013) Lou Lumenick
Meryl Streep rules as the mother of all dysfunctional screen moms in the long awaited screen adaptation of the Pulitzer-winning play "August: Osage County," which had its world premiere Monday night at the Toronto International Film Festival ahead of its U.S. opening on Christmas Day. Wearing a black fright wig that scarcely hides the ravages of her chemotherapy for mouth cancer, her matriarch Violet Weston — a profanity-spouting, boozing, pill-popping harridan — terrorizes her three daughters and other kin gathered in her crumbling Oklahoma mansion for the funeral supper following the burial of her long-suffering, alcoholic poet husband (Sam Shepard, who puts in a beautiful cameo appearance at the beginning).
London Evening Standard (September 10, 2013) David Sexton
John Wells (E.R., The West Wing, Shameless) has filmed an adaptation of this powerful play by Letts himself with a stellar cast. Meryl Streep is Violet Weston, the drug-addled, cancer-stricken but still horribly acute and malevolent mother of the family, giving an all-out performance, slurring voice and twisting features, worthy of Elizabeth Taylor in her heyday, if not a nightmarish Edith Evans. Sometimes you think of a crazed Mrs T too. It's all too easy to imagine this monster being diced up into telling little clips in the awards season.
Read posts from the archive: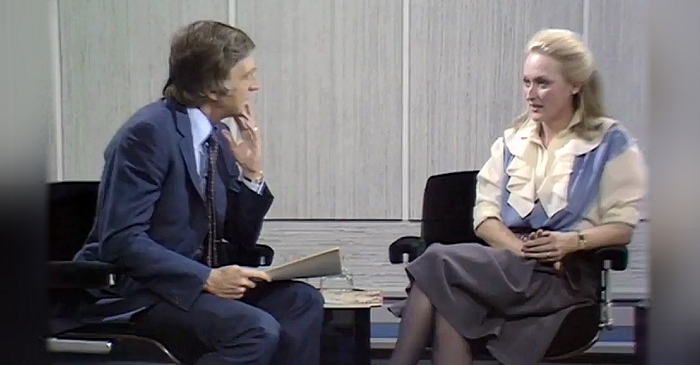 March 3rd, 2018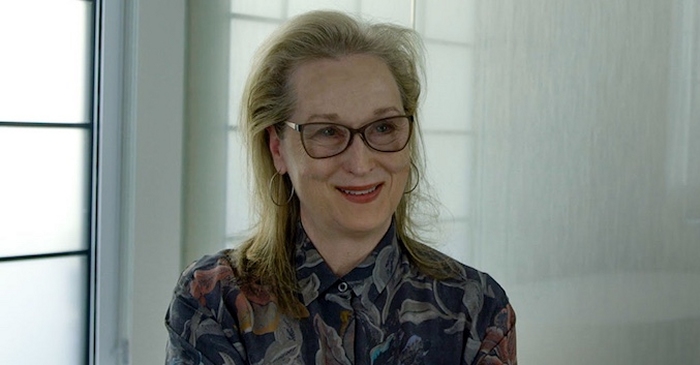 September 13th, 2018
www.simplystreep.com