December 10th, 2014 Posted by Frederik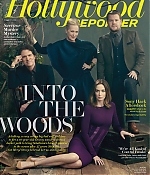 A great cover and in-depth article on "Into the Woods" by The Hollywood Reporter: When Stephen Sondheim summons, you answer the call. And so it was that in the spring of 2013, Meryl Streep found herself arriving at the 84-year-old composer's five-story Manhattan townhouse. She'd just been cast as the Witch in the big-screen version of Into the Woods, Sondheim's darkly twisted musical about fractured fairy tales. Rob Marshall, who would direct Streep in the film — opening Christmas Day — also was called to the town house, as was James Lapine, who wrote the book for the play. But none of them had any idea why they had been bidden.
It turned out Sondheim had a new tune he wanted to run by them. It was called "She'll Be Back," and the composer thought the Witch could sing it at the point in the story when Rapunzel (played by MacKenzie Mauzy) escapes from the tower to run off with a handsome prince (Billy Magnussen). "I was in his living room and I had the sheet music in front of me and I was gasping because I didn't know where to look," recalls Streep. "I thought, 'Is he going to ask me to sing it for him?' Because I could never do that." The complete article can be read here.