2016 was a rather quiet year in Meryl Streep's career, but a year filled with the Summer success of "Florence Foster Jenkins", political acitivism in a year of terror and change, and sad losses.
There are only two ways a new year could start for Meryl Streep – with awards season or without. 2016 started without, since both "Ricki and the Flash" and "Suffragette", Streep's two films released in 2015, didn't respond with award juries. But there was another assigment to tackle, one that Meryl hasn't done in her career before. In February, she was named president of the jury for the 2016 Berlin Film Festival, leading actors Clive Owen, Alba Rohrwacher and Lars Eidinger, director Malgorzata Szumowska, photographer Brigitte Lacombe, and editor Nick James. The festival opened on February 10, and provided 10 days full of films, discussions and a winning documentary about the refugee crisis. Meryl Streep said of the Golden Bear-winning film "Fire at Sea" from Gianfranco Rosi: "This is a film that commands our attention and demands action. It is a documentary on the refugee crisis, looking at the island of Lampadusa In Italy where thousands of refugees have flooded into Europe."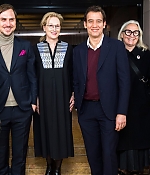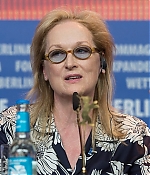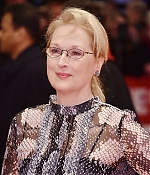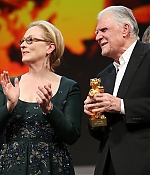 In February, Meryl Streep was president of the jury at the Berlin Film Festival, honoring the refugee crisis documentary "Fire at Sea" with the festival's Golden Bear. Members of Streep's jury were Clive Owen, Alba Rohrwacher, Lars Eidinger, Malgorzata Szumowska, Brigitte Lacombe and Nick James.
After years of dual film releases, 2016 had "only" one theatrical release for Meryl. Stephen Frears' biopic "Florence Foster Jenkins" tells the inspirational true story of the eponymous New York heiress who obsessively pursued her dream of becoming a great singer. The voice Florence (Streep) heard in her head was divine, but to the rest of the world it was hilariously awful. At private recitals, her devoted husband and manager, St Clair Bayfield (Hugh Grant), managed to protect Florence from the truth. The film celebrates the human spirit, the power of music and the passion of amateurs everywhere. "Florence Foster Jenkins" was set for a May release in the United Kingdom and a Summer release in the United States – giving Streep another Summer slot that has been quite successful to her name in the past years.
April turned out to be the start of a busy promotion for "Florence Foster Jenkins", starting with the film's London premiere on April 12 and an appearance on the Graham Norton Show, which was taped on the same day – Meryl's third appearance on the show within two years. The British press embraced the film and especially the performances of Streep and Grant. As The Guardian wrote, "Frears and Streep create a genuine, if minor poignancy around the fact that her appreciation of music is entirely genuine, and that it is music itself, and not simply conceit, that has kept her alive: a womanising first husband gave her syphilis, and she has had to battle the debilitating symptoms all her life. There are no wrong notes in this film". The Telegraph also praised Streep in their review. "Streep plays Florence as a seamless hybrid of dumpy arts-scene doyenne and excited schoolgirl: when she performs, she draws her elbows in close to her chest and occasionally twists very slightly from side to side, like the primary-school choirgirl who finally gets her moment in the spotlight. And it's pure Streep Soufflé – free from the weighty responsibility to imitate (as in The Iron Lady) or emote the house down (as in August: Osage County), she gives her most human performance since Nancy Meyers's 2009 romantic comedy It's Complicated, full of warmth that gives way to heart-pinching pathos."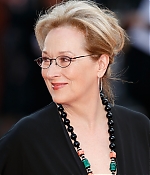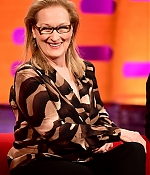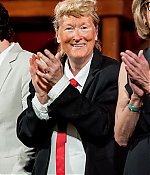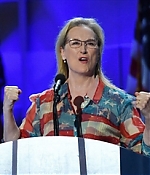 The Summer of film of politics. Streep returned to critical acclaim for her lead performance in "Florence Foster Jenkins", shown here at the London premiere and a promotional interview on the Graham Norton Show. In the United States, it was a Summer of political support for Hilary Clinton, donning a Trump at the Public Theater Gala and keeping it more casual at the Democratic National Convention in Philadelphia.
The Summer of 2016, before the US release of "Florence", was marked by politics. At a time when the idea of having Donald Trump as the next president of the United States was still being thought of as a joke – a dangerous one, but still a joke – Meryl Streep was on a stage in Central Park, impersonating Donald Trump. In orange face makeup and pompadoured hair, Ms. Streep, the chameleonic three-time Oscar winner, did a more than credible version of the presumptive Republican nominee, down to the pursed lips and low-hanging belly. She got the braggadocio-inflected voice, too, even while singing. Ms. Streep was part of the Public Theater's gala benefit celebration on Monday night, a tribute to Shakespeare at the Delacorte Theater, home to Shakespeare in the Park. She was the closing act with Christine Baranski, doing "Brush Up Your Shakespeare," a number from the Cole Porter musical "Kiss Me, Kate." "We could do a deal – you'll let me know – why it is all the women say no?" she sang, stretching out her arms in a Trumpian gesture. Later she strolled the stage, gesticulating to the audience in Mr. Trump's signature Make-America-Great-Again style. A week later, People reported that Streep, the First Lady Michelle Obama, Sasha and Malia Obama, and the girls' grandmother Marian Robinson will travel to Morocco at the end of June as part of the Let Girls Learn initiative. While in Marrakech, Streep will join Obama and actress Freida Pinto in discussing "the challenges women in the African country deal with on a regular basis." Their trip was made into a CNN documentary entitled "We Will Rise", which was broadcast in September. In July, Meryl showed her support for Hilary Clinton at the Democratic National Convention to draw attention to the historic moment of Hillary Clinton's nomination for president, the first time a woman has earned the honor for a major political party. "What does it take to be the first female anything? It takes grit and it takes grace," Streep said. In her praise of Clinton, Streep mentioned that the Democratic nominee "has taken some fire over 40 years, over her fight for families and children. Where does she get her grit and grace?"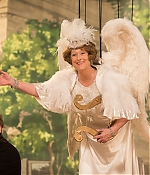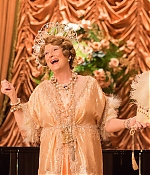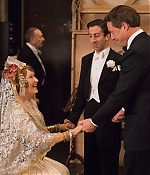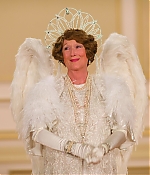 A Summer delight. Critics praised Meryl Streep's performance as the tone-deaf "Florence Foster Jenkins", directed by Stephen Frears.
August saw the continued promotional tour for "Florence Foster Jenkins", this time for its US release. CBS Sunday Morning ran a profile on the real Jenkins including an exclusive interview with Meryl at Carnegie Hall. She also participated in a string of Q&A's and screenings for the film, by Times Talks, SAG/AFTRA and BAFTA New York. The premiere for the film was held on August 9, and the film's critical acclaim continued where it had ended in the United Kingdom. The film received a "Certified Fresh" batch from Rotten Tomatoes with 86% of positive reviews. The New York Observer wrote, "A comic lark that packs a satisfying emotional wallop and continues the balls-to-the-wall career victory lap Meryl Streep has been on since turning 60 years old." The New Yorker also praised Streep. "Streep is right there, solidly invested in the folly of Florence's dreams. When she declares that "music has been, and is, my life," you believe her." The promotion for "Florence Foster Jenkins" concluded at the Rome International Film Festival and the Tokyo International Film Festival, both in October 2016. While the film was placed against other Summer heavyweights including "Suicide Squad", "Florence" closed with a domestic total gross of $27,383,770.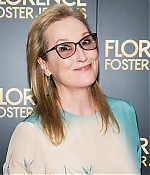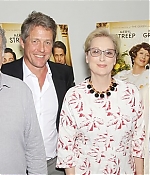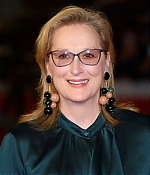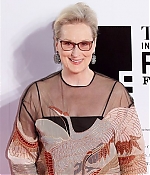 The promotion for "Florence Foster Jenkins" continued with more press in the United States. Streep is shown at the New York premiere of the film and at an East Hamptons screening with Hugh Grant. Promotion concluded with the international premieres at the Rome International Film Festival and the Tokyo International Film Festival.
In September, a new project was announced – one that will probably launch yet another new era in Streep's career. After almost 20 years, Meryl will return to television – with the adaptation of 2016's most critically acclaimed book, Nathan Hill's "The Nix". To be produced by JJ Abrams, this is a sprawling generational tale that focuses on a hippie-era mother who gets national press exposure for throwing rocks at a conservative governor on the presidential campaign trail. Before you know it, her estranged son — a professor, aspiring novelist and general underachiever — seizes an opportunity to get himself out of debt by writing a scathing profile of his estranged mother.
In case you wonder if 2017 will start with or without awards season for Meryl, everything's going to be alright. In November, Streep was named the recipient of the Golden Globes' Cecil B. DeMille Award for lifetime achievement. The honor will be bestowed January 8 at the Globes, which Jimmy Fallon is hosting on NBC. Chosen by organizer Hollywood Foreign Press' board of directors, DeMille award is given to a talented individual for outstanding contributions to the world of entertainment. Streep is only the third female recipient of the award since 2000. Two weeks later, Meryl received a second Golden Globe nomination, as Best Actress in a Comedy or Musical, for "Florence Foster Jenkins". She also won Best Actress in a Comedy at the Critics Choice Awards and has received a Best Actress nomination by the Screen Actors Guild – all this making way for the possible 20th Academy Award nomination in 2017.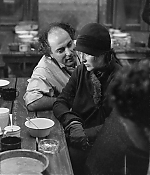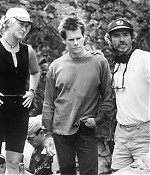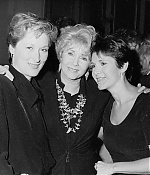 A year of great losses for the film industry. Three of Streep's former film directors passed away in 2016: Michael Cimino who directed "The Deer Hunter", Hector Babenco who directed "Ironweed" and Curtis Hanson who directed "The River Wild". In December, both actress/screenwriter Carrie Fisher, and her mother Debbie Reynolds passed away.
All success and political activism aside, 2016 has been a year of great losses, for the music industry with David Bowie, Prince, and many others, and also for Meryl Streep, who's lost three of her feature film directors that year – Michael Cimino, Hector Babenco and Curtis Hanson all died. From her screen partners, Bernie Worrell from "Ricki and the Flash" and actress Alice Drummond from her tv debut "Secret Service" and 2008's "Doubt", died. And in the very last days of 2016, we had to say goodbye to both Carrie Fisher and Debbie Reynolds, the inspirational core for "Postcards from the Edge".
Personally, this has been a rather quiet year for Simply Streep. I'd consider the site "complete" with all pages being up to date, a wonderful extensive career section, and some amazing contributions I have received throughout the year. The most special was definately the huge collection of old magazine scans collected by a fellow Canadian who shares my first name, Fred, who shared it with Simply Streep, and with the help of my dear contributor Alvaro I have been able to add hundreds of those old finds to the site. Many thanks to both of you, and to everyone who has contributed news, pictures and heads-up on current events throughout the year. Your help makes it easy to combine my own busy life with work to keep this site online and also to keep it so extensive. After all these years, Simply Streep remains a refuge for myself after a hard day of work. The site is now in its 17th year, which means it can drive in some countries and can start drinking next year, so let's see where Simply Streep takes us in the future. Streep-wise, we can look forward to "The Nix" (which I'm currently reading and enjoying immensly) and a supporting role in "Mary Poppins Returns". Once again, my most sincere thanks to everyone who visited – may 2017 bring us all better news, peace and luck. Frederik
Read posts from the archive:
November 8th, 2017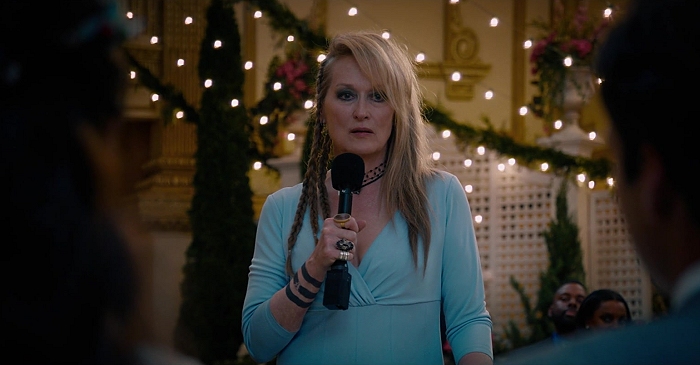 November 27th, 2015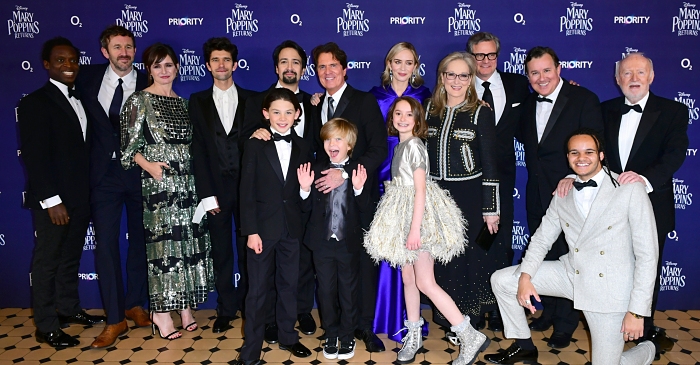 December 13th, 2018
www.simplystreep.com