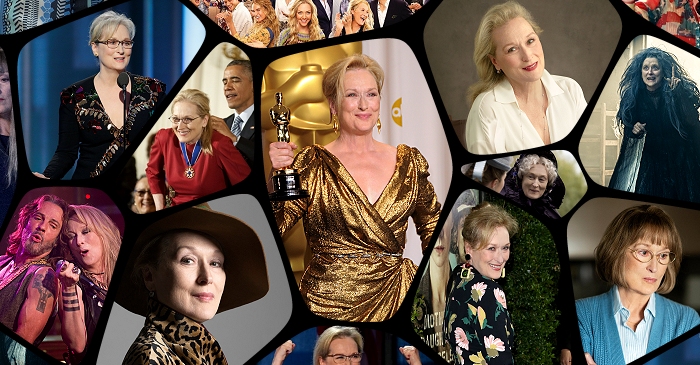 Upon reviewing Meryl Streep's work this decade, let's remind ourselves where we're coming from. The 2000s were probably her career's most exciting period since the 1980s. As many actresses in their 40s, Streep took a backseat in the 1990s – the only profitable or relevant film she did back then was "The Bridges of Madison County". Films like "One True Thing" and "Music of the Heart" were appreciated and Oscar-nominated, but stood little comparison to the big classics Streep did in the 1980s. So in the 2000s, after a screen absence of three years, Streep returned big time with "Adaptation" and "The Hours", then with the miniseries "Angels in America" on television. Two years later, she played one of her most iconic roles in "The Devil Wears Prada", topped it off with a big box office success with "Mamma Mia" and closed the decade with two Oscar-nominated performances in "Doubt" and "Julie & Julia". In short, the 2000s not only validated her star status, but something new Meryl Streep has rarely been in her career before – a bankable star. The 2000s were something of a Streep renaissance.
Writing about the last 10 years looks slightly difference, mostly because the following three factors have changed the American film industry like nothing else: The decline of mainstream cinema, the rise of streaming services, and the fall of Harvey Weinstein. All this has had an impact on Streep's career – good and bad – besides the availability of starring roles for a actress in her Sixties. In retrospect, it was an incredibly successful decade with 5 Academy Award nominations, 6 Golden Globe nominations including a Cecil B. DeMille Award and 5 Screen Actors Guild Award nominations. There was rarely a year in the 2010s when Meryl Streep was not in consideration for accolades. As Tina Fey joked at the 2014 Golden Globe Awards: "Meryl Streep has shown us once again that there are still roles of Meryl Streeps over 50".
Going for Gold: 29 years after receiving a Best Actress Academy Award for "Sophie's Choice", Meryl Streep won her third Oscar in 2012 for playing Margaret Thatcher in "The Iron Lady".
The 2010s started with what Streep fans have been waiting for since the 1980s – another win at the Academy Awards. Many of her newfound fans from the "Prada" and "Mamma Mia" period were not even born when Meryl won Best Actress for "Sophie's Choice". In fact it had been 29 years. The Weinstein Company had this in mind when promoting her performance as "The Iron Lady", which released theaters Christmas 2011. This time, it seemed that Streep was willing to play the game. She was everywhere, running the awards circuit, from a Golden Globe as Best Actress to the AARP Movies for Grownups Awards, which she picked up in person. Her spotlight helped "The Iron Lady" as well, grossing $115 million from a $10 million budget. In February 2012, Meryl Streep won the Best Actress Academy Award, her longtime companion Roy Helland, along with Mark Coulier, won his first Academy Award for Hair and Makeup, a crowning achievement for a long and successful career.
Life Achievement Awards: In 2011, Meryl Streep is celebrated at the Kennedy Center Honors. The following year, she receives a Honorary Bear at the Berlin International Film Festival. In 2014, President Obama honors her with the Presidential Medal of Freedom. And in 2015, she receives the British Academy Britannia Award for Life Achievement.
"The Iron Lady" was followed by "Hope Springs", a light comedy about marital problems, co-starring Tommy Lee Jones, which was much better than the advertised "sex comedy" I was expecting. In Christmas 2013, "August: Osage County" was released – a screen adaptation of Tracy Lett's Tony Award winning play. While the material of a dysfunctional family attending their matriarch's funeral might have been too bleack for mainstream audiences, the film suffered from a rather misleading marketing campaign promoting it as a family holiday comedy and putting the screen pairing of Streep and Julia Roberts front and center. The promotion campaign paid off as both actresses received Oscar nominations, but "August: Osage County", whenever I think about it, sticks out as a good movie that could have been much better. The first three years of the decade which were honored with two Oscar nominations, were followed by a string of rather odd films of which none took off the ground, for various reasons. There was Tommy Lee Jones' Western "The Homesman", a wonderful small film with great performances by Jones and Hilary Swank. Grace Gummer had a supporting part in the film and Meryl showed up at the end in a cameo performance. She played a supporting role in "The Giver", the long-awaited adaptation of Lois Lowry's landmark YA novel – which fell flat the second it released theaters (having not read the book, I found the film enjoyable). And there was "Suffragette", an ambitious biopic on the radical political activism supporting the right for women to vote with a wonderful performance by Carey Mulligan. "Suffragette" suffered the fact that it was not Oscar-baity enough and had little success as the box office. Even Meryl Streep's heavily promoted involvement as Emmeline Pankhurst didn't help. She was seen in the film for roughly three minutes.
Don't You Forget About Me: Meryl Streep in the films that failed to reach a wider audience – opposite Jeff Bridges in the Louis Lowry adaptation "The Giver". In Tommy Lee Jones' western "The Homesman". As an out-of-luck singer in "Ricki and the Flash". As Emmeline Pankhurst in "Suffragette"
The performances that stood out were the musical ones. If I had to come up with a catchphrase to describe the 2010s, it would be "Meryl Streep just wants to have fun". She took every chance available to sing – as the witch in "Into the Woods", as the washed-out singer in "Ricki and the Flash", as the legendarily bad "Florence Foster Jenkins", as the cooky aunt in "Mary Poppins Returns" and even in the surprise-sequel "Mamma Mia! Here We Go Again", appearing as Donna's ghost in the end of the movie. None of these performances rank high as classic Streep performances (with the exception maybe of "Florence", which was liked by critics, audiences and won her another Best Actress Oscar nomination).
When receiving the Golden Globe's Cecil B. DeMille Award in January 2017, she chose to speak about one topic and one topic only – Donald Trump's treatment of freedom of speech, freedom of press and his treatment of disabled people. Trump was elected President for only two months, and Streep was the first actor in Hollywood to not only speak about the election, but criticize his actions (which, in hindsight, was only the beginning). She received much applause from her Hollywood peers, and was at the receiving end of endless online harrassment by Trump supporters – and even the President himsel, calling Streep a "most-overrated actress". The Streep-treatment, as I like to call it was a watershed moment on the one hand, and a clear sign towards Hollywood actors to not play with fire if they want to sell movies. As celebrated as Streep was for speaking her mind, not many have followed her way to endanger their income by speaking their minds. In the end, Hollywood had to suffer a much bigger blow by the end of the year when The New York Times published explosive allegations against Harvey Weinstein, sending an avalanche through the industry and creating what might be the biggest achievement of this decade for women in the workplace – the #Metoo movement.
I wasn't deliberately silent. I didn't know. I don't tacitly approve of rape. I didn't know. I don't like young women being assaulted. I didn't know this was happening. HW was not a filmmaker; he was often a producer, primarily a marketer of films made by other people – some of them great, some not great. But not every actor, actress, and director who made films that HW distributed knew he abused women, or that he raped Rose in the Nineties, other women before and others after, until they told us. We did not know that women's silence was purchased by him and his enablers.
As the Weinstein news poured, I had a gut feeling that Streep's previous comments on Trump would put her right on the track as a target for all that's bad, and boy was I right. Although Meryl Streep was – once again – the first actor in Hollywood to release a statement on how shocked and appaled she was, her comments were immediately turned against her, most notably by Weinstein-accuser Rose McGowan, who insinuated Streep of lying – "she must have known something" backfired on women supporting women and singled Streep out as the one prominent woman who has worked with Weinstein. Nothing will make the internet warriors stop from repeating accusations against Streep, not even Ronan Farrow's own statement regarding Meryl Streep, which was included in his book "Catch and Kill": "While trying to find more leads in his investigation, Farrow reached out to Streep. [When] Farrow brought up that he was looking to talk to her about the mogul, Streep gasped in shock. "But he supports such good causes," Streep replied, according to Farrow. The journalist writes Streep knew Weinstein "to be a bully in the edit room. But that was it." Later, when Farrow recounted the story to his boyfriend, the journalist said he believed Streep didn't know about the allegations of Weinstein's sexual abuse towards other women."
Winning Streep: Meryl earned rave reviews for her performances as the disastrously untalented opera singer "Florence Foster Jenkins", as the head of the Washington Post, Katharine Graham in Steven Spielberg's "The Post", as an overwhelmed widow trying to understand the finance system in Steven Soderberg's Netflix film "The Laundromat" and as Aunt March in Greta Gerwig's critically acclaimed adaptation of "Little Women".
In what has been a whirlwind in the last three years of this decade, Streep pulled out maybe her best performance of the last 10 years in Steven Spielberg's "The Post". Spielberg read the screenplay and decided to direct the film as soon as possible, citing that "when I read the first draft of the script, this wasn't something that could wait three years or two years — this was a story I felt we needed to tell today." "The Post" started filming in May 2017 and was released by December of the same year! Both Hanks and Streep received critical acclaim for their performances. The film received two Academy Award nominations for Best Picture and Best Actress.
Meryl Streep received four more Oscar nominations this decade: In 2013 for "August: Osage County", in 2014 for "Into the Woods", in 2016 for "Florence Foster Jenkins" and in 2017 for "The Post".
The end of the decade brought the almost inevitable. As every good actor who's not willing or able to participate in the next big Marvel picture has turned their heads towards television, so did Meryl Streep. Her work on television has been rare but successful, winning Emmy Awards for her performances in "Holocaust", "Angels in America" and in 2017 for her narration of the Netflix series "Five Came Back". In 2019, Streep joined Reese Witherspoon, Nicole Kidman, Shailene Woodley and Laura Dern for HBO's second season of the outrageously successful "Big Little Lies". While the second season was not as much-loved as its predecessor (mostly for the fact that the initial storyline was completely finished), the show still entertained with Streep's addition, playing the suspicious mother to Alexander Skarsgård's wife-beating character, who comes to Monterey demanding answers to what really happened to her son. The performance brought Streep another Golden Globe nomination. In October 2019, she made a proper Netflix debut starring in Steven Soderbergh's wildly odd "The Laundromat" as a widow trying to unlock the myriads of backdoors in the finance industry that keep her from getting the insurance money she and her husband have paid all those years.
So, what's ahead of us for the next ten years? Two projects have been announced or filmed already – Steven Soderbergh's "Let Them All Talk" about a female author who goes on a trip with her friends and nephew in an effort to find fun and come to terms with her past (Lucas Hedges, Candice Bergen and Dianne Wiest will support Streep's starring turn) and another Netflix appearance bound for musical delight – Ryan Murphy's "The Prom", based on the Broadway musical of the same name and starring Streep, James Corden, Nicole Kidman, Andrew Rannells, Awkwafina and Keegan-Michael Key. Besides that, let's hope there will be just as many colorful performances throughout the genres, and that Hollywood is still kind to an actress in her Seventies.
Read posts from the archive:
December 14th, 2017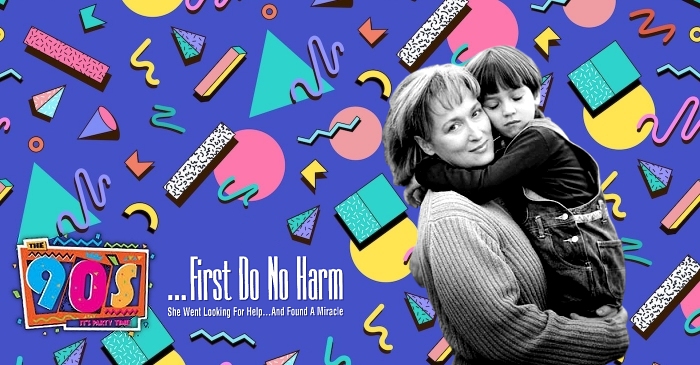 May 23rd, 2020
www.simplystreep.com