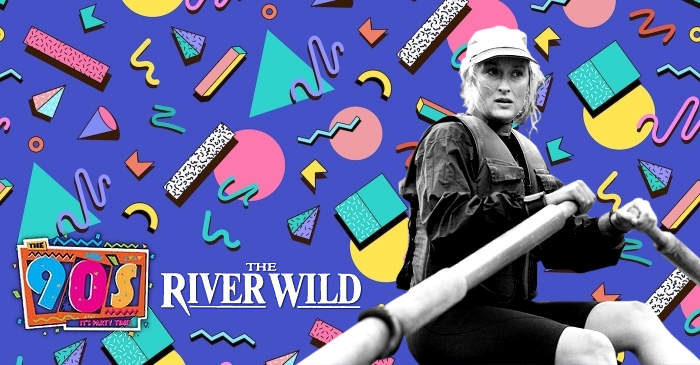 I don't feel like an icon, unless you mean stiff and wooden sometimes. I'm so tired generally – that's my main defining feature. (Meryl Streep, Entertainment Weekly, 1994)
After five years in Tinsletown, Meryl Streep quit Hollywood and relocated the family to Connectitut. While a good number of her films during that time earned solid reviews and box office – her stay in the City of Angels also gave Streep a reputation. Not only was she in an undesireable age group in Hollywood, her outspoken criticism on the payment inequality and lack of interesting roles for women was greeted with the industry's kiss of death – Meryl Streep was difficult to work with. Her farewell to Hollywood was her first and only hooray into the action genre, a surprising move rivaling the lone-rider action movies of her male counterparts. "The River Wild" offered a unique role for a woman in a, in retrospect, very family friendly action adventure, which might have been a rapid too slow for Stallone, but just right for a lion mother.
A non-fiction article for "Fly, Rod & Reel" Magazine by fly-fishing aficionado Deni O'Neill served as the inspiration for "The River Wild". The piece was based on a fishing trip O'Neill took down Montana's Smith River, notable not only because "it is beautiful and remote", but also because once you get on that river, you can't get off", says O'Neill. "You have to travel the length of it." For producer David Foster, the screenplay for "The River Wild" was a chance to fulfill a long-time cherished ambition. In 1975, while developing a Western titled "Running the Wild Big Red", a fictional account of the first trip down the Colorado River rapids, Foster acquired his enduring fascination for white-water river rafting. Although the project was set aside the Westerns fell out of favor, Foster kept the dream alive. "For 17 years, I'd wanted to do a movie set on the rapids", says Foster. "When I read the first draft of 'The River Wild', I knew I had a project that could work. From the moment I read the original script, I had two people in mind for the movie – I wanted Meryl Streep to star in it, and I wanted Curtis Hanson to direct," says Foster.
Let the river run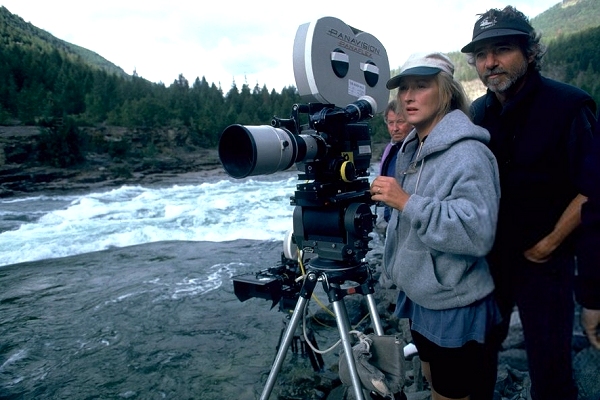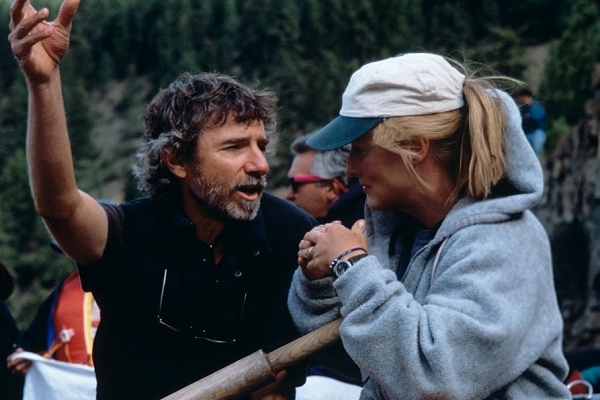 Coming off his two previous films, "Bad Influence" (1990) and "The Hand That Rocks the Cradle" (1992), it's clear Hanson had no problem taking on this high-stakes dramatic thriller that required filming in challenging locations and morphing Meryl Streep into a woman who is a major physical force. After all, Hanson has taken the challenge more than once of telling stories from a woman's point of view, including Rebecca De Mornay's vicious turn in "Cradle" and even Cameron Diaz, Toni Collette and Shirley MacLaine in "In her Shoes". Streep's Gail is a badass heroine who has the strength and skill to steer a raft solo through Class 5 rapids, deal with her troubled marriage, and protect her vulnerable husband and child from a psychopath. David Strathairn (who would team with Hanson again in "L.A. Confidential") plays her workaholic architect husband, Tom, who transforms into a man of action just in the nick of time. And fresh from "Jurassic Park", Joseph Mazzello plays their son, Roarke. Hanson manages to balance the tense intimacies of the group against the backdrop of the raging river that, with the help of the beautiful photography by Robert Elswit (There Will Be Blood), is as much of an adversary as Wade. Hanson's filming of Tom's race to arrive at "The Gauntlet" ahead of his family's raft is masterful. Strathairn scrambling up rocky cliffs and outracing the catapulting river? Streep expertly guiding a raft through a maelstrom? Hanson and his terrific cast manage to sell even the most unbelievable of circumstances through every minute of the film's enthralling two-hour run time.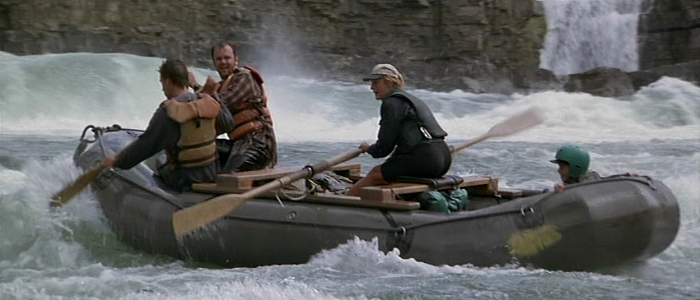 Most of the film was shot on location on two rivers: Montana's Kootenai and Oregon's Rogue. While in Montana, the production became the first ever to film on the Kootenai Indians' sacred ground. The tribe allowed the filming on the condition that the exact location of the sacred grounds not be revealed. As Henson remembered in a 1994 interview with The New York Times, "I was blessed with two natural wonders on this movie: the river and Meryl Streep. It'll be hard for me to ever replicate this experience." Over 11 weeks of remote and treacherous filming, in which a fleet of helicopters transported actors and equipment from base camps, Mr. Hanson's primary obsession, he said, was safety for the cast and crew. Some suffered ankle injuries, but the worst moment involved Ms. Streep, early in the filming in Montana. During a scene in which the actress was rafting alone down an especially hazardous white-water stretch, a camera mounted on the raft dislodged and failed to capture the moment. Mr. Hanson told the weary and disappointed actress to try again. At that point, the river had turned even more treacherous, and after one unexpected plunge in the rapids, the star's raft capsized and she disappeared under the water. "Everybody on shore began screaming, 'Meryl's gone under,' " said Mr. Hanson. "I saw my life spinning before my eyes. I still think of it. I was responsible. One of the kayakers we had rushed over and hauled her up like a big fish. She was conscious. She was banged up. And she was mad. But she was also pumped up with adrenaline." "That was the defining moment for all of us," the director continued. "That could have been the end of my having the cooperation of the actors. To Meryl's tremendous credit, she did it again the next day. She got over it, she forgave me and, on the creative and physical level, she and the other actors trusted me. Nobody behaved like a movie star. If they had, it wouldn't have worked. It wouldn't be the same movie."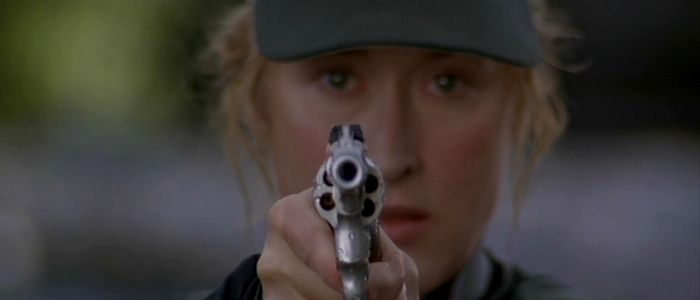 Selling the movie to audiences is unusually tricky. "It's the opportunity and the challenge," said Mr. Hanson. "These movies are always sold to the male audience. The typical action crowd tends not to like to see women who are strong and assertive. And what you might call the Meryl Streep crowd of women are not interested in seeing male-dominated action films."
For "The River Wild", they're putting a trailer into the theaters at Christmastime. I say, "Great." They say, "We really want you to see it, because we want your input." I say, "Great." So I saw the trailer and it was wonderful. The only thing is, the only time you recognize me is this big close-up when I'm pointing a gun at the camera. Now, I hold a gun for 20 seconds of a 120-minute movie, and I don't want that to really represent the movie. It flashes on the screen and I'm going "Nooo!" but it's a huge close-up and I have a revolver. I said, "I really want you to take that out. Find some other shot of me in extremity. I know you have reams and reams of film. Because, frankly, I don't want my Christmas gift to America to be me pointing a gun when the President was in my agent's office two days before saying, 'People, you have to work on this (depictions of violence) yourselves. Otherwise the next step is the big guy coming in and McCarthyism and everything else.'" Then they came back and said, "We can't find any other piece of film"-in the 9,000 feet of film of me, I'm in every frame of this movie-"that has you in such an effective way." I said, "I just don't believe that." They said, "Well, they want to have a meeting with you to tell you why that is." I said, "Great! I'd love to take that meeting." And the next day they put the trailer on Entertainment Tonight at 7 p.m. in more millions of households than will ever go see the movie. There it was before I ever had the meeting to plead my case. And I hit the f–ing roof. You know why? Because that shot of me is somebody's idea of sexy. (Meryl Streep, Entertainment Weekly, 1994)
"I knew this movie was not going to be easy. I had a specific task. I wanted to look like a real mom, not someone who goes to the gym, but a Boston housewife who occasionally [rows] when she can get away," Streep told journalists during the promotion tour for the film, also acknowledging her trainers. "I had two great trainers, a husband and wife, Kimberly and Mark Silver. He's a body builder, she's a dancer, both practice yoga. Some days I'd exhaust myself, from head to toe, right to my fingertips. The secret gift in the whole thing was the yoga, which gave me a kind of centered sense of myself, a calm nerve, which I needed more than anything else."
"The River Wild" released US theaters in September 1994 to good reviews and decent box office. It grossed a total of $94,216,343 worldwide, earning $46,816,343 in the United States and $47,400,000 internationally. Both Streep and Bacon were nominated for Golden Globe Awards, but neither of them won. Funnily, just after leaving Hollywood for good, Streep's next project would put her right back into Hollywood's spotlight.
Magazine cover stories
Read posts from the archive: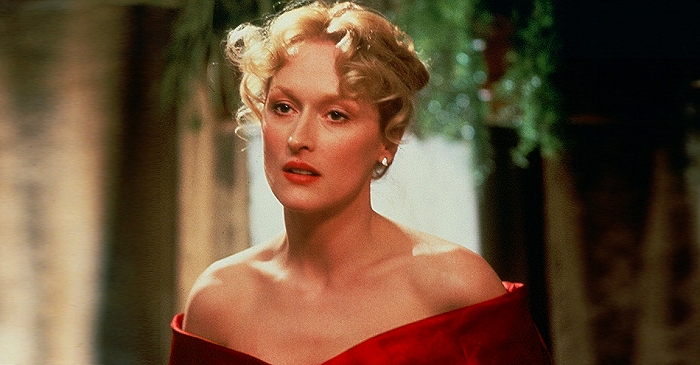 December 10th, 2022
January 23rd, 2018