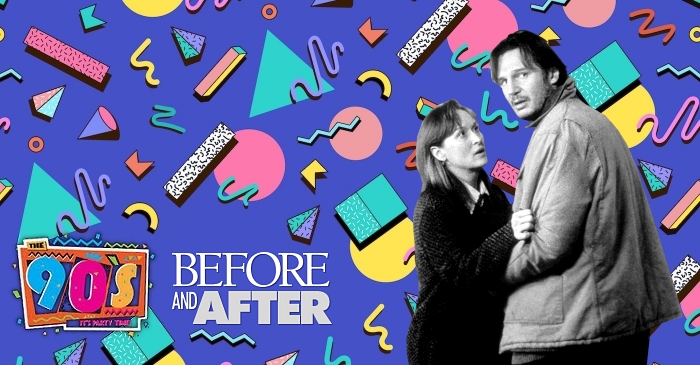 After receiving critical acclaim and an Oscar nomination for "The Bridges of Madison County", Meryl Streep revived the rather unfamiliar thriller territory, playing a mother whose son is accused of murder. But if there's one word to not describe Barbet Schroeder's "Before and After", it would be "thrilling".
Director Barbet Schroeder had a lucky streak in the early 1990s with decent, intelligent thrillers. The "Barfly" director did the masterful "Reversal of Fortune" in 1990, winning Jeremy Irons an Oscar for his portrayal of Claus von Bülow (and should have won a second award for Glenn Close's riveting performance). He continued with "Kiss of Death", the erotic thriller "Single White Female" starring Bridget Fonda and Jennifer Jason Leigh, and made great thrillers after this one – "Desperate Measures" and "Murder by Numbers" among them. Schroeder was a director to work with, one that actors adored – Irons recommended him to Streep when the script for "Before and After" arrived. The story sounded promising. Well-respected parents of a small town – the father an sculptor, the mother a doctor – must come to terms with the fact that their son's girlfriend was murdered, and their son is on the run. When he is caught and awaiting trial, they share the family's dinner table with him, uncertain if he's still their little boy or a cold-blooded killer. Streep shares the screen with Liam Neeson, fresh off his star-making turn in "Schindler's List", and Edward Furlong, in a first serious role since his own star-making turn in "Terminator 2". Backed up by a supporting cast of Alfred Molina and John Heard and a screenplay adaptation by "The Silence of the Lambs"' Ted Tally – what could go wrong with "Before and After"? Well, pretty much everything.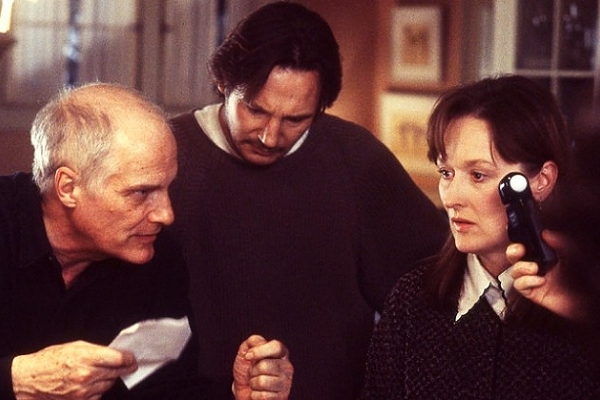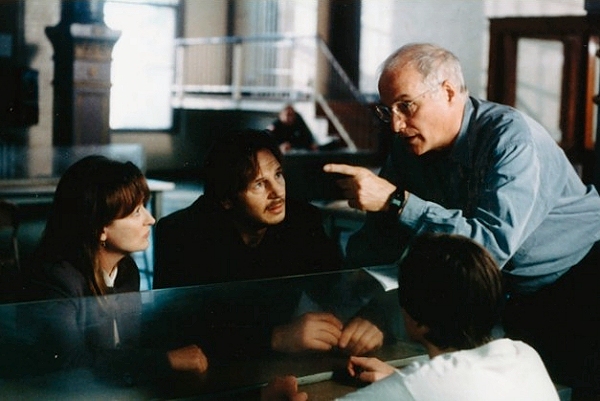 Making "Before and After": Director Barbet Schroeder with actors Liam Neeson, Meryl Streep and Edward Furlong on the set of the film.
In the early '60s, Schroeder joined the staff of Cahiers du Cinema, the Parisian film magazine that became a breeding ground for hot young directors. Francois Truffaut and Jean-Luc Godard already had left and were making movies, but Eric Rohmer was still there dreaming about directing. Schroeder also yearned to direct, but decided to learn the business end first by getting Rohmer's movies produced. So, at 22 and pretending he was 26, he set off to squeeze some money out of French financiers. That experience taught him patience and a kind of scrappiness that has helped him during his almost 30-year film-making career. Before coming to Hollywood, he became known for his documentaries, one about Idi Amin and another about the famous Bay Area ape Koko, as well as feature films he directed in France. Coming off the success of his own Oscar nomination for "Reversal of Fortune", Schroeder wanted to make a film of "Before and After" – Rosellen Brown's novel about a family torn apart when the son is accused of the brutal murder of his girlfriend. The project was stalled for five years as it went from one studio to another. In 1995, it finally arrived at Disney's Hollywood Pictures, by which time many changed had been made to Brown's story, most notably the disappearance of the character's Jewish heritage. As Janet Maslin pointed out in her review, "having drawn some heat for erasing the Jewish origins of the characters in "Unstrung Heroes," Disney's Hollywood Pictures does the same thing here, since the Ryans were Reisers in Ms. Brown's book. The story subjects the family to the anger and prejudice of their neighbors, and in that context, their ethnic background matters."
As the opening scenes show, the Ryans are well-off residents of a picture-book slice of Massachusetts. Their well-ordered life is upended one winter's eve when a local policeman brings the news that their son was the last person seen with a teenage girl who's been murdered, and he's now missing.The crisis that Tally and Schroeder have set up forces the Ryans to examine precisely who they are as a family. It's a test of moral character, and, beyond that, a cautionary parable about the arbitrary nature of catastrophe. In "Before and After," the line between security and disaster is a shaky tightrope, and, almost by reflex, Ben leads the way, demanding that the sheriff secure a search warrant before examining Jacob's car. Carolyn, on the other hand, knows instinctively that her son is no murderer. She's afraid that he might have been killed as well, or that he's been kidnapped. She wants the car examined for clues that might help them locate the missing boy. Their clash of strategies sets the stage for everything that follows: Ben wants to play it safe and use the law to protect his son. Carolyn wants to tell the truth, especially after Jacob returns to give his version of the events. Only by honestly laying out all the facts can Jacob—and the family as a whole – be saved.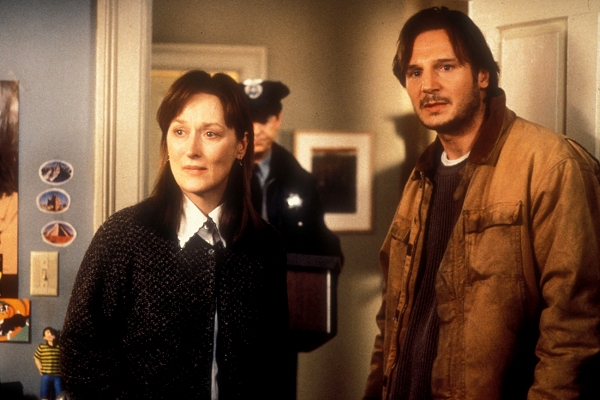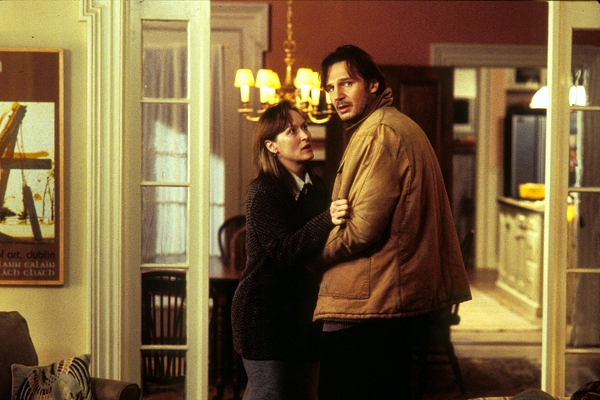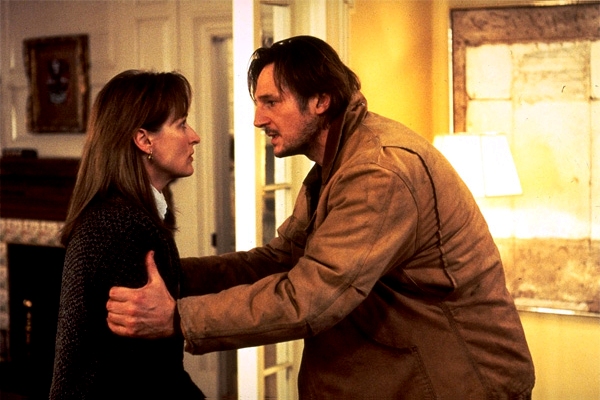 Scenes of a marriage: Meryl Streep and Liam Neeson may have been friends since the 1990s, but according to critics they lacked serious chemistry as a long-married couple.
The turn off for the story's pace and thrill, was Schroeder's approach not to have actors overlapping their dialogue (for reasons never found to be explained). As Streep told Entertainment Weekly in 2000, "Barbet has done beautiful work. But… I found it difficult. Liam and I had a blast, but it was a stultifying experience. One of the things was that Barbet insisted that words not ever overlap. Everybody had to finish what they were saying. Then the other person would start. It sucked the life out of the scenes for us – he made an airless thing." Their different approach was apparent even in some reviews, like the San Francisco Chronicle's Ruthe Stein pointed out: "Reportedly there were problems on the set. Streep has been quoted saying she disagreed with Schroeder's "cool, controlled, glossy" approach to the material. She wanted the movie to have a warmer feeling. What interested Schroeder, however, was the moral dilemma inherent in the story. Without knowing whether his son was innocent or guilty, the father destroys crucial evidence. "He has this instinctive, actually maternal, feeling to protect him no matter what. The mother takes the time to think it through. She acts less on instinct. But by doing the right thing she could be sending her son and her husband to prison," Schroeder says. Although there are tensions, the family is portrayed as basically together. "Today you know the trend is to show a dysfunctional family. But this is a family where they all love each other. It was very important that anyone can identify with this family."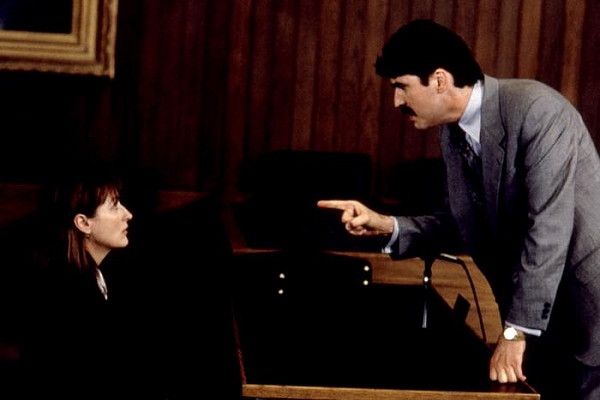 Meryl Streep in a scene with Alfred Molina, who plays the family's lawyer
When the film released in February 1996, many critics wondered why Streep would take a role with so little to do. "As a working mother living in homey New England splendor with her sculptor husband, Ms. Streep would seem to have the most tailor-made role of her career. Yet she's never as comfortable as she was in Madison County, perhaps because Mr. Schroeder's detached directorial style doesn't suit the film's strained home and hearth scenes," wrote Janet Maslin in the New York Times, while Variety wrote, "none of the main actors comes off particularly well. While Streep displays her usual exacting intelligence, the generic mom role allows for little that's distinctive or memorable." Time Out wrote: "Streep has virtually nothing to play with, while Neeson's bullish chauvinism is indulged right up to a phoney prison-scene showdown. It's not a stupid film, exactly, but badly made, stagnant, humourless, and sorely lacking in authentic human behaviour." At least, The Washington Post gave Streep some credit for the material she had to work with: "As Carolyn, Streep gives a watchful, sharp performance. She spends most of her on-screen time weighing her options (it's primarily a reactive role), but along the way she makes beautifully detailed choices, little things that keep the character grounded in reality and illuminate the careful process of her thinking." The film released almost under the radar, grossing only $8 million of its $35 million. It's a long forgotten episode in its stars' and director's filmographies because all of them have done so much better.
Read posts from the archive:
December 29th, 2016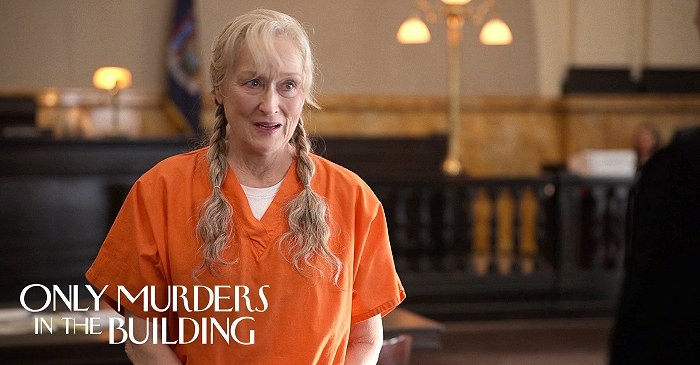 September 26th, 2023
www.simplystreep.com