According to Yahoo, Meryl Streep is showing her support for the freedom of the press by honoring Amal Clooney at the prestigious CPJ International Press Freedom Awards. The Oscar-winning actress, 71, will present the human rights lawyer, 42, with the 2020 Gwen Ifill Press Freedom Award during an online award ceremony on Nov. 19. The award ceremony will showcase the work of this year's awardees — which include four journalists from Bangladesh, Iran, Nigeria and Russia who have faced arrest or prosecution for their work. Streep will highlight Clooney's work as counsel for many journalists under threat.
In times of unprecedented uncertainty, it's journalists who are out there, gathering the facts and trying to help us make sense of it all. By asking tough questions, and pursuing the truth at any cost, they are essential workers – serving the public and protecting democracy. That's why I'm proud to take part in this year's International Press Freedom Awards and to continue supporting the vital work of the Committee to Protect Journalists.
Clooney will also be interviewed by reporter and 2018 Gwen Ifill Awardee Maria Ressa. The lawyer previously defended Ressa when she was persecuted in her home country of the Philippines for reporting on government corruption. The award ceremony will be hosted by NBC Nightly News anchor Lester Holt. He'll be joined by several other notable journalists such as Christiane Amanpour, Margaret Brennan, David Muir, Yamiche Alcindor and others. Rosamund Pike, Samantha Bee and journalist Ronan Farrow will be included in calls to support press freedom. The 2020 International Press Freedom Awards will be broadcast online at www.ipfa2020.org as well as NBC News, CBS News and ABC News on Nov. 19 at 8 p.m. EST.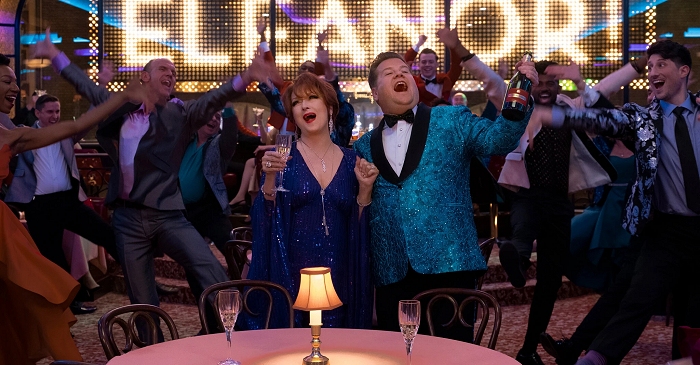 The New York Times has an in-depth article on Hollywood's recent revival of musicals, with a focus on the upcoming "The Prom". The complete artcile can be read over at their website: On a sun-nuzzled February morning earlier this year, "The Prom," Ryan Murphy's film adaptation of the Tony-nominated musical, prepared for a location shoot in a high school gym on the eastern edge of Hollywood. Basketball hoops kissed the ceiling. Rubber matting and webs of cables carpeted the floor. Beside the snack tables, James Corden, Kerry Washington and Meryl Streep, in a wig the red of a cocktail cherry, practiced a dance number, sashaying through the same steps at not quite the same time. The filmmaking, Corden said, once he had spun his final spin, had been amazing, joyous, nearly as much fun as "Cats," particularly these song and dance rehearsals. "You feel like you might be in the greatest touring production of all time," he said. The stage version of "The Prom," a story of a young woman who wants to take her girlfriend to a school dance and the Broadway stars who debatably come to her aid, has scheduled an actual tour for January, Covid-19 permitting. That's a little more than a month after Netflix releases Murphy's film, which tells the same tale with a starrier cast, fancier sets, delirious wigs and an orchestra that includes four French horns, four more than the Broadway pit could afford.
I've added all recent virtual performances that Meryl Streep has participated in. 2020 has been short of public appearances, for obvious reasons, but we've been able to catch Meryl Streep in online appearances more than ever. Among the additions are her most recent appearance on Bette Midler's "Hocus Pocus" Hulaween Special to benefit the New York Restoration Project, The Public Theater's tribute to Sam Waterston, the Kageno Virtual Harambee and a recent tribute by the Christopher and Dana Reeve Foundation. Have a look at all added videos below. Screencaptures from all appearances have been added as well. Enjoy, and please, stay safe everybody.
The first trailer for Ryan Murphy's "The Prom," the star-stuffed movie musical adaptation of the beloved Broadway musical, has landed from Netflix. Meryl Streep, Nicole Kidman, Kerry Washington, James Corden, Andrew Rannells, Keegan-Michael Key, and many more headline this flashy song-and-dance movie, which arrives on the streaming platform December 11. Watch the new look at the film below. The Broadway musical comedy follows a group of washed up Broadway actors who help a lesbian go to prom as part of a PR stunt. Dee Dee Allen (Meryl Streep), a two-time Tony Award winner, pairs up with Barry Glickman (James Corden) in a musical about First Lady Eleanor Roosevelt that's a total flop. They each receive career-killing reviews, and decide to revive their reputations by throwing their weight behind a charity cause. They're joined by veteran Broadway chorus girl Angie Dickinson (Nicole Kidman), along with out-of-luck actor Trent Oliver (Andrew Rannells), in boosting Emma Nolan (Jo Ellen Pellman), a high-school senior barred from bringing her girlfriend to the prom. Production was halted on the film on March 12, but resumed on July 23. The Broadway edition, with music by Matthew Sklar, lyrics by Chad Beguelin, and a book by Bob Martin and Beguelin, bowed in New York on October 2018 after launching in Atlanta in 2016. The musical was nominated for six Tony Awards in 2019, including Best Musical, though it didn't win any of them. "The Prom" premieres on Netflix December 11. Screencaptures from the teaser trailer have been added as well.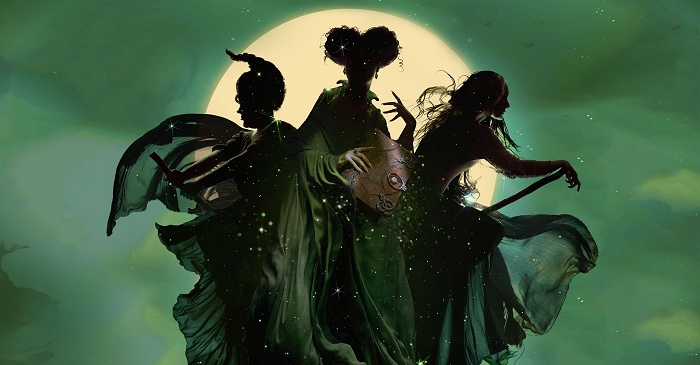 Bette Midler, Sarah Jessica Parker and Kathy Najimy are getting the Sanderson Sisters back together later this month, 27 years after the Halloween cult classic for a virtual "Hocus Pocus" reunion, Midler announced Sunday. The live event, "In Search of the Sanderson Sisters: A Hocus Pocus Hulaween Takeover," takes place Oct. 30 at 8 p.m. ET. "Join me! For a marvelous one night only reunion with the Sanderson Sisters and some of our favorite friends," Midler tweeted Sunday. In addition to the trio of stars, the reunion features Elvira, Mistress of the Dark as the host and a deluge of famous faces including Meryl Streep, Jennifer Hudson, Billy Crystal, Jamie Lee Curtis, Kenan Thompson, John Stamos, Glenn Close, George Lopez, Martin Short, Adam Lambert, Michael Kors, Todrick Hall and more. Hulaween is part of Midler's annual fundraiser for the New York Restoration Project, her organization dedicated to improving New York City's infrastructure and greenery.
*This is a one-time showing.* The show will not broadcast again after the listed date and time. Join us as Ms. Midler reunites with Sarah Jessica Parker and Kathy Najimy for "In Search of The Sanderson Sisters, A Hocus Pocus Hulaween Takeover" hosted by Elvira, Mistress of the Dark and featuring: Glenn Close, Billy Crystal, Jamie Lee Curtis, John Debney, Samantha Diaz, Harry Guinness, Todrick Hall, Jennifer Hudson, Anjelah Johnson-Reyes, Michael Kors, Adam Lambert, George Lopez, Alex Moffat, Vanessa Shaw, Martin Short, Sarah Silverman, John Stamos, Meryl Streep, Kenan Thompson, Sophie von Haselberg, and other surprise guests. Reserve your spot today for our one-hour virtual evening event on Friday, October 30! Your personalized access link will be emailed to you in advance of the event, and we will keep you informed of all the Hocus Pocus fun we have in store leading up to the big night. The broadcast will include closed captions in English and can be streamed worldwide
Tickets can be ordered over at Midler's New York Restoration Project website. Tickets cost $10 and all proceeds go toward the NYRP, according to the website.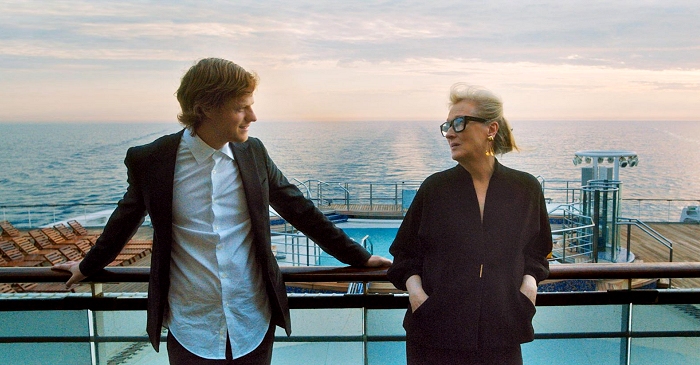 Entertainment Tonight has a fantastic interview with Meryl Streep, Candice Bergen and Dianne Wiest for Steven Soderbergh's December-confirmed HBO Max film "Let Them All Talk": Dianne Wiest sits demurely, a bookshelf behind her, broadcasting from her computer. Meryl Streep leans against a white brick wall, her iPhone at arm's length. Candice Bergen reclines on her couch, holding her iPad over her head. For his latest film Let Them All Talk, director Steven Soderbergh put the three acting legends on a ship and, well, let them all talk. So it only made sense for EW to do the same — albeit over Zoom, rather than at sea. The ensuing conversation will mark their first extended discussion of the mysterious movie, which arrives on HBO Max in December. Scripted (sort of; more on that in a minute) by beloved short-story writer Deborah Eisenberg, Let Them All Talk stars Streep as an acclaimed novelist who's summoned to the U.K. to receive an award. She invites two of her oldest friends (Bergen and Wiest) and her nephew (Lucas Hedges) to join her on a voyage aboard the Queen Mary 2 ocean liner, setting up a gabfest filled with reminiscence, regret, and repartee. As it happens, that also describes EW's roundtable with the actresses. But at first, they're just giddy to see each other again, discussing vacation spots and the California wildfires before Bergen gets things back on track. "You're trying to get things started here," she says with a chuckle. And so we do.
Meryl, how does playing, for lack of a better word, a regular person like this character differ from some of your more transformative roles?
I didn't think she was so regular. I mean, to me, she was a rara avis. She's a really weird bird. A real intellectual, which I am not. People like that sort of intimidate me, and so it's great fun to imagine what it'd be like to have those standards of thought, and those aspirations, and to have a poetic soul, which I think she did, and the selfishness of real, true artists. People that don't have kids and concerns that pull them into the real world. People that have been able to just live in the sort of miasma of their own imagination and anxieties and terrors. That's her, and at this particular moment of her life, especially so. Her regrets and her desires to figure things out — it's stuff you can relate to after 70, certainly, if you're lucky enough to get there.
The complete interview can be read over at Entertainment Weekly and in our press archive.
According to Variety, Leonardo DiCaprio, Meryl Streep and Timothee Chalamet will join Jennifer Lawrence in the star-studded cast of "Don't Look Up," a new Netflix comedy from Adam McKay. Jonah Hill and Himesh Patel will also star, along with Ariana Grande, Kid Cudi and Matthew Perry. As previously announced, Cate Blanchett and Rob Morgan are part of the cast. McKay, the filmmaker behind "Step Brothers," "Anchorman," "Talladega Nights" and "The Big Short," wrote and directed "Don't Look Up," which follows two low-level astronomers who embark on a media tour to warn mankind of an impending asteroid that could destroy the planet. Lawrence and DiCaprio are expected to play the two astronomers, but Netflix would not confirm. The movie is scheduled to start filming before the end of the year. McKay is also producing the film with Kevin Messick under McKay's Hyperobject Industries banner. Many thanks to Glenn for the heads-up.
Ernest Hemingway, the iconic literary figure considered one of the greatest American writers and among the first to live and work at the treacherous nexus of art and celebrity, is the subject of an upcoming three-part, six-hour documentary series directed by award-winning filmmakers Ken Burns and Lynn Novick coming to PBS April 5-7, 2021 at 8:00 – 10:00 p.m. ET (check local listings). The documentary paints an intimate picture of Hemingway the writer – who captured on paper the complexities of the human condition in spare and profound prose, and whose work remains deeply influential around the world – while also penetrating the myth of Hemingway the man's man to reveal a deeply troubled and ultimately tragic figure. The film also explores Hemingway's limitations and biases as an artist and a man of his time. "Hemingway is both an intimate, turbulent family saga and an examination of some of the greatest works of American literature in the 20th century," said director Ken Burns. "The documentary attempts to show how flawed our assumptions about Ernest Hemingway and his writing have been. At the same time, we are unsparing in our inquiry into less well-known aspects of his character and writing. Our intent is to offer viewers an honest portrayal of a complex and conflicted writer who left an indelible mark on literature." Narrated by long-time collaborator Peter Coyote, the series features an all-star cast of actors bringing Hemingway (voiced by Jeff Daniels), his friends and family vividly to life. Through letters to and from his four wives – voiced by Meryl Streep, Keri Russell, Mary Louise Parker and Patricia Clarkson – the film reveals Hemingway at his most romantic and his most vulnerable, grappling at times with insecurity, anxiety and existential loneliness. In three two-hour episodes, "Hemingway" tracks the meteoric rise and tragic fall of the author who, in his final years, suffered from chronic alcoholism, serious mental illness, traumatic brain injuries and depression. In 1961, at the age of 61, Hemingway died by suicide, leaving behind an unparalleled body of artistic work and a complicated emotional legacy for those closest to him.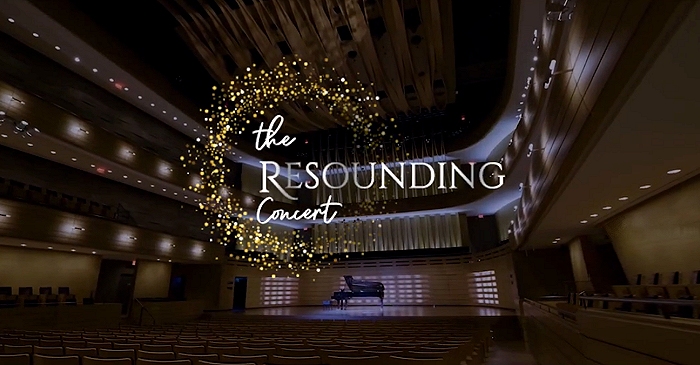 The full line up for The Royal Conservatory's season gala has been announced. As one of Toronto's most exclusive and star-studded annual galas, The Resounding Concert is accessible to everyone this year on October 17 via livestream. The event is a benefit in support of the Fund for Koerner Hall. Appearances will include artists who have performed at Koerner Hall from around the world: Buffy Sainte-Marie, Lang Lang, Meryl Streep, Sondra Radvanovsky, Jan Lisiecki, Zakir Hussain, James Ehnes, Alex Cuba, Daniel Hope, k.d. lang, Lighthouse, Rhiannon Giddens, Danilo Pérez, Brian Blade, John Patitucci, Gerald Clayton (playing Oscar Peterson), Barbara Hannigan, Chilly Gonzales, and Skratch Bastid with Afiara Quartet. Although the livestream is free for everyone, The Royal Conservatory are asking for donations in support of the Fund for Koerner Hall in order to keep bringing live music to audiences and keep artists working. More information on the concert and ticket prizes can be found here. Many thanks to Alvaro for the heads-up.
According to Playbill, a re-imagined virtual gala from The Public Theater will be a star-studded affair as the institution looks to the future following the year's reckoning around racism in the country. "Forever. Togehter.", directed by Tony winner Kenny Leon, will take place October 20 at 8 PM ET. The event will be live streamed on The Public's website, YouTube, and Facebook. While free to watch, donations are encouraged to support the Off-Broadway institution. The lineup includes Jelani Alladin, Jacqueline Antaramian, Antonio Banderas, Laura Benanti, Kim Blanck, Ally Bonino, Danielle Brooks, Jenn Colella, Elvis Costello, Daniel Craig, Alysha Deslorieux, Jesse Tyler Ferguson, Holly Gould, Danai Gurira, Stephanie Hsu, David Henry Hwang, Oscar Isaac, Nikki M. James, Alicia Keys, John Leguizamo, John Lithgow, Audra McDonald, Grace McLean, Lin-Manuel Miranda, Kelli O'Hara, Mia Pak, Suzan-Lori Parks, David Hyde Pierce, Phylicia Rashad, Liev Schreiber, Martin Sheen, Phillipa Soo, Meryl Streep, Sting and Trudie Styler, Will Swenson, Shaina Taub, Kuhoo Verma, Ada Westfall, and Kate Wetherhead. As previously planned for the June 1 ceremony, the gala includes a special tribute to this year's honorees Sam Waterston and Audrey and Zygi Wilf. "Before the world was stilled, we were set to celebrate the institution of theater as we knew it," said Leon. "What we now know is that we have much to learn and much to do to earn our sacred place in our community. We take this time to celebrate our artists, and as we move forward with our virtual event, we understand that these are precious moments. We must strive to build institutions worthy of the beauty of our artists, and we will meet the moment with the seriousness and attention it deserves." The evening will feature stories from Public Theater alumni, songs from Public Theater musicals (including a performance by Alladin of a new song written just for Public Works' production of Hercules), and a preview of "Say Their Names," a visual installation to be projected on the facade of The Public's Cooper Square home dedicated to the Black lives lost to police brutality and white violence. Anne McPherson will serve as the gala's production stage manager with music direction by Ted Sperling. Many thanks to Glenn and Alvaro for the heads-up.