The Royal Pardon

March 04, 1973

|

Yale Repertory Theatre
Directed by:
Michael Feingold |
Literature:
John Arden and Margaretta D'Arcy |
Costume Design:
Tove Ahlback |
Set Design:
Zack Brown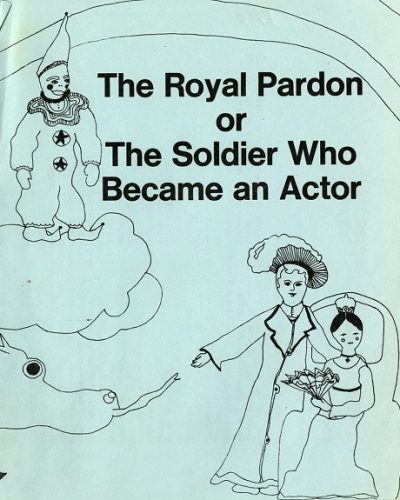 After years of war, peace is to be reached between England and France, sealed by the marriage of the English prince (Albert Innaurato) and the French princess (Ruth Nerken). A company of actors are to be sent from England to Paris, to perform at a theatrical gala in celebration of the union. Croke's band of performers are carrying with them an ex-soldier Luke, on the run from the law. Circumstances twist, turn and contrive to place the soldier on the stage, with his new found beloved, where he must ad lib a play of great ingenuity to appease royalty, and the law's claim upon him.
Cast: Bob Nersesian (Luke), Ralph Redpath (Croke), Kate Stewart (Mrs. Croke), Meryl Streep (Esmeralda), Mark McCarthy (William), Mordecai Newman (Charles, the French Chef), Joseph Costa (Constable Hopkins), Robert Marx (Underconstable Higginbottom), Ken Reichley (Higginbottom Junior), Albert Innaurato (King of England, King of France), Robert Marx (Lord Chamberlain), Chrsistopher Durang (English Prince), Ruth Nerken (French Princess)
Reviews
Yale Daily News, February 28, 1973, Henry Wiencek
"The Royal Pardon" is being presented this Sunday at the University Theater under the aegis of the Yale Children's Theatre, but if there are any adults reading this who are in need of a good laugh, disregard the appellation "Children's" and go see this show. Three of Yale's nuttiest acting talents, Ruth Nerken, Albert Innaurato, and Chris Durang, give hilarously hammy performances. Nerken and Durang play the French princess and the English prince, who meet and fall in love despite the political machinations of their fathers, the kings of France and England, both of whom are played by Innaurato. This royal romance is a subplot in the larger story of the soldier Luke, played by Bob Nersesian, who runs away from the army to become an actor. Luke is pursued by Contable Hopkins, played by Joseph Costa, who follows a trail of cake crumbs to where Luke is hiding. Luke has found a job as a stage hand with an itinerant group of actors, who have received an invitation to perform before the King of England.
There are fast-paced chases, bouncy songs, and a lesson in fractured French: When I saw the show three weeks ago, the kids in the audience loved it. They had no qualms at all about talking back to the actors or commenting on the action aloud. When Innaurator came on stage as the English king someone in the third row said, "He's too small." A messenger shouted from offstage that the ships are ready to sail. Innaurato turned and said, "What?" and a voice from the audience replied, "Your ships are ready!" And when the English king remarked that he had been married twice, at least one member in the audience was fit to be tied. "Twice! Twice" He's been married twice!" he cried. Writing in the Stratford News, 10-year-old Stephanie Isaacs said, "I liked the play because it was very funny and I liked meeting the actors… They made me laugh… I think everyone should go see it. I think that grandmothers should take their grandchildren and mothers should take their children."
"The Royal Pardon" will be presented four more times, on Sunday, March 4 and Sunday, March 11, at 1:00 and 3:00
---
The Royal Pardon is being listed under the following tags:
---