The Idiots Karamazov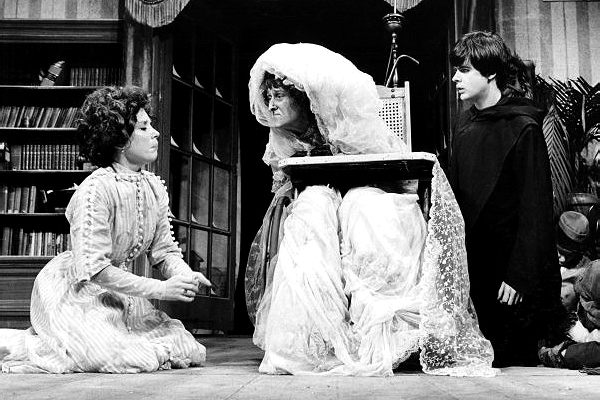 *Please note that any links forwarding to third-party streaming services have no affiliation or monetary connection with Simply Streep.
Release date:
November 01, 1974
Venue:
Yale Repertory Theatre
Directed by:
Tom Haas
Literature:
Christopher Durang, Albert Innaurato
Costume Design:
Joanne Brandt
Set Design:
Michael H. Yeargan
Music:
Carol Lees, Richard Lees, Walt Jones
Constance Garnett (Meryl Streep), the doddering British translatrix of the Russian classics, is embarking on her translation of The Brothers Karamazov. Her failing memory and obstinate self-regard make the process difficult, and soon the Russian brothers (Christopher Durang, John Rothman) are joined by a host of characters, literary and real, who can scarcely tell their troikas from their samovars. Soon Mary Tyrone is rubbing shoulders with Anaïs Nin at a monstrous tea party where sexual conventions are abandoned and the politics are revolutionary. The Karamazovs are a mighty clan, but can even they survive the coup de plume when Constance drops her authorial guard and enters the fray herself?
Cast & Characters
Christopher Durang (Alyosha Karamazov), John Rothman (Fyodor Karamazov), Meryl Streep (Constance Garnett), Ralph Redpath (Ernest), Charles Levin (Ivan Karamazov), Franchelle Stewart Dorn (Grushenka), R. Nersesian (Dmitri Karamazov), Stephen Rowe (Smerdyakov Karamazov), Jeremy Geidt (Father Zossima), Danny Brustin, Evan Drutman (Altar Boys), Linda Atkinson (Tyrone Karamazov), Christine Eastabrook, Lizbeth Mackay (Djuna Burnes), Kate McGregor-Stewart (Anais Pnin), Margot Lovecraft, Dawn Forest (Leather Girls), Peter Blane (Joaquin Pnin)
Photo Gallery
Production Notes