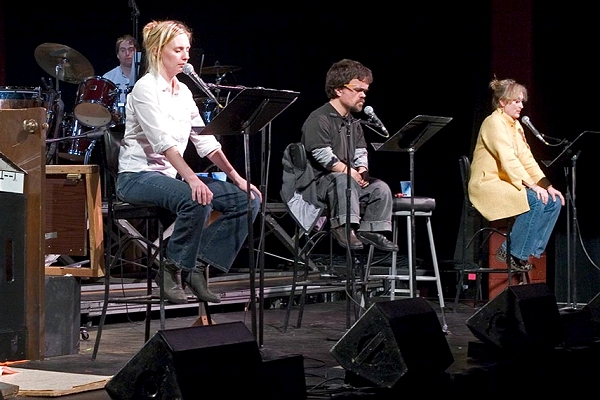 *Please note that any links forwarding to third-party streaming services have no affiliation or monetary connection with Simply Streep.
Production dates:
April - September 2005
Directed by:
Joel Coen, Ethan Coen, Charlie Kaufman
Music:
Carter Burwell
Celebrated filmmakers Joel and Ethan Coen, along with Charlie Kaufman (Eternal Sunshine of the Spotless Mind; Being John Malkovich), bring the quirky drama and savage wit of their award-winning movies to the stage in a live reading of two original sound plays set to music by their long time collaborator, composer Carter Burwell. The Coens' Sawbones and Kaufman's Hope Leaves the Theater come to life with eight extraordinary actors, scripts in hand, joined on stage by a sound-effects artist and a live band to create multiple characters and parallel realities, located somewhere between melodrama and comedy.
Production Dates
Venue: St. Ann's Warehouse (April 28-30, 2005)
Venue: Royal Festival Hall (May 13, 2005)
Venue: UCLA Live (September 14-16, 2005)
Steve Buscemi, Hope Davis, Peter Dinklage, John Goodman, Marcia Gay Harden, Philip Seymour Hoffman, Brooke Smith, Meryl Streep