This week we cover "Rendition", Gavin Hood's 2007 political thriller about the United States' practice of extraordinary rendition. You can learn more about the film by checking its detail page. The galleries have been updated with Blu-Ray screencaptures of the film and its making of documentary, new clips have been added to the video archive as well. As always, you can find my review after the cut, I'm interested to hear your comments on the film!

Production Notes
"Rendition" centers on the controversial CIA practice of extraordinary rendition – the abduction and illegal transfer of a person from one nation to another. "Torture by proxy" is used by some critics to describe situations in which the United States and the United Kingdom have transferred suspected terrorists to other countries in order to torture the suspect beyond the legal protection of the first country. The film combines three stories – that of a kidnapped terrorist suspect and his wife's search for him. There's the young CIA analyst and his older North African colleague, who execute the rendition. The third story is about the colleague's young daughter, who gets involved in a terrorist attack. In the Washington episode of the film, Meryl Streep portrays the head of counter terrorism for the CIA. Director Gavin Hood relished the opportunity to work with the legendary actress. "Possibly the greatest privilege on this movie was to work with Meryl, and I know it sounds sort of sycophantic to say, but it is true," he says. "She is an icon and I can only say she is a consummate professional and so kind to everyone and completely disciplined. When you are ready, she is ready." Reese Witherspoon adds, "Working with Meryl – Wow! I've been lucky enough to meet her socially, so I knew she was a doll. She is honestly the nicest person, so lovely and gifted, but also a wonderful mother and completely down to earth." "Rendition", which was first shown at the Toronto Film Festival, was met with mixed reviews – its low box-office reception can be partly blamed on the wave of anti-war and war-critical films that released in 2007 and 2008, all to underwhelming results.
Review
"Rendition", as mentioned above, was one of the many war-critical films that released in the 2007/2008 season – including "Lions for Lambs", "In the Valley of Elah", "Redacted" and "Stop Loss". Many of those were blasted for painting too negative an image of America and the way it deals with terrorism. While "Rendition" has its pace and thrill, I found it only a medicore attempt at such an important and sensitive issue. I also found the leading actors too young to convince in their parts. Reese Witherspoon feels overwhelmed at times as the wife in search of her missing husband, a storyline and performance that was done much better in the previous films, see Sissy Spacek in "Missing". I also found Jake Gyllenhaal miscast in the role of the CIA analyst – surely these two have box office appeal, but I found neither of them credible in their respective performances. Meryl Streep only has a few scenes and delivers an explanation on why she heads such a controversial position at the CIA. Still, I felt that one storyline less would have given the film more time to draw a better picture of who these people are. Recommended to those who like a conventional political thriller, for those interested in extraordinary renditions, a well-researched documentary would fare better.
Read posts from the archive:
December 10th, 2020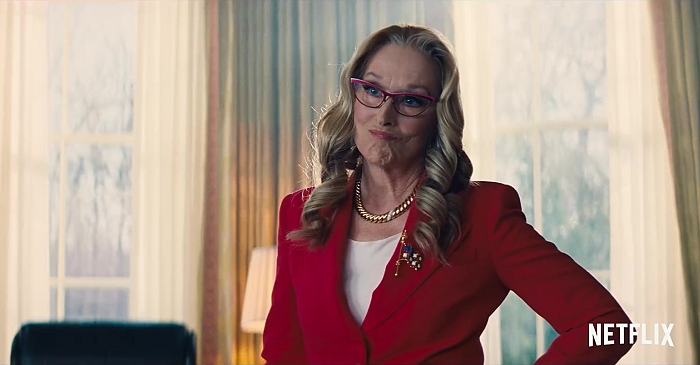 September 8th, 2021
www.simplystreep.com