The following article comes from CNN with many thanks to Glenn for the heads-up: There's a golden rule in Hollywood: Meryl Streep can star in whatever project she wants to star in. So, when writing "Big Little Lies" Season 2, Liane Moriarty, who wrote the novel the series was based on and is a producer on the show, had a trick up her sleeve. She created a new character – the grieving mother of deceased Perry (played in season 1 by Alexander Skarsgård) – and named her Mary Louise. "Mary Louise is my actual legal name," Streep said during a panel discussion at The Wing SoHo on Wednesday.
Streep said she joined the project without reading a script and thought the first season of the show "was the greatest thing on TV." 
Nicole Kidman, who was also on the panel, first revealed Moriarty's "secret" to landing Streep back in February. "That was Liane Moriarty. That was her telepathic message to you Meryl, because [the cast] did not know that. We did not know that that was your name," Kidman said. "Liane wrote the novella and said, 'Get me Meryl Streep.'" Streep praised the complex portrayal of the women in the series and said that "Big Little Lies" viewers will see her character head into a "dark place" following the murder of her son.
Her son is dead. I thank God I don't have that experience, but imagining it, just going into the dark place of imagining it. That feeling of protecting him while he's gone is still there. The motherhood never stops.
Streep also thanked Kidman and co-star Reese Witherspoon for having the foresight to option the book rights for the screen in 2014. "I was of a generation that waited to be asked to dance and I'm so admiring of you for getting on the balls of your feet and looking for material," Streep told Witherspoon, who also sat on the panel. A giddy Witherspoon then asked for whoever filmed that to send it to her so she could "post it to Instagram tomorrow" for proof that it actually happened. "Big Little Lies" premieres June 9 on HBO.
Read posts from the archive: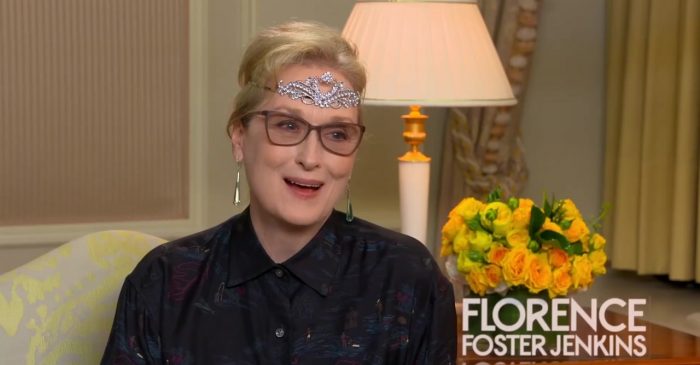 August 10th, 2016
February 28th, 2022
www.simplystreep.com