Happy End

February 1975

|

Yale Repertory Theatre
Directed by:
Michael Posnick |
Literature:
Bertolt Brecht, Kurt Weil |
Costume Design:
Michael H. Yeargan |
Set Design:
Michael H. Yeargan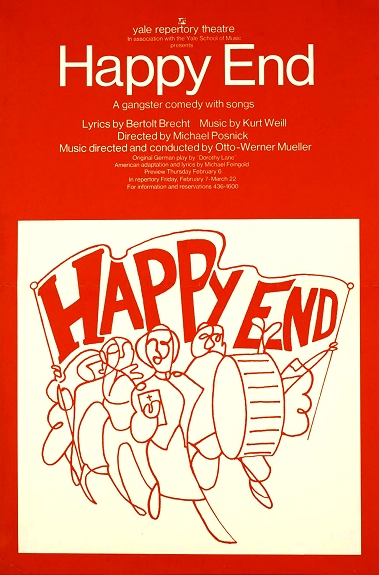 A three-act musical comedy by Kurt Weill, Elisabeth Hauptmann, and Bertolt Brecht - reminiscent of, but not the source of, the better-known musical "Guys and Dolls". A gang of criminals is hanging out in Bill's Beer Hall plotting their shakedown of a local pharmacist while waiting for their mysterious female boss named The Fly (Elizabeth Parrish) and her top tough guy Bill Cracker (Charles Levin). A Salvation Army band begins to play out on the street. Sister Lilian (Stephanie Cotsirilos) brings the band inside the bar, and begins to try to convert the gang.
Cast: Alvin Epstein (Dr. Nakamura), Ralph Drischell (Bob Marker), Paul Schierhorn (Johnny Flint), Jeremy Geidt (Sam Wurlitzer), Jerome Dempsey (Jimmy Dexter), Linda Atkinson (Miriam), Charles Levin (Bill Bracker), Elizabeth Parrish (Lady in Gray), John Rothman (A Cop), Stephanie Cotsirilos (Lt. Lilian Holiday), John McAndrew (Captain Hannibal Jackson), Kate McGregor-Stewart (Sister Mary), Lizbeth Mackay (Sister Jane), Peter Mark Shifter (Brother Ben), Nora Brustein (Major Halcyon Stone), Franchelle Stewart Dorn, Meryl Streep, Michael Lassell, R. Nersesian, Stephen Rowe (Members of the Fold), Frederic Warriner (A Visitor)
Production Notes
In a 2014 profile of Marie Claire, director Michael Posnick was quoted "discovering" Meryl Streep during the Yale production of "Happy End", in which the actress was cast among the Members of the Fold: It's February 1975 and Yale drama school's production of the musical Happy End is thrown into chaos when its female lead is struck down with flu. Panicking, director Michael Posnick plucks a student called Meryl Streep from the chorus line to fill in. 'She wasn't [even] the understudy,'he would later recall. That evening, Streep, then just 25, delivers a rousing performance after only an afternoon's rehearsal. 'I remember standing at the back of the theatre in awe that she had absorbed the entire production, absorbed the part. She had the whole thing down,' said Posnick. Two years later, on 7 May 1977, that same musical opened on Broadway to rave reviews – with Streep in the lead role.
---
Happy End is being listed under the following tags:
---