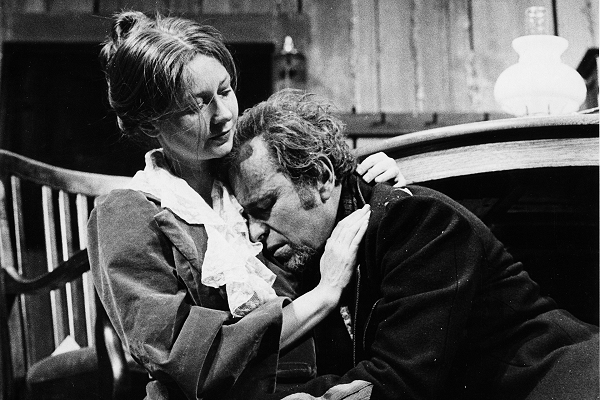 The Father
February 20, 1975
|
Yale Repertory Theatre
Directed by:
Jeff Bleckner |
Literature:
August Strindberg |
Costume Design:
Jeanne Button |
Set Design:
Michael H. Yeargan
Cast:
Rip Torn (Captain), Frederic Warriner (Pastor), Stephen Rowe (Orderly), Ralph Redpath (Happy), Elzbieta Czyzewska (Laura), Ralph Drischell (Dr. Ostermark), Elizabeth Parrish (Margaret), Meryl Streep (Bertha)
---
The Captain (Rip Torn), a scientist and freethinker whose marriage has gone sour, is engaged in a power struggle with his wife, Laura (Elzbieta Czyzewska), over their daughter, Bertha (Meryl Streep). He wants to send the girl away to school; Laura is determined to keep her daughter at home under her own influence. Laura resolves to drive her husband mad, and she begins by insinuating that he is not the girl's father.
This production page is imcomplete. If you have more information on this play, including programs, premiere dates or cast lists, please
write me an email
. Any help to make these pages as complete as possible is highly appreciated.
---
The Father is being listed under the following tags:
---