The Deer Hunter

December 08, 1978

|

Universal Pictures

|

182 minutes
Directed by:
Michael Cimino |
Written by:
Deric Washburn |
Cinematography:
Vilmos Zsigmond |
Editing:
Peter Zinner |
Costume Design:
Eric Seelig |
Set Design:
Ron Hobbs, Kim Swados |
Music:
Stanley Myers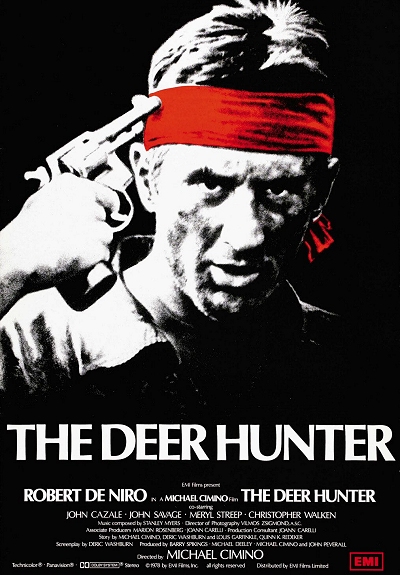 An in-depth examination of the way that the Vietnam war affects the lives of people in a small industrial town in the USA. Michael (Robert De Niro), Steven (John Savage) and Nick (Christopher Walken) are factory workers from Pennsylvania who get drafted to fight in Vietnam. Before they go, Steven marries. After time and many horrors, they fall in the hands of the Vietcong and are brought to a prison camp in which they are forced to play Russian roulette against each other. Michael makes it possible for them to escape, but they soon get separated again.
Cast: Robert De Niro (Michael), John Cazale (Stan), John Savage (Steven), Christopher Walken (Nick), Meryl Streep (Linda), George Dzundza (John), Chuck Aspegren (Axel), Shirley Stoler (Steven's Mother), Rutanya Alda (Angela), Pierre Segui (Julien), Mady Kaplan (Axel's Girl), Amy Wright (Bridesmaid), Mary Ann Haenel (Stan's Girl), Richard Kuss (Linda's Father), Joe Grifasi (Bandleader)
Production Notes
In 1968, EMI, then the most successful record company in the world, went into the movie business. The new company was called EMI Films, run by producers Barry Spikings and Michael Deeley. Spikings had bought a script called The Man Who Came to Play, about people who go to Las Vegas to play Russian roulette. He was always looking for talented filmmakers, and set up a meeting with Michael Cimino after seeing Thunderbolt and Lightfoot, the director's first film, starring Clint Eastwood, and released in 1974. Spikings didn't much like The Man Who Came to Play, but hadn't been able to get it out of his mind. He talked it over with Cimino, who, according to Spikings, said, "You know why you're obsessed with it? It's because the Russian roulette is a metaphor for what America was doing with its young people, sending them to a war in a foreign place, when there was no justification for it. I know something about Vietnam, and I've always wanted to do a movie about it. Are you up for it?" Spikings replied, "Sure." That was the beginning of The Deer Hunter. The film features an extraordinary cast, anchored by – and in part recruited by – Robert De Niro, who played Michael, the lead, and was among the first to sign on. "I liked the script, and Cimino had done a lot of prep," says the actor. "I was impressed." De Niro knew every actor in New York; he was the magnet who attracted established actors such as John Cazale – forever Fredo from the first two Godfathers – as well as up-and-comers such as Christopher Walken, who had grown up in musical theater and who played Nick, the Russian-roulette junkie; John Savage, who played Steven, the wedding scene's groom; and Meryl Streep, whom Cimino had seen in a production of Kurt Weill's Happy End on Broadway and practically hired on the spot as Linda, the love interest for Walken's and De Niro's characters. Offscreen, her boyfriend was Cazale, who was ill with cancer and would die shortly after The Deer Hunter finished shooting.
While The Deer Hunter and Coming Home were both being put together, Streep did a brief scene opposite Fonda in Julia. Streep so impressed the veteran actress that she called Bruce Gilbert, associate producer of Coming Home, and said, "I've seen somebody who is going to be major. We should get her for Coming Home. Write this down: M-e-r-y-l… " But Streep was already signed for another film – quite possibly The Deer Hunter, though no one recalls for certain.) Meryl gave an insight on playing Linda in an interview with Ms. Magazine in February 1979: "I was ecstatic to be in 'The Deer Hunter' because I was living with John Cazale at the time and we could be in it together. That is so hard for actors, you're always in different cities, missing each other… They needed a girl between the two guys, and I was it." Having seen "The Deer Hunter", a three-hour epic about men and their bonds and war and the blood that comes out of people when they are shot, you could sympathize with Streep's problem. She rolls her eyes and croaks when she recalls the challenge of portraying Linda in this male landscape. "I though to myself: Oh, boyyyy, how am I gonna stand up for this character? I thought of all the girls in my high school who waited for things to happen to them. Linda waits for a man to come and take care of her. If not this man, then another man: she waits for a man to make her life happen." That was the reality that Streep found for Linda, and it works. When her boyfriend's best friend flirts with her, she's embarrassed, she doesn't know where to put her eyes. She shoves and pushes to catch the bridal bouquet at a Russian-American babble of a wonderful wedding that goes on too long and she does, she cries tears of happiness. When the "Welcome Home from Vietnam" party doesn't work out (the returning De Niro orders his taxi to take him to a motel instead), she sits alone among the flowers and pulls her blue sweater around her like an old old lady. When De Niro surprises her the next day – he has really come home to her – they walk through the little town and she holds his arm to tightly and so proudly that you feel she has been rescued from war. She is the girl who waits for someone to give herself to, for anyone who will save her from the back room of that grocery.
Linda was a part that was fairly unwritten. They admitted they didn't have any idea what the girl would say in any of these situations – just whatever I thought would be appropiate. On the one hand you could think of it as negligent. On the other, it was great artistic freedom for me because I could really do my performance.I just remember wearing a lot of polyester and it was July and so hot. I remember Chris Walken eating two shrimp, and that was his dinner because he was trying to lose weight for the part. (Meryl Streep, Premiere Magazine, March 1997, More Magazine, December 2002)
During the Berlin International Film Festival in 1979 the Soviet delegation expressed its indignation with the film which, in their opinion, insulted the Vietnamese people in numerous scenes. The socialist states felt obliged to voice their solidarity with the "heroic people of Vietnam". They protested against the screening of the film and insisted that it violated the statutes of the festival, since it in no way contributed to the "improvement of mutual understanding between the peoples of the world". The ensuing domino effect led to the walk-outs of the Cubans, East Germans, Bulgarians, Poles and Czechoslovakians, and two members of the jury resigned in sympathy. When released in December of 1978, "The Deer Hunter" became an immediate success, winning five Oscars in 1979 for Best Picture, Best Director, Best Actor in a Supporting Role (Christopher Walken), Best Film Editing, and Best Sound. In addition, it was nominated for Best Actor in a Leading Role (Robert De Niro), Best Actress in a Supporting Role (Meryl Streep), Best Cinematography and Best Writing, Screenplay Written Directly for the Screen. Meryl further received her career's first Golden Globe nomination and won the National Society of Film Award in 1979.
Simply Streep's Review
It seems that films like "The Deer Hunter" aren't made anymore. With a running time of three hours, it's not easy to be consumed and uses your time and concentration. By doing so, "The Deer Hunter" remains one of the best anti-war films that have been made, a story anchored in the heart of America and, as a film, having its place among the best films of the 1970s. The acting is first-rate throughout, boasting some of the most talented young actors there were in the late 1970s. Meryl's role, on the surface, is not a central character of the film, she's the stay-home girl, the war-bride who's waiting. Even director Michael Cimino, as mentioned in interviews, didn't really know what to do with this role, so he gave Meryl free hand in creating Linda. It's a testament to her stage experience and of the brilliance that audiences would be allowed to witness until this day, in that she made Linda a deeply complex, human character – the face you think of just like the male characters when they are in war and think back of the time home. It's a small but fantastic role for Streep, who's won a well-deserved first Oscar nomination. "The Deer Hunter" deserves its place in cinema history. A classic. Very recommended.
Awards & Nominations for Meryl Streep
★ American Movie Award – Best Supporting Actress
★ National Society of Film Critics Award – Best Supporting Actress
☆ Academy Award – Best Supporting Actress
☆ Golden Globe Award – Best Supporting Actress
☆ British Academy Award – Best Supporting Actress
---
The Deer Hunter is being listed under the following tags:
---