The Taming of the Shrew

August 03, 1978 - September 03, 1978

|

The Public Theater
Directed by:
Wilford Leach |
Literature:
William Shakespeare |
Costume Design:
Patricia McGourty |
Production Design:
Wilford Leach |
Music:
Richard Weinstock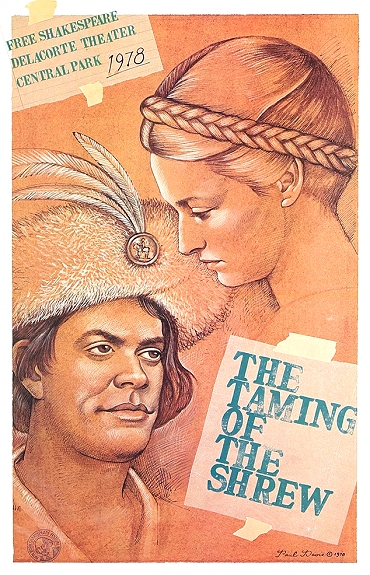 Bianca (Deborah Rush), the beautiful daughter of nobleman Baptista (Max Gulack), cannot marry until her older sister finds a husband. The only problem is: There is no man in Padua brave enough to woo the shrewish Katherine (Meryl Streep), so Bianca's suitors enlist the help of Petruchio (Raul Julia), who has just arrived from Verona. Though he woos Katherine unsuccessfully, Petruchio secures her father's permission and the two are married. He carries her off to his house, where he gives her a taste of her own bad behavior to force her to change her ways.
Cast: Raul Julia (Petruchio), Meryl Streep (Katharina), Larry Pine (Hortensio), Deborah Rush (Bianca), John Bottoms (Gremio), Joel Brooks (Grumio), Tom Costello (Christopher Sly), John Ferraro (Tranio), Stanley Flood (Servant), Kathryn Grody (Tavern, Hostess, Widow), George Guidall (Vincentio), Max Gulack (Baptista Minola), Stephen Hanan (Servant), Anthony Holland (Lord, Pedant), Jim Jansen (Player, Curtis), James Lally (Lucentio), Nicholas Woodeson (Huntsman, Biondello), Richard Zobel (Bartholemew)
Awards & Nominations for Meryl Streep
☆ SoHo Arts Award – Best Actress in a Play
---