Kramer vs. Kramer

December 19, 1979

|

Columbia Pictures

|

105 minutes
Directed by:
Robert Benton |
Written by:
Robert Benton |
Literature:
Avery Corman |
Cinematography:
Néstor Almendros |
Editing:
Jerry Greenberg |
Costume Design:
Ruth Morley |
Production Design:
Paul Sylbert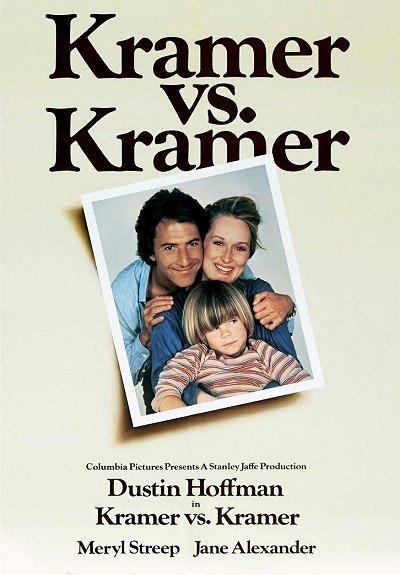 Ted Kramer (Dustin Hoffman) is a career man for whom his work comes before his family. His wife Joanna (Meryl Streep) cannot take this anymore. Depressed and in fear of her future and mental health, she decides to leave him. Ted is now faced with the tasks of housekeeping and taking care of himself and their young son Billy (Justin Henry). But just when he has learned to adjust his life to these new responsibilities, Joanna resurfaces and wants Billy back. Ted however refuses to give him up, so he and Joanna go to court to fight for the custody of their son.
Cast: Dustin Hoffman (Ted Kramer), Meryl Streep (Joanna Kramer), Justin Henry (Billy Kramer), Jane Alexander (Margaret Phelps), Howard Duff (John Shaunessy), JoBeth Williams (Phyllis Bernard), George Coe (Jim O'Connor), Bill Moor (Gressen), Howland Chamberlain (Judge Atkins)
Production Notes
When the 52nd annual Academy Awards rolled around in April of 1980, it came as no surprise when Kramer vs. Kramer (1979) took home 5 Oscars including Best Picture, Best Director, Best Adapted Screenplay, Best Actor, and Best Supporting Actress – from its 9 total nominations. The film had already received several awards from such film societies as the LA Critics Association, New York Film Critics Circle, and many others. One of the biggest blockbusters of the year, it grossed over $70 million at the box-office, making it clear that both the critics and the public agreed. This simple, yet timely story of changing gender roles is one of the most sincere, emotionally stirring, and skillfully woven films ever made on a family torn apart by divorce. Ted Kramer (Dustin Hoffman), a New York advertising art director, comes home from work one evening to tell his wife and son that he has just had "one of the five best days of his life." His career is on the fast track to success and his upper east-side family life seems picture-perfect. That same evening, his wife, Joanna (Meryl Streep), tells Ted that she is leaving him and their son (Justin Henry), to "find herself." His life suddenly in disarray, Ted is forced to make some career sacrifices and focus on becoming the boy's sole care-giver, a role that at first emphasizes the emotional divide between father and son. Eventually, the two grow close and reestablish themselves as a family when Joanna unexpectedly returns to claim her son, igniting a bitter custody battle. Kramer vs. Kramer is based on the 1977 novel by Avery Corman and was adapted for the screen by Robert Benton. At first the film producers wanted the renowned Francois Truffaut to direct, but Benton insisted on being allowed to direct as well. The producers then agreed to let Benton make his directorial debut with Nestor Almendros as his cinematographer. A Cuban expatriate, Almendros had previously worked with Truffaut on several films and was added to the crew very early in production so that he had input on creative decisions. The resulting piece won Benton both Best Director and Best Adapted Screenplay Oscars and put him on the map as one of the most sought after writer/directors of the day.
I worked a week at the beginning and a week at the end. But (laughingly) they talk about me disparagingly for two hours! In 1979, nobody was talking about depression, but this woman probably thought about killing herself once or twice every day. I could understand the compulsion to leave and not want to take your little boy wherever you were going in order to get better. I didn't think she was horrible – I read it and I was on her side. The ending never felt like and ending to me. Everyone said, 'There! She gave the boy back!' And I thought, 'Yeah… that week'. You don't know where the process of ger getting herself back together would lead. And you just know when the boy became preadolescent, he'd say 'F– you, Dad! I'm gonna live with my Mom, a-hole! (Meryl Streep, Entertainment Weekly, March 2000)
Hoffman also landed an Academy Award for his remarkable performance. According to Vincent Canby's New York Times film review, "Mr. Hoffman is splendid in one of the two or three best roles of his career. It's a delicately witty performance, funny and full of feeling that never slops into the banal." This win was his first Best Actor Oscar despite three other nominations for his performances in The Graduate (1967), Midnight Cowboy (1969), and Lenny (1974). It was also said that Hoffman assisted with the editing and many of the rewrites on Kramer vs. Kramer. Starring opposite Hoffman as Joanna Kramer, Meryl Streep transformed her minor role into a major performance and won unanimous praise from the critics, just as she had the previous year in The Deer Hunter (1978), which won the actress her first Oscar nomination for Best Supporting Actress. Originally the film's producers wanted Kate Jackson from Charlie's Angels for the part of the mother. They believed Streep would work best for Phyllis, the character JoBeth Williams ended up playing, because she had never carried a cinematic lead despite several popular theater and supporting film roles. "In their thinking, Meryl was not yet a bankable enough commodity to play Hoffman's wife," author Diana Maychick wrote in her biography, Meryl Streep. So Streep met with Benton and Hoffman to audition for the part of Phyllis four days after her wedding to sculptor Donald J. Gummer. Once they saw her, however, they thought she was absolutely perfect for the role of Joanna. Streep ended up rewriting most of her part to make her character more sympathetic, including her entire courtroom speech. She did "research" by reading women's magazines and talking to her mother. Hoffman reportedly thought she was trying to upstage him and argued with her over many of the changes. Eventually though, she won him over and Joanna was made into a much more sympathetic and complex character. Hoffman later told Maychick, "Yes I hated her guts, but I respected her." He realized that Streep "was not fighting for herself, but for the scene. She sticks with her guns and doesn't let anyone mess with her when she thinks she's right." Streep's performance earned her the Best Supporting Actress Oscar for that year her first Academy Award.
Simply Streep's Review
The greatest thing that can be said about "Kramer vs. Kramer" is that it stands the test of time. When I re-watched recently I was expecting it to have lost much of the relevancy which made it such a hit in 1979. You would think a film about a divorce is dated since pretty much everybody these days is divorced – but the film hasn't lost any of its brilliance, sadness and currency throughout the years. Here we watch people from the real world, not one sentece seems scripted, no action seems forced. You care about Ted Kramer, although he's a career-driven, selfish egomaniac. You care about Joanna, although she makes the heinous decision of leaving her child within the first few minutes you meet her. And you care about Billy, because he's not the wise-cracking Hollywood kid who's smart about everything. These characters grow with the film, they make decisions, they live, they fight for it. The power of "Kramer" lies within the brilliant script and the actors who portray the family – Dustin Hoffman, Meryl Streep and Justin Henry. This is a must-see, not only because Meryl delivers one of the best performances of her career in the limited screentime she has. It's also a great example of exceptional filmmaking and storytelling. Very recommended.
Awards & Nominations for Meryl Streep
★ Academy Award – Best Supporting Actress
★ Golden Globe Award – Best Supporting Actress
★ Los Angeles Film Critics Circle Award – Best Supporting Actress
★ National Board of Review – Best Supporting Actress
★ National Society of Film Critics Award – Best Supporting Actress
★ New York Film Critics Circle Award – Best Supporting Actress
☆ British Academy Award – Best Film Actress
---