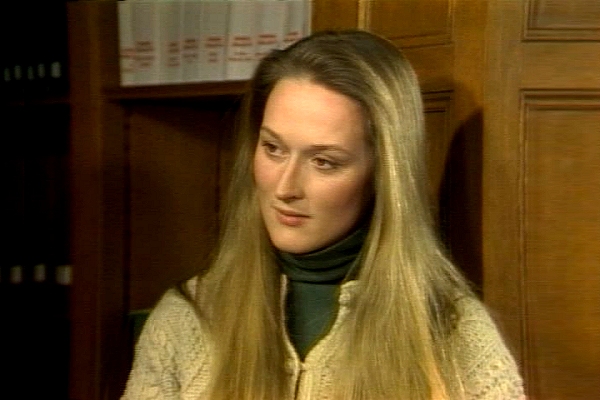 *Please note that any links forwarding to third-party streaming services have no affiliation or monetary connection with Simply Streep.
Release date:
June 20, 1979
Directed by:
Merrily Mossman, Steven Robman
Written by:
Wendy Wasserstein
Produced by:
Phylis Geller
Running time:
90 minutes
Framed by a present-day luncheon between old friends, the television adaptation of Wendy Wasserstein's play flashes back to 1971, their senior year at Mount Holyoke College, where young women are groomed for "Gracious Living" and high expectations. This distaff Ivy League prompts an abundance of lively introspection from the classmates, including Rita (Swoozie Kurtz), the aspiring novelist who'll never write a novel, Leilah (Meryl Streep), tentatively devoted to a humanitarian future; and Holly (Alma Cuervo), whose identity is troublesomely elusive.
Jill Eikenberry (Kate Quin), Ann McDonough (Samantha Stewart), Alma Cuervo (Holly Kaplan), Ellen Parker (Muffet DiNicola), Swoosie Kurtz (Rita Altabel), Josephine Nichols (Mrs. Plumm), Cynthia Herman (Susie Friend), Meryl Streep (Leilah), Anna Levine (Carter)
"Uncommon Women and Others" is the first play by noted 20th century American playwright Wendy Wasserstein. It premiered Off-Broadway in a Phoenix Theatre production on November 21, 1977. Wasserstein also wrote the teleplay for the 1978 televised production. It was shown in May 1978 as part of the Great Performances series on PBS. All actresses of the play reprised their roles in the made-for-television PBS film with the exception of Glenn Close, who originally played Leilah. She was replaced by Meryl Streep, who became friends with Wasserstein while both studied at Yale.