The French Lieutenant's Woman

September 18, 1981

|

United Artists

|

124 minutes
Directed by:
Karel Reisz |
Written by:
Harold Pinter |
Literature:
John Fowles |
Cinematography:
Freddie Francis |
Editing:
John Bloom |
Costume Design:
Tom Rand |
Production Design:
Assheton Gorton |
Music:
Carl Davis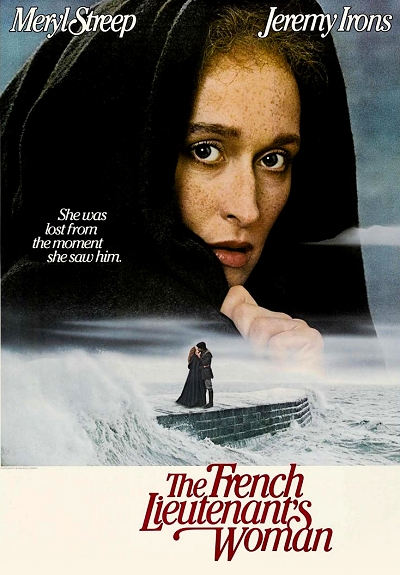 A motion picture is being made about the love affair between a Victorian gentleman and an outcast woman who has been jilted by a French officer, scandalizing the polite society of Lyme Regis in 19th century England. Charles Smithson (Jeremy Irons), a biologist who's engaged to be married, but who falls in love with outcast Sarah Woodruff (Meryl Streep), whose melancholy makes her leave him after a short, but passionate affair. Meanwhile, Anna and Mike, the actors who play the characters of Sarah and Charles, explore an intimate relationship that runs parallel to that of their characters.
Cast: Meryl Streep (Sarah Woodruff/Anna), Jeremy Irons (Charles Smithson/Mike), Hilton McRae (Sam), Emily Morgan (Mary), Charlotte Mitchell (Mrs. Tranter), Lynsey Baxter (Ernestina), Jean Faulds (Cook), Peter Vaughan (Mr. Freeman), Colin Jeavons (Vicar), Liz Smith (Mrs. Fairley), Patience Collier (Mrs. Poulteney), John Barrett (Dairyman), Leo McKern (Dr. Grogan), Edward Duke (Nathaniel), Penelope Wilton (Sonia), Richard Griffiths (Sir Tom)
Production Notes
After several false starts by some of the era's most respected directors, the film version of John Fowles's novel The French Lieutenant's Woman finally got off the ground in 1978 when Karel Reisz agreed to take on the responsibility. As far back as 1969, Fowles had asked Reisz, a member of Britain's Angry Young Man generation of filmmakers, to direct the film, but he declined. A succession of big name contenders followed, including Fred Zinnemann who owned the rights to a script by Dennis Potter, Mike Nichols, Lindsay Anderson, Franklin Schaffner, Michael Cacoyannis, and Richard Lester. However, all seemed daunted by the novel's self-reflexive properties, and many did not make it to preproduction before dropping out.
When Reisz finally agreed to direct the film at Fowles's second request, he recognized the difficulties of turning such a complex novel into a Hollywood movie. The plot of the book is a Victorian-style romance that relates the tragedy of Sarah Woodruff, an enigmatic young woman ostracized by her village because of her affair with a French officer who has abandoned her. Biologist Charles Smithson falls under Sarah's melancholy spell and breaks his engagement to a woman from a prominent family in order to pursue their scandalous relationship. Fowles' personal choice for Sarah was Helen Mirren, who was a rising film star in the early 1980s, after being a hailed stage actress for decades. However, Meryl Streep won the part – a decision that raised eyebrows among British critics on why an American actress was needed to portray a British novel heroine. Reisz and Fowles found the perfect screenwriter to help tackle this problem, Harold Pinter, primarily because of the playwright's mastery of narrative structure, layered meaning, and nuanced dialogue. The inner nature of his characters, which motivates their lives and impacts their relationships, lies just beneath the surface of everyday routines and commonplace conversations. Fowles had always admired Pinter's work and wanted him as the principal screenwriter from the beginning of the project.
I thought it was very interesting, but I must say, I could never attach to either of my characters ever. It was very disconcerting – I didn't know who I was at any given moment. This movie… set me aside from myself. I didn't know where the actress was manipulating the guy through her character. Everything was so conscious, and I don't like to be conscious when I'm acting. I like to be unconscious – extremly unconscious. (Meryl Streep, Entertainment Weekly, March 2000)
Ultimately, Pinter gave the film version of The French Lieutenant's Woman its most talked-about feature – a double story in which one thread follows the 19th-century romance of Sarah Woodruff and Charles Smithson while the other tracks the modern-day affair of Mike and Anna, two actors playing Charles and Sarah in a film production of the novel. Jeremy Irons stars as Mike and Charles, while Meryl Streep garnered a third Academy Award nomination as Sarah/Anna. The idea to embed the modern story of two actors playing the roles of Charles and Sarah into the Victorian melodrama was Reisz's contribution to the screenplay, but Pinter conceived the characters of Mike and Anna, structured their story into the principal action, and gave their romance purpose and meaning. Just as the intrusion of a 20th century perspective interferes with the readers' total immersion into the 19th century romance in the novel, the dual romance in the film – one set in the past and the other the present – becomes a distancing device that prevents viewers from completely identifying with Sarah and Charles and sympathizing with their plight. It undermines the ability of Hollywood cinema to spin illusion, reminding viewers that they are watching a piece of fiction on film and prompting them to think about the events and characters instead of embracing them as romantic fantasy. In addition, the juxtaposition of specific scenes of Charles and Sarah with Mike and Anna offer critical commentary on manners and sexual mores. Mike and Anna's modern sexually fueled romance points up the repressed manners and sexual hypocrisy of the Victorian age, while Charles and Sarah's attempts to suppress their feelings eventually erupt in a physical passion that reveals the lack of intensity in Mike and Anna's relationship. Pinter's nuanced dialogue takes on layered meaning in the contrast of characters and events from the past and present.
Comparisons of Pinter's screenplay to Fowles's original novel dominated the press coverage of The French Lieutenant's Woman, with some reviewers complimenting the inclusion of the modern story while others criticized it. The spotlight on Pinter's screenplay drew reviewers' attention away from the contributions of the cast and other members of the creative team, though many garnered awards. Despite five Academy Award nominations, The French Lieutenant's Woman suffered from lukewarm reviews, with most critics unable to adequately interpret the purpose of the modern characters in a Victorian story. Meryl Streep won a Golden Globe and BAFTA Award for her performance, as well as her career's first Best Actress nomination at the Academy Awards.
Simply Streep's Review
"The French Lieutenant's Woman" has been an important film in Meryl's career for many reasons. First of all it's her first leading role on film, and after playing variations of New York women in her late 1970's supporting roles, here she shows the total immersion into a completely different looking character. Two characters actually, as she not only portrays Sarah, the heroine of the John Fowles' period novel, but also the actress who portrays Sarah in the film-in-film-sequences. Of course, Streep shines in both roles. The surprising aspect of watching "The French Lieutenant's Woman" was that I've never felt to be watching a film being made as the stories of the 19th century couple and the present day actors are constantly intertwined. Rather, it's like watching two seperate stories. It also allows you to see the actors how they really look, without the heavy makeup for the Victorian scenes, as witnessed in the scenes where Mike hosts a garden party for the cast. Here, my favorite scene of the film occurs, between Meryl and Penelope Wilton, who plays Mike's wife. It's a subtle and powerful scene without many words. While period romances are not my favorite genre, I found "The French Lieutenant's Woman" worthwile, it has great detail to set decoration and a wonderful representation of 19th Century England. The acting, as mentioned, is first rate, by both Streep and Jeremy Irons (in only his second film performance). Watching it today, it's hard to believe that Meryl was only 31 when shooting the film – it's a testament to her outstanding talent. Very recommended.
Awards & Nominations for Meryl Streep
★ Golden Globe – Best Actress in a Motion Picture (Drama)
★ British Academy Award – Best Film Actress
★ Los Angeles Film Critics Award – Best Actress
★ National Society of Film Award – Best Actress
☆ Academy Award – Best Actress
---