Alice at the Palace

January 16, 1982

|

PBS Television

|

90 minutes
Directed by:
Emile Ardolino |
Written by:
Elizabeth Swados |
Literature:
Lewis Carroll |
Cinematography:
Girish Bhargava |
Costume Design:
Theoni V. Aldredge |
Set Design:
Robert Yodice |
Music:
Elizabeth Swados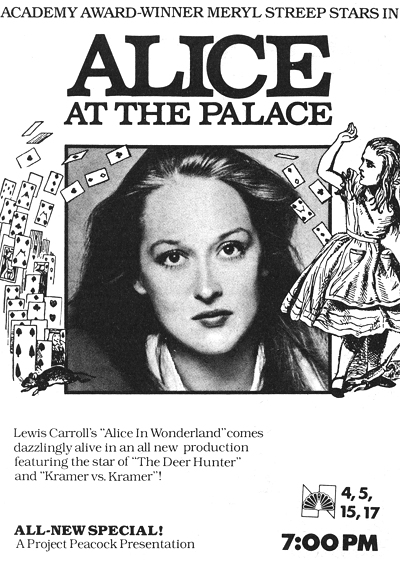 A taped version from the Elizabeth Swados/Joseph Papp New York Shakespeare Festival production, originally entitled "Alice in Concert" and changed to "Alice at the Palace" for PBS, for which Swados also composed the score, adapted the book and directed for the stage. Starring Meryl Streep and featuring Debbie Allen and Betty Aberlin, "Alice At The Palace" is an entertaining and shrewdly conceived retelling of the Carroll classics with all of the beloved characters given a unique twist by the witty and charming performances of an accomplished theatrical ensemble.
Cast: Meryl Streep (Alice), Betty Aberlin (Alice's Sister), Debbie Allen (Red Queen), Stuart Baker-Bergen, Richard Cox (Mad Hatter), Sheila Dabney, Rodney Hudson (Cheshire Cat / Unicorn), Michael Jeter (Caterpiller / Dormouse), Charles Lanyer (Lion), Mark Linn-Baker (March Hare), Kathy Morath, Deborah Rush (Alice's Mother)
Production Notes
Winner of the 1982 Primetime Emmy Award for Outstanding Individual Achievement – Children's Programming.
---
Alice at the Palace is being listed under the following tags:
---