The Bridges of Madison County

June 02, 1995

|

Warner Bros.

|

135 minutes
Directed by:
Clint Eastwood |
Written by:
Richard LaGravenese |
Literature:
Robert Waller |
Cinematography:
Jack N. Green |
Editing:
Joel Cox |
Costume Design:
Colleen Kelsall |
Production Design:
Jeannine Oppewall |
Music:
Lennie Niehaus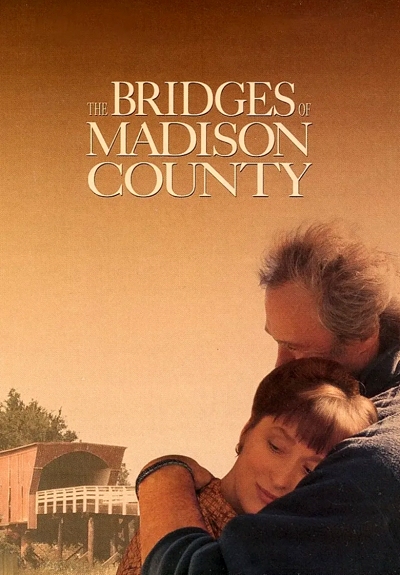 Iowa housewife Francesca Johnson (Meryl Streep) meets a traveling National Geographic photographer Robert Kincaid (Clint Eastwood), who has arrived in Madison County, Iowa to shoot its picturesque covered bridges. The two begin a four-day affair while her husband and children are out of town that reawakens long-lost passions and yearnings in Francesca. Kincaid confronts his own roving, rootless nature; he asks her to come with him.
Cast: Clint Eastwood (Robert Kincaid), Meryl Streep (Francesca Johnson), Annie Corley (Caroline), Victor Slezak (Michael Johnson), Jim Haynie (Richard Johnson), Phyllis Lyons (Betty), Debra Monk (Madge)
Production Notes
Robert James Waller's novel The Bridges of Madison County was a genuine literary phenomenon. The simple story set in 1965 about a married Iowa farm wife who has a brief but life-changing affair with a world-traveling photographer struck a chord with readers everywhere. The book was released in April of 1992 without much fanfare, but through word of mouth it quickly gained momentum. Within a few months it topped the New York Times Bestseller list, where it remained for the next three years. The Bridges of Madison County was such a popular book that it didn't take long for Hollywood to come calling. Steven Spielberg's company Amblin Entertainment quickly bought the movie rights. Spielberg considered directing the film himself, but became too busy working on Schindler's List (1993). Director Sydney Pollack was also attached to the project for a time with Robert Redford rumored to play the male lead, the photographer Robert Kincaid. The lead characters of Kincaid and Francesca Johnson were both middle aged and called for older actors in the roles-a rarity in movies, especially a Hollywood love story. Francesca was the most hotly pursued female role in Hollywood at the time. A-list actresses over forty such as Jessica Lange, Isabella Rossellini, Susan Sarandon and Anjelica Huston were all considered leading contenders. Finally, it was Bruce Beresford (Tender Mercies) who was officially announced as the director with Clint Eastwood firmly set to star as Robert Kincaid. At 65 Eastwood was a bit older than the 52-year-old character in the book, but after a career of playing mostly tough guys and steely cowboys, Eastwood saw the role as an intriguing opportunity to show a more sensitive side on screen.
I had a picture of who this woman was – I knew it was an Italian war bride, and I had grown up down the street from one. Her husband was a tall, blond man, and she barely spoke any English. Over the years she learned – she was a very bright, interesting woman – but there was always something exotic about her. Anyway, the book had this woman in jeans and braless. It was just hard for me to understand her. I had a pretty vivid picture of her, and I didn't want to complicate it (laughs) with the authors actual intent. I honestly didn't finish the book. I started it and then thought, I'll wait for the screenplay. The screenplay had a woman in it. (Meryl Streep, Entertainment Weekly, March 2000)
Before long, however, Eastwood and director Beresford found themselves at odds over the crucial casting of Francesca, which had not yet been finalized. Francesca was supposed to be an Italian war bride who came to Iowa as an immigrant farm wife. Beresford wanted a more exotic, possibly European actress in the role such as Lena Olin or Isabella Rossellini. Eastwood felt strongly that the part should go to an American actress and began to champion Meryl Streep for the role. Beresford and Eastwood continued to clash, and eventually it was announced that Beresford was leaving the project. Eastwood, an accomplished director himself with films like The Outlaw Josey Wales (1976) and Unforgiven (1992) for which he won an Academy Award – Best Director, decided to take over the director's reins The first thing Eastwood did as director was pursue Meryl Streep for the role of Francesca. He had heard that she wasn't a fan of the novel, so he called her personally to ask her to read the screenplay by Richard LaGravenese. Eastwood assured her that LaGravenese's screenplay had made vast improvements over the book's affected and often-criticized prose. Streep did like the script and soon happily agreed to play Francesca. Building on Beresford's valuable pre-production work, Eastwood assembled the production quickly. He traveled to Iowa and scouted locations in and around Madison County. He visited the towns of Winterset and Abel as well as the picturesque covered bridges made famous by the novel. For the main set of Francesca's home, a real farmhouse that had been abandoned for over thirty years was reconstructed. The cast and crew of The Bridges of Madison County soon descended on Iowa for the relatively brief forty-two day shoot.
Meryl Streep said later that the set was the quietest she had ever worked on. Eastwood worked very fast, she said, never raising his voice above a whisper and rarely asking for more than one or two takes. Eastwood also found time to write the main musical "love theme" for the movie called "Doe Eyes", which was orchestrated for the film's score by Lennie Niehaus. Eastwood also gave his son Kyle some onscreen time in the scene where Robert and Francesca visit a jazz club. Kyle, a real-life jazz musician with his own quartet, can be seen playing bass on stage with the James River Band. When The Bridges of Madison County was released, viewers and critics alike seemed pleasantly surprised at how good and poignant it was. The consensus was that it was an exceptional case of Hollywood making a movie that actually improved upon the book. The New York Times said that Eastwood had made "a moving, elegiac love story," and the New York Daily News said, "There are moments here – that are as powerful as anything the movies have given us." The film was also a financial success, as was its popular music soundtrack featuring Eastwood's love theme and music from jazz greats Dinah Washington and Johnny Hartman. Meryl Streep was widely lauded for her stunning portrayal of Francesca, and was recognized with an Academy Award nomination as Best Actress that year.
Simply Streep's Review
Clint Eastwood has been known as a great actor before he got his reputation as a brilliant director. "The Bridges of Madison County" has the benefit of featuring both of his talents. All too often, romantic films feature characters that either horribly suffer throughout the film in order to find love – or who hate each other dearly for most of the time until they realise they're madly in love with each other. But in the end, they find themselves and you know it from the start. In "Bridges", the two main characters are so richly drawn and so connected with their lives, that you're not that sure what path they will go. The dialogue in the film is crucial, because you don't need to wonder why these two feel attracted to each other – you witness it through their conversations. Here's the Italian warbride who's dreamed of America, but got stuck in a small town, knowing that nothing special will be happening in her life anymore. And there's the adventurous photographer, grounded in life, but still on the go – and able to show her the places and times in life she has been yearning for all these years. What ultimately gives the film its human spirit is that both characters stay true to themselves. Robert fears that their affair will become public and that Francesca will become an outcast in her town. Francesca has to face the fact that, no matter how much she wishes for another life, she can't leave the one she has, including her family and responsibility for them, behind. While love stories have never been my favorite genre, "The Bridges of Madison County" remains a remarkable film. The acting is outstanding and true to the story, as simple as it is heartbreaking. It's one of Meryl's best performances in the 1990s. Very recommended.
Awards & Nominations for Meryl Streep
☆ Academy Awards – Best Actress in a Leading Role
☆ Golden Globe Awards – Best Performance by an Actress in a Motion Picture (Drama)
☆ Screen Actors Guild Awards – Outstanding Performance by a Female Actor in a Leading Role
☆ Blockbuster Entertainment Awards – Favorite Actor (Drama)
☆ Chicago Film Critics Association Awards – Best Actress
☆ Dallas-Fort Worth Film Critics Association Awards – Best Actress
☆ National Society of Film Critics Awards – Best Actress
☆ New York Film Critics Circle Awards – Best Actress (5th place)
☆ Sant Jordi Awards – Best Foreign Actress (Mejor Actriz Extranjera)
---