Dancing at Lughnasa

November 13, 1998

|

Sony Pictures

|

95 minutes
Directed by:
Pat O'Connor |
Written by:
Frank McGuinness |
Literature:
Brian Friel |
Cinematography:
Kenneth MacMillan |
Editing:
Humphrey Dixon |
Costume Design:
Joan Bergin |
Set Design:
Mark Geraghty |
Music:
Bill Whelan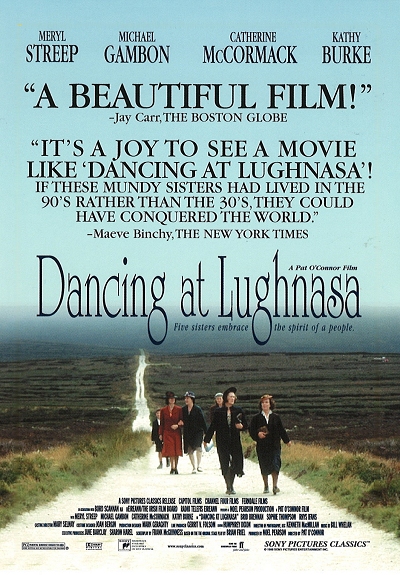 In 1930's Ireland, a young boy tells the story of growing up in a fatherless home with his unmarried mother (Catherine McCormack) and four spinster aunts (Meryl Streep, Kathy Burke, Sophie Thompson and Brid Brennan). But then into this comes an elderly brother (Michael Gambon), who has "come home to die". Unexpectedly, the boy's father arrives as well. Nevertheless, life goes on for the five sisters, although undeniably affected by the presence of the two men, they continue to cope as a close-knit unit... until something happens that disrupts the very fabric of that cohesiveness beyond repair.
Cast: Meryl Streep (Kate Mundy), Michael Gambon (Father Jack Mundy), Catherine McCormack (Christina Mundy), Kathy Burke (Maggie Mundie), Sophie Thompson (Rose Mundy), Brid Brennan (Agnes Mundy), Rhys Ifans (Gerry Evans), Darrell Johnston (Michael Mundy), Lorcan Cranitch (Danny Bradley), Peter Gowen (Austin Morgan), Dawn Bradfield (Sophie McLoughlin), Marie Mullen (Vera McLoughlin), John Kavanagh (Father Carlin), Kate O'Toole (Chemist)
Production Notes
The play originally opened in Dublin, Ireland in 1990. It opened on Broadway in New York City, New York, USA on 11 October 1991 and closed on 25 October 1992 after 436 performances. In the cast were Brid Brennan, who originated her role as Agnes and won 1992 Tony Award – Best actress, and Gerard McSorley as the adult Michael, the narrator in the movie. The play also won a 1992 Tony Award – Best play.
Kate's sadness com from all her lost chances and also that at a certain age her life is over. At least when she has her teaching job she has she self-esteem. And when that's taken away she has nothing. And to be an unmarried woman without a child, not a widow even. Just a nothing, she's a nothing in the world. A burden. Like in those Native American tribes when old people decide they've taken enough food from the group, they walk off. "After Yale, I did play after play after play. I loved it! And then I stopped – all on behalf on my children who don't appreciate my sacrifice AT ALL! (laughing) 'Eeuuuwww, theater, why would you want to do that? It's boring!' I really miss it… So that was the main thing. To begin circling the theater, to see if I could fit my large, overly important self into an ensemble again in the way that everybody does seamlessly in the theater. And they were amazing to me, forgiving and welcoming. (Meryl Streep, Harper's Bazaar, January 1999)
Simply Streep's Review
"Dancing at Lughnasa" is one of the films I would have probably never seen if it wasn't for Meryl. I'm sure it has also been her involvement that helped financing the film, giving her another opportunity after "Plenty" to play a character from a play on the big screen. The reason that the film remains little seen is probably because of it's story – four spinster sisters in rural Ireland, coping with poverty and unfulfilled dreams isn't you basic mainstream material. But while currently rewatching the film, I was pleasently surprised how well it's transformed to the screen. This film belongs to its actors, it's great to see Meryl playing opposite a great actor like Michael Gambon. Sophie Thompson, who's Emma Thompson's younger sister, is equally good as Rose. And Kathy Burke and Rhys Ifans, who made their mark as comedians, are doing a great job as well. Meryl's character is the most unsymphatetic of the film, and the saddest, because with all her harshness she's trying to keep her family together. Being the oldest sister, she has become the family's mother. "Dancing at Lughnasa" is recommended to all who like a small and nicely acted ensemble drama, featuring beautiful cinematography of the Irish landscape.
Awards & Nominations for Meryl Streep
☆ Irish Film and Television Award – Best Actor in a Female Role
---
Dancing at Lughnasa is being listed under the following tags:
---