Ginevra's Story

September 21, 2001

|

PGN Educational Media

|

57 minutes
Directed by:
Christopher Swann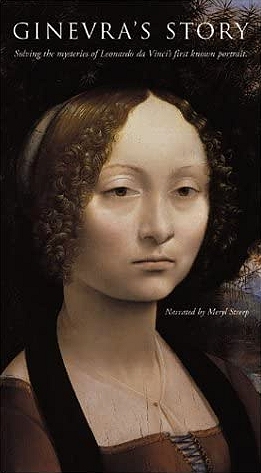 Ginevra's story takes us back 500 years to become acquainted with the three women whose portraits Da Vinci painted. Ginevra di Benci was the first, Cecilia Gallerani(Lady with an Ermine) the second, and Lisa Ghiardini-del Gicondo(Mona Lisa) the last. The paintings were completed 15 years apart, spanning Da Vinci's painting career, and documenting his maturation as an artist and as an individual. Ginevra was painted at the time of her marriage at 16. She was well known as a talented poetess.
Production Notes
The events in the life of the painting are just as interesting: defaced at some point, the lower portion including Ginevra's hands were removed, stored in a wine cellar through WWII for safe keeping and finally purchased by The National Gallery in Washington for 3 million dollars where it was eventually cleaned. The video includes narration by Meryl Streep – the Italian version was narrated by Isabella Rossellini – excellent input from art historians about the painting and about Da Vinci, a computer reconstruction of a before and after for each portrait, and much more. It will leave you wanting to know more about Ginevra and her famous counterparts.
---