Karen Blixen – Out of this World

October 02, 2006

|

Nordisk Film TV

|

35 minutes
Directed by:
Marcus Mandal, Anna Lerche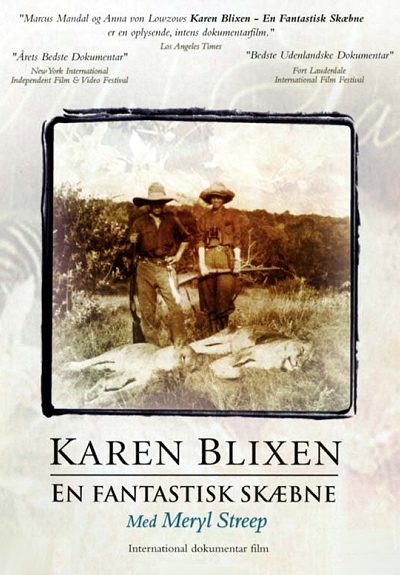 Intended to satisfy the curiosity of her huge international audience, the film revolves around people who knew Karen Blixen personally. The film is from the outset a success story about a strong, influential and powerful woman, who lives against the grain. But it is also a story about a deeply tortured individual who felt forsaken as a child, and who as an adult was severely torn between competing talents and experiences. During the documentary the viewers are taken on a journey through the life of Blixen, told by people close to the author.
Production Notes
With special permission from the family of Blixen, the directors have been given unique access to photos and letters from their private archives, many of which have never been made public before. To complement the rich imagery of this film, additional footage and historical-reenactments have been shot on location in Denmark and Kenya – all done with great attention to detail and with much emphasis on authenticity. For instance Blixen's personal typewriter was renovated for the films reenactments, and all the shooting has taken place in Blixen's original surroundings. During the production the Danish film-crew was given permission, as the first ever, to shoot inside the African farm. Music was an important element in the life of Karen Blixen. And the music for this film – apart from the theme – consists exclusively of the original lacquer discs Karen Blixen collected throughout her life. The theme has been written exclusively for the film by English composer Mike Woolmans and recorded by the Danish Radio Sinfonietta. And according to director Mandal, working with Meryl Streep was "wonderful. We had been told that we should finish everything within half an hour. But she ended up staying for several hours. It was actually the first time in my life that I 'directed' an actor".
Karen Blixen is a fascinating character for so many reasons. But I think what attracted me to her personally is this idea that she expressed about herself, which was that you can bear any amount of suffering if you transform it into a story. (Meryl Streep)
According to Kevin Thomas of the Los Angeles Times "Marcus Mandal and Anna von Lowzow's "Karen Blixen: Out of This World" is an illuminating, poignant documentary." It is the true story of the incredible life of Danish author Karen Blixen / Isak Dinesen – a story just as dramatic as her own fantastic tales. "Karen Blixen – Out of this World" won the Grand Jury Prize Best Documentary at the New York International Independent Film & Video Festival and the Best Foreign Documentary at the Fort Lauderdale International Film Festival, among other honors.
---
Karen Blixen – Out of this World is being listed under the following tags:
---