Wrestling with Angels: Playwright Tony Kushner

October 04, 2006

|

Balcony Releasing

|

98 minutes
Directed by:
Freida Lee Mock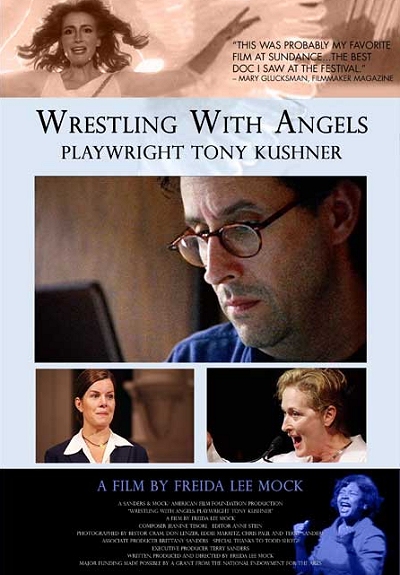 Wrestling With Angels takes place against the backdrop of three tumultuous years in America from September 11, 2001 to the 2004 Presidential election. The film features acclaimed theater and movie actors in unforgettable, entertaining scenes from Kushner's new work: Marcia Gay Harden in a gut-wrenchingly funny performance as Laura Bush, Meryl Streep pleading to God in a moving reading of Kushner's Prayer on AIDS, and Emma Thompson crashing through the ceiling as the prophetic angel in Angels in America.
Cast: Bill Camp, Harrison Chad, Jay Charan, Linda Emond, Marcia Gay Harden, Justin Kirk, Sean T. Krishnan, Tony Kushner, Mike Nichols, Diane Sawyer, Ben Shenkman, Meryl Streep, Rita Wolf, Jeffrey Wright
Production Notes
Wrestling With Angels is a feature documentary film about the Pulitzer and Tony Award-winning playwright Tony Kushner (Angels in America, Caroline or Change, Homebody/Kabul). It tells the story of a relentlessly creative spirit at work and of how Kushner, raised in the Deep South in Lake Charles, Louisiana, would become an outspoken activist, a compassionate spokesperson for outsiders, and one of today's most important and entertaining playwrights. At its core the film explores the mystery of creativity, its sources and Kushner's compelling plays that are set against the moral and politcal concerns of our times. The story of Kushner as an artist and activist is also the story of a father and son relationship. Finally, it is the inspiring tale of how a passionately committed person can make a difference for social justice.
The film is structured around three acts that encapsulate the broad themes of Kushner's work. Act I — As a Citizen of the World displays Kushner's concern with global issues. In riveting scenes from his one act play where Marcia Gay Harden reads to dead Iraqi children and from his play on Afghanistan, Homebody/Kabul, Kushner explores our global responsibility in an age of terrorism. Act II — Mama, I'm a Homosexual Mama dramatizes Kushner's concern with national issues focusing on the AIDS crisis and gay rights through his personal story of "coming out;" through insight into the creative arc of his celebrated epic play Angels in America; and with his candid and humorous talk about Gay Pride at JP Morgan Chase. Act III — Collective Action to Overcome Injustice reveals the influence of Kushner's Jewish heritage in his passionate concern for social justice, expressed in deeply personal terms. Moving scenes from his play on Jewish immigration, Why Should It Be Easy When It Can Be Hard; from the children's holocaust opera Brundibar; and from the musical Caroline, or Change — all express Kushner's belief in collective action to overcome injustice, especially as it concerns women and children.
At heart Wrestling With Angels explores Tony Kushner's relentless struggle to find creative expression for deep and fundamental truths, and through the power and intimacy of live theater, vivid characters and rich dialogue, to provide a national dialogue on some of our most pressing concerns — war, race, class, the AIDS pandemic, gay and lesbian rights, genocide and our global responsibility in the Middle East.
This film is a testament to the power of an artist and activist to provoke and inspire the best in all of us.
---
Wrestling with Angels: Playwright Tony Kushner is being listed under the following tags:
---