America: The Story of Us

April 25, 2010

|

The History Channel

|

720 minutes
Directed by:
Marion Milne, Jenny Ash, Clare Beavan...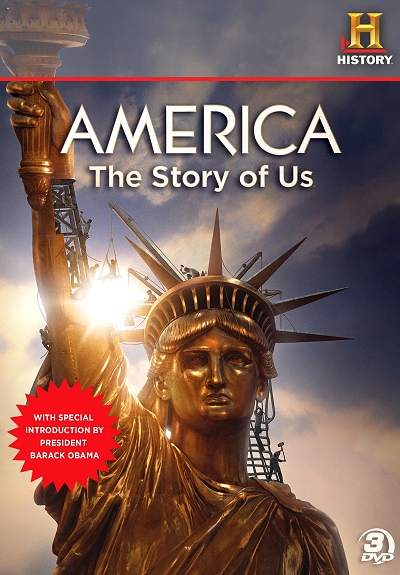 America The Story of Us" is an epic 12-hour television event that tells the extraordinary story of how America was invented. With highly realistic CGI animation, dramatic recreations and insights from some of America's most respected artists, business leaders, academics and intellectuals, it is the first television event in nearly 40 years to present a comprehensive telling of America's history. While the series spans 12 parts, Meryl Streep was interviewed in three episodes: Cities, WWII and Millennium.
Cast: Liev Schreiber, James Meigs, H.W. Brands, Annette Gordon-Reed, Tom Brokaw, Brian Williams, Michael Douglas, Colin Powell, Richard Machowicz, Rudolph W. Giuliani, Al Sharpton, Michael Strahan, John Lasseter, David Baldacci, Jeannette Walls, Donald Trump, Henry Louis Gates, Jimmy Wales, William Bodette, David M. Kennedy, Alberto Camarillo, Bob Lutz, Beverly Gage, Buzz Aldrin, Steven Johnson, Martha Stewart, Newt Gingrich, David Petraeus, Richard Norton Smith, Meryl Streep, Michael Bloomberg, Bruce Jenner, Daniel Silva, Bill Maher, Sheryl Crow, Richard Slotkin, Tommy Franks, Aaron Sorkin, Margaret Cho, Tim Gunn, I.M. Pei, Melissa Etheridg, Robert Warrior, John Legend, Woody Norris
Production Notes
Elaborate, ambitious and cinematic, America The Story of Us will take you into the moments when Americans harnessed technology to advance human progress, from the rigors of linking the continent by transcontinental railroad – the internet of its day – to triumphing over vertical space through the construction of steel structured buildings to putting a man on the moon. It is an intensive look at the people, places and things that have shaped our nation, and the tough and thrilling adventure that is America's 400-year history. "America: The History of Us" won the Primetime Emmy Award for Best Editing, earning three more nominations.
---