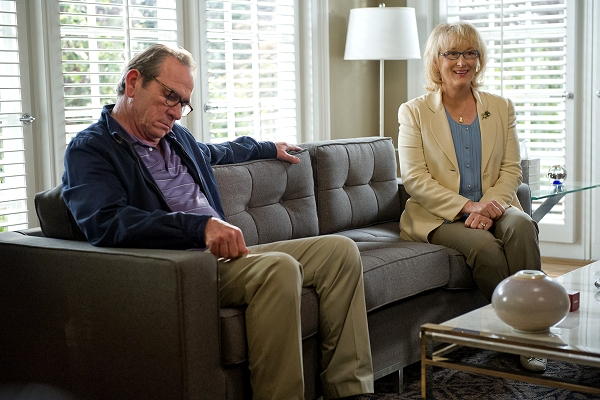 *Please note that any links forwarding to third-party streaming services have no affiliation or monetary connection with Simply Streep.
Release date:
August 08, 2012
Directed by:
David Frankel
Written by:
Vanessa Taylor
Produced by:
Todd Black, Guymon Casady
Running time:
100 minutes
Kay (Meryl Streep) and Arnold (Tommy Lee Jones) have been married for 30 years, but the decades of their marriage have left Kay wanting to spice things up and reconnect with her husband. When she hears of a renowned couple's specialist (Steve Carell) in the small town of Great Hope Springs, she attempts to persuade her skeptical husband, a steadfast man of routine, to get on a plane for a week of marriage therapy. Just convincing the stubborn Arnold to go on the retreat is hard enough - the real challenge for both of them comes as they shed their bedroom hang-ups and try to re-ignite that special spark.
Meryl Streep (Kay Soames), Tommy Lee Jones (Arnold Soames), Steve Carell (Dr. Feld), Jean Smart (Eileen), Ben Rappaport (Brad Soames), Marin Ireland (Molly), Patch Darragh (Mark), Brett Rice (Vince), Becky Ann Baker (Cora), Elisabeth Shue (Karen), Charles Techman (Charlie), Daniel Flaherty (Danny), Damian Young (Mike), Mimi Rogers (Carol)
Production Photos
In the early stages of pre-production, many names circled around this project. First, Mike Nichols was considered a director for "Great Hope Springs", until David Frankel ("The Devil Wears Prada") was announced. For the role of Arnold, Jeff Bridges and James Gandolfini were in talks while Philip Seymour Hoffman was at first mentioned to play the role of Dr. Bernie Field. "Hope Springs" started shooting in Connecticut in September 2011.
Awards & Nominations for Meryl Streep
☆ Golden Globe as Best Actress in a Comedy or Musical