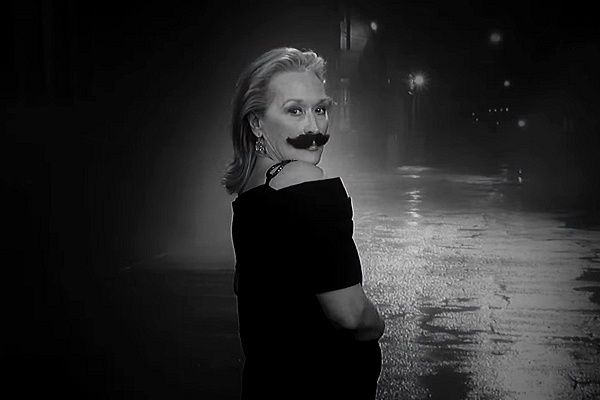 *Please note that any links forwarding to third-party streaming services have no affiliation or monetary connection with Simply Streep.
Release date:
February 26, 2012
Running time:
8 minutes
"Movie: The Movie" is a fake trailer for Jimmy Kimmel Live! that brought back many of the celebrity guests he had welcomed to his show in 2012. Bringing all the best (i.e. worst) qualities of blockbuster hits like "Armageddon", "Valentine's Day" and "Air Bud" together into one action-packed mess, "Movie: The Movie" delivers in all the right ways. The trailer features no less than Meryl Streep (in a moustache), George Clooney (in a wheelchair), Don Cheadle (as the Black Swan), Helen Mirren (on a hoovercraft) and many more.
Participants
Tom Hanks, Kate Beckinsale, Ryan Phillippe, Jessica Alba, Taylor Lautner, Antonio Banderas, Edward Norton, Josh Brolin, Colin Farrell, Charlize Theron, Bryan Cranston, Jeff Goldblum, Gary Oldman, Cameron Diaz, Samuel L. Jackson, Emily Blunt, John Krasinski, Jason Bateman, Kevin James, John Goodman, Don Cheadle, Matt Damon, Danny De Vito, Meryl Streep, Helen Mirren, Christoph Waltz, Matt Damon, George Clooney, Gabourey Sidibe, Steven Tyler, J.J. Abrams, Martin Scorsese.