August: Osage County

December 27, 2013

|

The Weinstein Company

|

120 minutes
Directed by:
John Wells |
Written by:
Grant Heslov, George Clooney |
Literature:
Tracy Letts |
Cinematography:
Adriano Goldman |
Editing:
Stephen Mirrione |
Costume Design:
Cindy Evans |
Set Design:
David Gropman |
Music:
Gustavo Santaolalla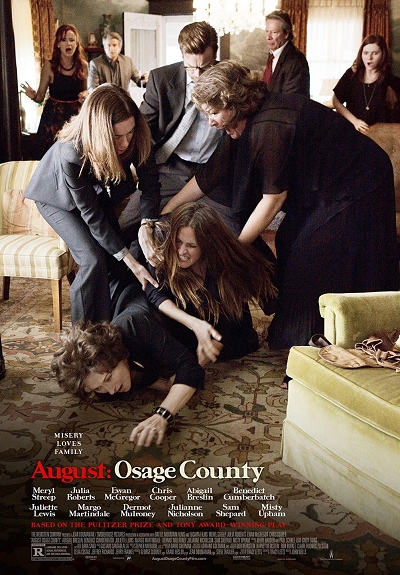 During August in Osage County, Oklahoma, Beverly Weston (Sam Shepard), is a poet with a drinking problem while his wife, Violet (Meryl Streep) suffers from mouth cancer and has a newly developed addiction to drugs. Suddenly, Beverly disappears and the Weston family - Violet and Beverly's daughters, Barbara (Julia Roberts), Karen (Juliette Lewis) and Ivy (Julianne Nicholson) - return home. A series of conflicts ensue over the next several days as Violet, armed with prescription drugs and paranoid mood swings, reigns over the home as family secrets unfold.
Cast: Meryl Streep (Violet Weston), Sam Shepard (Beverly Weston), Julia Roberts (Barbara Fordham), Margo Martindale (Mattie Fae Aiken), Chris Cooper (Charles Aiken), Benedict Cumberbatch (Little Charles Aiken), Ewan McGregor (Bill Fordham), Abigail Breslin (Jean Fordham), Julianne Nicholson (Ivy Weston), Juliette Lewis (Karen Weston), Dermot Mulroney (Steve Heidebrecht), Misty Upham (Johnna Monevata)
Production Notes
"August: Osage County" tells the dark, hilarious and deeply touching story of the strong-willed women of the Weston family, whose lives have diverged until a family crisis brings them back to the Midwest house they grew up in, and to the dysfunctional woman who raised them. Tracy Letts' Pulitzer Prize-winning play of the same name made its Broadway debut in December 2007 after premiering at Chicago's legendary Steppenwolf Theatre earlier that year. It continued with a successful international run and was the winner of five Tony Awards in 2008, including Best Play. "August: Osage County" is directed by John Wells (THE COMPANY MEN) and features an all-star cast, including Meryl Streep, Julia Roberts, Ewan McGregor, Chris Cooper, Abigail Breslin, Benedict Cumberbatch, Juliette Lewis, Margo Martindale, Dermot Mulroney, Julianne Nicholson, Sam Shepard and Misty Upham.
Awards & Nominations for Meryl Streep
★ Hollywood Film Award – Best Acting
★ Capri Film Festival – Best Actress
★ Capri Film Festival – Acting Ensemble
★ CinEuphoria Award Audience Award – Best Actress
☆ Academy Award – Best Actress
☆ Screen Actors Guild Award – Best Actress
☆ Screen Actors Guild Award – Best Acting Ensemble
☆ Golden Globe – Best Actress in a Comedy or Musical
☆ Australian Academy of Cinema and Television Arts – Best Actress
☆ Broadcast Film Critics – Best Actress
☆ Broadcast Film Critics – Ensemble
☆ Washington Film Critics – Best Actress
☆ Washington Film Critics – Ensemble
☆ Washington DC Area Film Critics Association – Best Actress
☆ St. Louis Film Critics – Best Actress (2nd place)
☆ Dallas Film Critics – Best Actress (4th Place)
☆ Detroit Film Critics – Best Actress
☆ Detroit Film Critics – Ensemble
☆ Phoenix Film Critics – Best Actress
☆ Phoenix Film Critics – Ensemble
☆ Alliance of Woman Film Journalists – Ensemble
☆ Alliance of Woman Film Journalists – Actress Defying Age and Agesim
☆ San Francisco Film Critics – Best Actress
☆ Indiana Film Critics – Best Actress
☆ Houston Film Critics – Best Actress
☆ Chicago Film Critics Association – Best Actress
☆ Satellite Award – Best Actress
☆ CinEuphoria Award – Best Actress International Competition
---
August: Osage County is being listed under the following tags:
---