Girl Rising

March 07, 2013

|

Gathr Films

|

101 minutes
Directed by:
Richard Robbins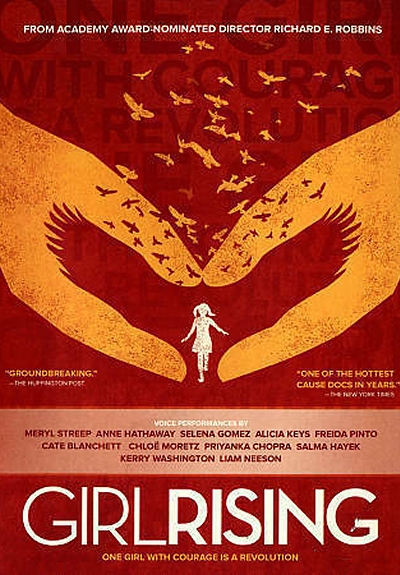 "Girl Rising" tells the stories of nine girls from different parts of the world who face arranged marriages, child slavery, and other heartbreaking injustices. Despite these obstacles, the brave girls offer hope and inspiration. By getting an education, they're able to break barriers and create change. Each girl's story was written by a renowned writer from her native country. Directed by Richard Robbins, "Girl Rising" features exceptional voice performances throughout the segments by Meryl Streep, Salma Hayek and others.
Cast: Meryl Streep, Salma Hayek, Liam Neeson, Anne Hathaway, Cate Blanchett, Alicia Keys, Freida Pinto, Selena Gomez, Chloe Moretz, Kerry Washington and Priyanka Chopra
Production Notes
From Academy Award-nominated director Richard E. Robbins and the award-winning Documentary Group, in association with Paul Allen's Vulcan Productions comes Girl Rising – an innovative new feature film about the power of education to change a girl – and the world. Girl Rising is powered by strategic partner, Intel Corporation, and distribution partner CNN Films. Meryl Streep, Anne Hathaway, Liam Neeson, Cate Blanchette, Selena Gomez and other A-list actors contribute voice performances to the film,which features original music from Academy Award winner Rachel Portman, in collaboration with Hans Zimmer. The film spotlights unforgettable girls like Sokha, an orphan who rises from the dumps of Cambodia to become a star student and an accomplished dancer; Suma, who composes music to help her endure forced servitude in Nepal and today crusades to free others; and Ruksana, an Indian "pavement-dweller" whose father sacrifices his own basic needs for his daughter's dreams.
This film gives a visual corroboration to knowledge we already have: Educating women and girl has the most optimistic, positive effects on families, communities and economies worldwide. If to see it is to know it, this film delivers hope; reasonable, measurable, tangible hope that the world can be healed and helped to a better future" (Meryl Streep)
Each girl is paired with a renowned writer from her native country. Edwidge Danticat, Sooni Taraporevala Aminatta Forna and others tell the girls' stories, each in it's style, and all with profound resonance. These girls are each unique, but the obstacles they faced are ubiquitous. Like the 66 million girls around the world who dream of going to school, what Sokha, Suma, Ruksana and the rest want most is to be students: to learn. And now, And now, by sharing their personal journeys, they have become teachers. Watch Girl Rising, and you will see: One girl with courage is a revolution.
---
Girl Rising is being listed under the following tags:
---