Big Little Lies

June 09, 2019

|

HBO

|

7 episodes á 52–58 minutes
Directed by:
Andrea Arnold |
Written by:
David E. Kelley |
Literature:
Liane Moriarty |
Editing:
Mags Arnold, Dino Jonsäter, Maxime Lahaie, Jacob Secher Schulsinger, Jean-Marc Vallée, Émile Vallée, Katie Weiland, Sam Williams |
Costume Design:
Alix Friedberg |
Set Design:
John Paino |
Music:
Jim Frohna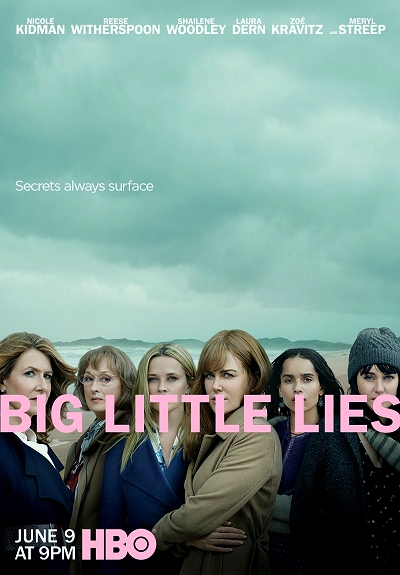 The darkly dramatic second season of "Big Little Lies" continues to explore the malignancy of lies, the durability of women friendships, the fragility of marriage and, of course, the vicious ferocity of sound parenting. The Monterey women - Celeste, Madeline, Renata, Jane and Bonnie (Nicole Kidman, Reese Witherspoon, Laura Dern, Shailene Woodley, Zoe Kravitz) - are all dealing with the events of Perry's death and the police's investigation. To make matters worse, Celeste is visited by Perry's grieving mother (Meryl Streep), who demands answers. Things will get messy.
Cast: Reese Witherspoon (Madeline MacKenzie), Nicole Kidman (Celeste Wright), Shailene Woodley (Jane Chapman), Laura Dern (Renata Klein), Zoë Kravitz (Bonnie Carlson), Meryl Streep (Mary Louise Wright), Adam Scott (Ed Mackenzie), James Tupper (Nathan Carlson), Gordon Klein (Jeffrey Nordling), Kathryn Newton (Abigail Carlson), Iain Armitage (Ziggy Chapman), Robin Weigert (Dr. Amanda Reisman), Merrin Dungey (Detective Adrienne Quinlan), Sarah Sokolovic (Tori Bachman)
Production Notes
The first season of "Big Little Lies", planned as a stand-alone miniseries, was such a success with audiences and critics that writer Liane Moriarty wrote a sequel to her own novel. Among the series' fans was Meryl Streep, who felt that the story of five women's lives intertwined was "the best television there was". When Moriarty started including the character of Perry's mother, Streep was the first choice to play her, hence the character name Mary Louise. Nicole Kidman brought the idea to Streep, who agreed to join the cast without reading the script. "I believe in these girls, and that first season blew me away," Streep told Entertainment Tonight. "Everything about it: the writing, the depth of the performances, the style, the music, the whole world. And I couldn't wait to see where it was going to go."
It gave me goosebumps. Meryl surpassed my expectations. It was extraordinary to see her bring Mary Louise to life – the tiny gestures and mannerisms and speech patterns. Someone who didn't previously exist became a real and living person on the screen. The people in the beginning who were worried about season two… most of them went quiet when they heard we had Meryl on board. When I watched the first episode it was like seeing old friends back on screen. How could you not be thrilled? They're all so talented and funny. Obviously, I want people to love it and I'm confident that they will. But what will be will be. (Liane Moriarty, The Sydney Morning Herald, June 09, 2019)
Laura Dern said the first day with Streep was like a dream, explaining the on-set vibe "like you're a little girl dreaming of becoming an actor and working with Meryl Streep. That's where I dreamt as a child and it's a great extraordinary gift to have come true." When asked by Variety what she took away from working alongside Streep, Dern said, "What an incredible teammate she is. Her goal is to make all the stories, even if she's not a part of those stories, resonate and remain honest and relatable — and that is a great lesson and reminder." When Adam Scott, who plays Witherspoon's husband, first met Streep, Dern helped out her co-star, who told Variety, "I still can't believe that I"m on a TV show that Meryl Streep is also on. That's still weird." He recalled, "The first time I met her was at the table read and she was so sweet and we chatted for just a second and she moved on to talk to someone else, and I was just sort of standing there, and immediately, Laura Dern came up to me and she was like, 'I saw the whole thing. You did very well.'" "Everyone knows, as an actor, you're waiting your whole life to meet Meryl Streep, let alone work with Meryl Streep and be on a show with Meryl Streep," Scott said, "It was as incredible as you would imagine."
Awards & Nominations for Meryl Streep
☆ Primetime Emmy Award – Outstanding Supporting Actress in a Drama Series
☆ Golden Globe Award – Best Performance by an Actress in a Supporting Role in a Series
☆ Critics Choice Award – Best Supporting Actress in a Drama Series
☆ Satellite Award – Best Actress in a Supporting Role in a Series
☆ Screen Actors Guild Award – Outstanding Performance by an Ensemble in a Drama Series
---
Big Little Lies is being listed under the following tags:
---