Heads Will Roll

May 02, 2019

|

Audible Original

|

244 minutes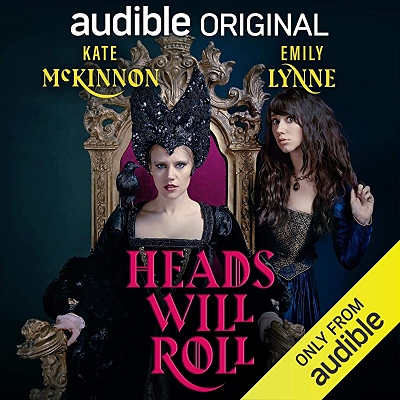 Kate McKinnon loves listening (to everything) so much that she created her own audio series and got a gigantic list of famous friends to play all the parts. It's called "Heads Will Roll". This is not a podcast or an audiobook, its a bingeable 10 episode fantasy comedy series for your ears only. We all multitask while we're "watching" tv anyway so why not listen to something that's created just for listening- you won't risk missing some important visual cue because there aren't any!
Cast: Kate McKinnon (Mortuana), Emily Lynne (Jojo), Tim Gunn (General Galafhar), Meryl Streep (Catherine Staunch), Audra McDonald (Queen Chantraine), Andrea Martin (Mo's Mother), Carol Kane (Donna Fink), Bob the Drag Queen (Remy), Alex Moffat (Odin), Heidi Gardner (Frigg), Esther Perel (Dr. Perel), Steve Higgins (Commercial Announcer), Sirens (Queer Eye's Fab Five). Additional voices: Aidy Bryant, Sudi Green, Anna Drezen, Gary Richardson, Sam Jay, Thomas Whittington, Morgan Smith, Jim Santangeli, Jen Spyra, Alon Elian, Alex Vaccino. This Audible Original features a ridiculous cast of voice performers including Meryl Streep, Peter Dinklage, Queer Eye's Fab Five, Andrea Martin, Carol Kane, SNL stars Aidy Bryant, Alex Moffat, Heidi Gardner, and Chris Redd, Plus Tim Gunn, Audra McDonald, Steve Higgins, Bob the Drag Queen, Esther Perel
Production Notes
Kate McKinnon described the fantasy series as VEEP meets Game of Thrones; she plays an evil queen with PR problems in the series which she says is a big fun fantasy comedy audio series. "We are living in the renaissance of scripted audio," she told Jimmy Fallon on the Tonight Show! "It's a sitcom for the ear with music." As the evil queen, McKinnon embarks on a magical quest to put down a peasant rebellion with her ditsy princess-turned-raven minion JoJo, played by her sister Emily Lynne, who also co-wrote the music with her. Will their friendship survive sensitive generals, chatty sex slaves, whiny behemoths, princes with bird fetishes, and the notion of democracy? Find out.
---
Heads Will Roll is being listed under the following tags:
---