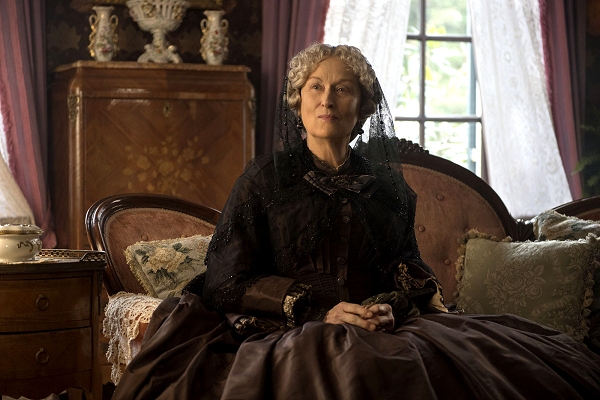 *Please note that any links forwarding to third-party streaming services have no affiliation or monetary connection with Simply Streep.
Release date:
December 25, 2019
Directed by:
Greta Gerwig
Literature:
Louisa May Alcott
Written by:
Greta Gerwig
Produced by:
Amy Pascal, Robin Swicord, Denise Di Novi
Running time:
134 minutes
Writer-director Greta Gerwig has crafted a Little Women that draws on both the classic novel and the writings of Louisa May Alcott, and unfolds as the author's alter ego, Jo March, reflects back and forth on her fictional life. In Gerwig's take, the beloved story of the March sisters, four young women each determined to live life on her own terms, is both timeless and timely. Portraying Jo, Meg, Amy, and Beth March, the film stars Saoirse Ronan, Emma Watson, Florence Pugh, Eliza Scanlen, with Timothée Chalamet as their neighbor Laurie, Laura Dern as Marmee, and Meryl Streep as Aunt March.
Saoirse Ronan (Jo March), Emma Watson (Meg March), Timothée Chalamet (Theodore "Laurie" Laurence), Florence Pugh (Amy March), Eliza Scanlen (Beth March), Laura Dern (Marmee March), Meryl Streep (Aunt March), Tracy Letts (Mr. Dashwood), Bob Odenkirk (Mr. March), James Norton (John Brooke), Louis Garrel (Friedrich Bhaer), Chris Cooper (Mr. Laurence), Jayne Houdyshell (Hannah), Mason Alban (Friedrich's Friend), Rafael Silva (Friedrich's Friend), Emily Edström (Friedrich's Friend), Maryann Plunkett (Mrs. Kirke), Hadley Robinson (Sallie Gardiner Moffatt), Lonnie Farmer (Concord Sales Clerk), Charlotte Kinder (Viola), Ana Kayne (Olivia)
Production Photos
After a slew of Oscar nominations for "Lady Bird", director Greta Gerwig turned her cameras on a 150-year-old novel: "I was seized by the spirit of Louisa? May? Alcott." Alcott's 1868 novel following the romantic and social adventures of the four March sisters — Meg, Jo, Amy and Beth — hasn't just been a literary classic for generations. It's been a cinematic one, too, with no fewer than seven screen adaptations, including a 1917 silent version, a 1933 production with Katharine Hepburn, and a 1994 film starring Winona Ryder and Kirsten Dunst. And yet Gerwig, 36, was convinced there was room for one more. "I said, 'I have to make this movie,' " she recalls. "I felt like I was seized by the spirit of Louisa May Alcott." Gerwig had, in fact, been seized by that spirit long before Lady Bird established her as the type of filmmaker you'd find on studio shortlists. Back in 2016, when she was still mostly known as an actress and sometime screenwriter, she'd heard from her agents that Columbia Pictures was kicking around the possibility of making another Little Women adaptation. Gerwig got a meeting with Amy Pascal, the former Sony chief turned independent producer, and convinced her that she had a fresh and modern approach to remaking the story. "It was about how the ambition and the dreams that you have as a girl get stomped out of you as you grow up," says Pascal of the pitch. "It was about the kinds of conversations that we all have about commerce and art and what we have to do to make things commercial."
Casting the film didn't require a whole lot of legwork — actors were coming out of the woodwork to get involved. While doing press at the Independent Spirit Awards for Lady Bird, Ronan all but cornered Gerwig for the job. "I've never done this before, but I went up to her and aggressively tapped her on the shoulder and said, 'So I know you're doing Little Women. I really think that I should be Jo,' " says the actress. Gerwig told her she'd have to think about it, but Ronan, 25, got the part. Meanwhile, Pascal had been having conversations with Meryl Streep. "She loved Lady Bird and was a big fan of Greta's," says the producer. Over lunch, Streep told Gerwig which part she wanted to play. "She said, 'I'll be the battle-ax. Write me a good Aunt March,' " remembers the director. "I was like, 'Yes, ma'am.' " Streep also wanted Gerwig to make it clear in the film that women not only couldn't vote in the 1800s but that their husbands owned everything they had, including their children — a point Gerwig infused into her script in the form of a monologue midway through the movie. "Meryl clarified a lot of things for me as a collaborator," says Gerwig. "She's not Meryl Streep for nothing."
Awards & Nominations for Meryl Streep
★ Boston Society of Film Critics Awards – Best Ensemble
★ Boston Online Film Critics Association – Best Ensemble
☆ AARP Movies for Grownups Awards – Best Ensemble
☆ Alliance of Women Film Journalists – Best Ensemble Cast
☆ Critics Choice Award – Best Ensemble
☆ Austin Film Critics Association – Best Ensemble
☆ Central Ohio Film Critics Association – Best Ensemble
☆ Georgia Film Critics Association – Best Ensemble
☆ Florida Film Critics Circle Awards – Best Ensemble
☆ Indiana Film Journalists Association – Best Ensemble Acting
☆ Chicago Indie Critics Awards – Best Ensemble
☆ Online Association of Female Film Critics – Best Acting Ensemble
☆ Seattle Film Critics Awards – Best Ensemble Cast
☆ Washington DC Area Film Critics Association Awards – Best Acting Ensemble